Free shipping on online orders over $25 within the contiguous US.
Front loaders
Front loaders can be conveniently filled and operated from the front and can be arranged in lots of different ways; for example, in a stack.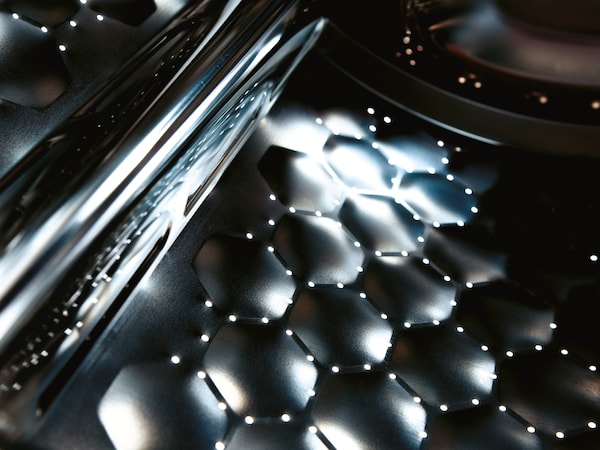 Exclusive to Miele
Honeycomb drum
Perfect laundry care
Soft to the touch: the hexagonal sculptured surface of the drum allows garments to glide on a thin film of water.
Automatic load control
Intelligent washing
Load adaptation à la Miele: The smaller the load, the lower the water and power consumption. Completely automatic.
Exclusive to Miele
Automatic dispensing of detergent: TwinDos®*
Liquid detergent system at the push of a button
Cleaner than ever: automatic dispensing with a revolutionary 2-phase system.
Exclusive to Miele
CapDosing*
Convenient and environmentally friendly dispensing
Simple and sustainable: CapDosing always dispenses special detergents, fabric softeners, and additives perfectly.
Exclusive to Miele
IntenseWash
Revolutionary economy with every load
Clean, quick and especially energy efficient for small loads.
Appliance networking with Miele@home*
Cleverly networked
Make your life smart: Thanks to Miele@home you can cleverly network your domestic appliances – for more options.
Exclusive to Miele
SingleWash
Wash single items – quickly and economically!
Efficient solution for individual items: A favorite blouse washed faster, more economically and gently than ever.
Features depend on model – images are only examples and used for explanation purposes
Automatic dispensing of detergent: TwinDos®*
The innovation for perfect results
Achieve perfect results every time: thanks to the innovative TwinDos® dispensing system, the integrated UltraPhase 1 and 2 Detergent is dispensed automatically allowing you to save up to 30% on detergent compared to manual dispensing.
Go to products
Efficiency and sustainability 
 Environmentally compatible laundry care
Sustainability and the development of efficient products have been a key part of Miele's ethos for over 120 years. The careful selection of materials ensures that Miele appliances are long-lasting and highly recyclable.br
Go to products
4 .

An UltraPhase 1 cartridge and an UltraPhase 2 cartridge are provided with the appliance. You can obtain additional cartridges by redeeming the enclosed voucher.

5 .

Additional digital offer from Miele & Cie. KG. All smart applications are made possible with the Miele@home system. The range of functions can vary depending on the model and the country.
Subject to technical changes; no liability accepted for the accuracy of the information given.