SYSTEM MAINTENANCE: Due to system maintenance, transactions and bookings will not be possible 09/24-09/25.
Niche and appliance sizes
Perfectly tailored to your needs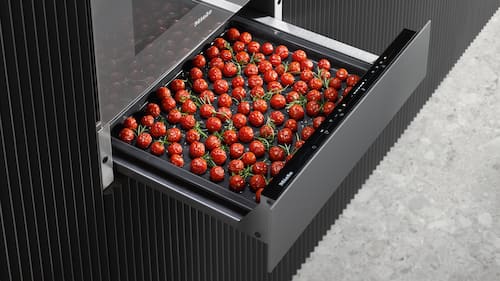 Our classic appliance – 5 1/2" high, 23 5/8"
The Miele Gourmet Warming Drawer is 6" (14 cm) tall, so you can combine it perfectly with a 18" (45 cm) tall compact appliance, such as a Miele Coffee Machine, Steam Oven, Combi-Steam Oven, or Speed Oven – to fully utilize your 24" (60 cm) high niche. To ensure the Miele drawer matches your existing appliance designs, you can choose from 2 different versions, to create a harmonious overall kitchen design.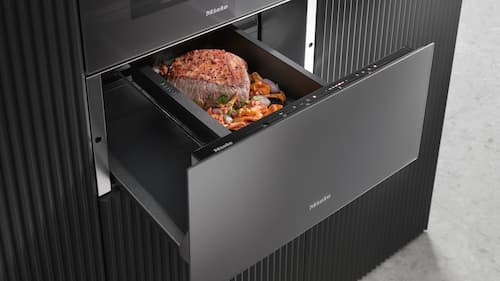 The extra-large drawer – 11 7/16"high, 23 5/8" wide
Our 11 1/2 " (29 cm) high Gourmet drawers provide plenty of space. They can be combined with a classic 24"(60 cm) high oven to make perfect use of an 34 5/8" (88 cm) high niche. The drawers are available in 3 glass colors and in a full stainless steel front. The PureLine design line also features a stainless steel trim. This always ensures a harmonious appearance in your kitchen.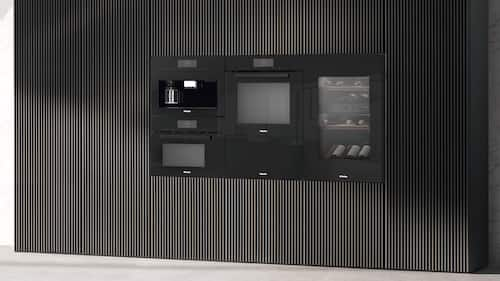 The hybrid solution for 36" (90 cm) niches 
When installing 2 17 3/4" (45 cm) high appliances one above the other and placing a 24" (60 cm) high appliance directly next to them, this Gourmet drawer perfectly fills the created niche. The subsequent gap below the 24" (60 cm) high appliance can now be filled with an ESW 7030 Gourmet Drawer. With an approx. height of 12 5/8" (32 cm), its front is higher than other Miele Gourmet Drawers. This means the visible gap to the built-in appliance is minimized and adapted to the gap between the 2 17 3/4" (45 cm) high appliances.With this installation solution, the ENB 1060 Base Insert should be used to create an optimal gap between the 2 17 3/4" (45 cm) appliances.The ESW 7030 is also perfect for use in combination with the Miele KWT 6422 iG Wine Unit and a 24" (60 cm) built-in appliance installed next to it.
Features depend on model. Images are only examples and used for explanation purposes
Subject to technical changes; no liability accepted for the accuracy of the information given.