Product Detail
USD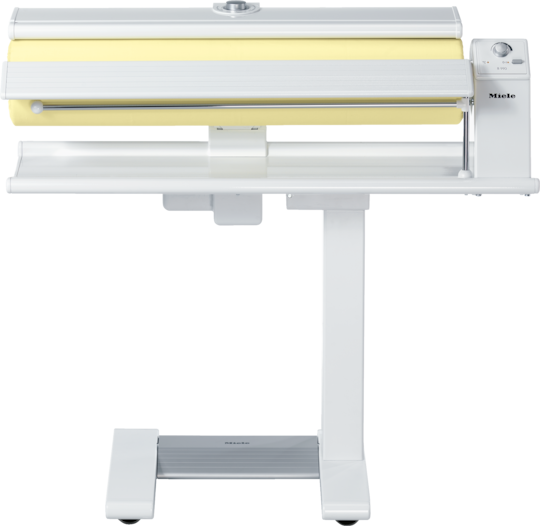 B 990
Rotary ironer with high pressure and a wide heater plate for best results.
No physical effort required thanks to high pressure
Convenient ironing of large laundry pieces –

wide heater plate

Individual work speed thanks to variable roller speed
Iron difficult laundry items easily –

all-round free roller end
---
Your exclusive advantages
Temperature selection to suit textiles
3 heating elements for optimum heat distribution
Protects fibers: Select temperature according to the care label. Your textiles look good for longer.
High contact pressure
Intensive interaction between heat plate and roller
More pressure, better removal of creases: when ironing by hand, continual application of 15 lbs pressure is needed.
Features depend on model – images are only examples and used for explanation purposes
Safety (3)
Exclusive to Miele
Automatic finger guard
Stop function for maximum safety
Safe operation: If fingers come into contact with the finger guard, the motor stops and the plate lifts.
Stability
Stable thanks to robust design and stable base
Secure stand guaranteed: a robust construction and a supporting base ensure a secure stand.
User convenience (3)
Ironing sitting down
The relaxed method of ironing
Ergonomic and relieving: Your back is protected, and operation using a foot switch leaves both hands free.
Free, unsupported roller end
Convenient handling
No bottlenecks, no snagging: even difficult-to-iron laundry items such as skirts or shirts are easy to iron.
Adhesive label for temperature selector
Product data sheet
Show all technical details
Follow the link and you will find all the resources you need for planning and installing any of our products
Subject to technical changes; no liability accepted for the accuracy of the information given.