Free shipping on online orders over $25 within the contiguous US.
Professional semi integrated dishwashers
Integrated dishwashers
Apart from the fascia panel, the appliance front can be fitted with a furniture panel to match the existing kitchen units – for a seamless kitchen design. The required niche width is 23 5/8" (60 cm).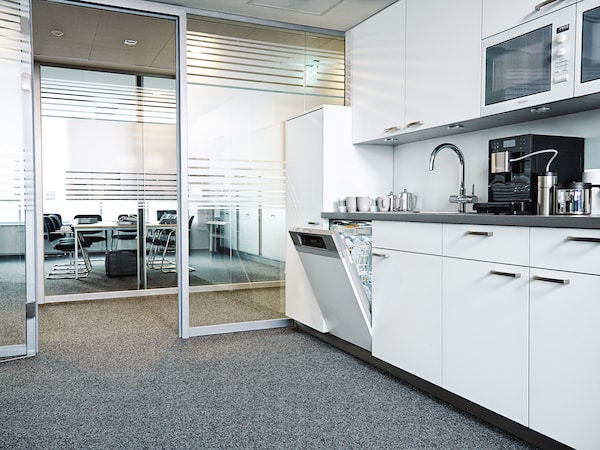 Low consumption values
Economical
Economical and efficient: Miele Professional dishwashers stand out with low consumption values.
Integrated water softener
Ensures the optimum water hardness level
The built-in softener ensures the optimum hardness level of the water for perfect dishwashing results.
Quality you can rely on
Long service life 
Durability: Miele Professional dishwashers are tested for a long service life.
Simplest user interface
Everything at a glance 
Intuitive & easy to operate: All programs can be selected quickly & started at the touch of a button.
Powerful cleaning performance on two levels
Large wash cabinet 
High capacity: The most diverse items can be arranged safely on two wash levels.
Exclusive to Miele
Perfect GlassCare
A gentle way to a perfect shine
A gentle way to a perfect shine: With Perfect GlassCare, your glasses are thoroughly and gently cleaned.
Exclusive to Miele
Patented AutoOpen assisted drying*
For dry dishware in next to no time
Completely dry: The dishwasher door opens automatically at the end of the program.
Short program cycles
Dishwashing made quick
With their short cycle times ProfiLine dishwashers are true sprinters.
For businesses
Dishwashing professionals for daily large loads of dishes
These dishwashers are ideally suited for all areas which deal with large amounts of dishware.
Exclusive to Miele
ComfortClose
The best door concept of our time
Convenient: The door can be closed very easily.
Features depend on model – images are only examples and used for explanation purposes
Operational safety
Conforms to Machinery Directive
The European Machinery Directive (2006/42/EC) defines far-reaching safety regulations for commercial machines. The legislation is designed to protect machine operatives in their daily work. All Miele Professional machines are fully compliant with the requirements of this important directive.
Go to products
Robust and durable
Quality you can rely on
A demanding working day requires products you can rely on 100%. To guarantee high standards of reliability, all products from Miele Professional undergo comprehensive quality tests and an extremely rigorous final inspection.
Go to products
A very high level of filtration
Fresh water system
Dishwashers with fresh water system change the water after each cycle. A thorough final rinse is then carried out using a temperature that has been adjusted to the washed items. This process ensures perfect dishwashing results and a very high standard of hygiene that clearly exceeds the requirements for commercial dishwashers. Fresh water dishwashers from Miele Professional are also particularly attractive as they have short cycles and are highly economical. With up to 40 wash cycles per day a fresh water system operates more economical than a tank system.
Go to products