Professional built-under dishwashers
Built-under dishwashers
For a perfect appearance, these dishwashers can be easily installed under a countertop. The machine can be adjusted as needed to suit the height of the worktop. The required niche width is 23 5/8" (60 cm).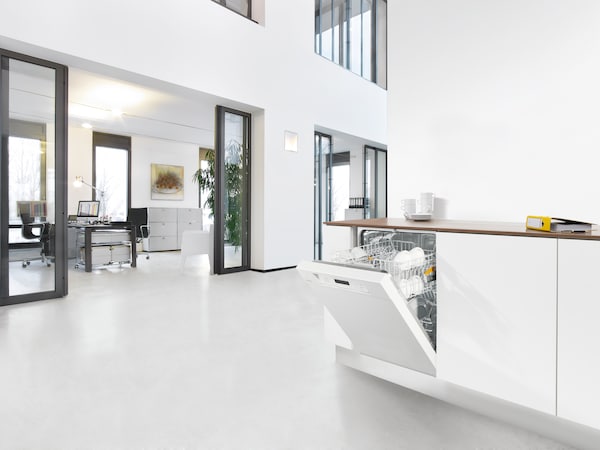 Very short cycle times
Gleaming results in no time
Thanks to intelligent professional technology you can benefit from very short programs and perfect results.
Low consumption values
Economical
Economical and efficient: Miele Professional dishwashers stand out with low consumption values.
Exclusive to Miele
Patented AutoOpen assisted drying*
For dry dishware in next to no time
Completely dry: The dishwasher door opens automatically at the end of the program.
High rinse temperature
Even the most demanding hygiene requirements are met by using high final rinse temperatures.
Powerful cleaning performance on two levels
Large wash cabinet 
High capacity: The most diverse items can be arranged safely on two wash levels.
Integrated water softener
Ensures the optimum water hardness level
The built-in softener ensures the optimum hardness level of the water for perfect dishwashing results.
Exclusive to Miele
Perfect GlassCare
A gentle way to a perfect shine
A gentle way to a perfect shine: With Perfect GlassCare, your glasses are thoroughly and gently cleaned.
Adjustable program parameters
Variable adjustment options
Adjusting the program parameters as required ensures consistently perfect dishwashing results
Simplest user interface
Intuitive & easy to operate: All programs can be selected quickly & started at the touch of a button.
Plastic baskets on two levels
Perfect results on all levels
It is possible to use the plastic baskets on two levels as an option.
Exclusive to Miele
Perfect integration under countertops
Perfect Integration
Perfect appearance thanks to dishwashers that can be built-under.
Quality you can rely on
Durability: Miele Professional dishwashers are tested for a long service life.
Features depend on model – images are only examples and used for explanation purposes
Robust and durable
Quality you can rely on
A demanding working day requires products you can rely on 100%. To guarantee high standards of reliability, all products from Miele Professional undergo comprehensive quality tests and an extremely rigorous final inspection.
Go to products