Free shipping on online orders over $25 within the contiguous US.
Fully integrated Dishwashers
Fully integrated dishwashers
The entire front of the appliance is concealed either behind a matching furniture front or a Miele Clean Touch Steel Front. This allows the appliance to be perfectly integrated into the design of your kitchen. Miele's Dishwasher with Knock2open can be perfectly integrated into a kitchen design without handles.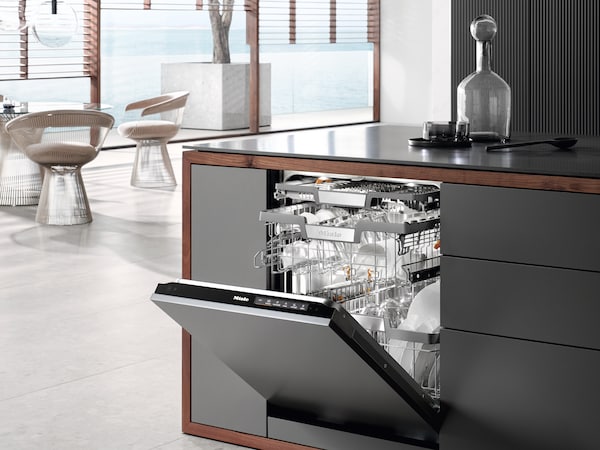 Exclusive to Miele
BrilliantLight*
Perfect lighting for easier loading
Automatically controlled: Four LEDs bathe the entire dishwasher interior in brilliant light.
Exclusive to Miele
Patented* AutoOpen drying
For optimum drying of dishes
Optimum drying: The dishwasher door opens automatically at the end of a program cycle.
Freshwater dishwashers - water consump. from 6.5 l
The most economical Miele dishwashers ever
Minimum consumption: The Automatic programme ensures best cleaning results with minimum water consumption.
Exclusive to Miele
3D MultiFlex Tray*
Maximum flexibility
Stress-free loading: Ingenious adjustment options create space in the dishwasher even for small items.
Exclusive to Miele
FlexLine Baskets
Intelligent basket design for all types of dishes
Flexibility creates convenience: Easy adjustment and flexible loading for the best cleaning results.
QuickIntenseWash
Best cleaning in less than an hour
Short program: Best cleaning results for normally soiled dishware in 58 minutes.
EcoPower Technology 
Innovative water feed for rinsing with less water
Saving water and energy: Cleverly designed water supply reduces consumption.
Exclusive to Miele
3D MultiFlex Tray*
Convenient dishware loading
Highly practical: Cutlery, chopsticks, and small dishware items can be loaded flexibly.
Exclusive to Miele
Appliance networking with Miele@home*
Cleverly networked
Make your life smart: thanks to Miele@home, you can cleverly network your domestic appliances – for more options.
Features depend on model – images are only examples and used for explanation purposes
5 .

Additional digital offer from Miele & Cie. KG. All smart applications are made possible with the Miele@home system. The range of functions can vary depending on the model and the country.
Subject to technical changes; no liability accepted for the accuracy of the information given.