Fully integrated Dishwashers
Fully integrated dishwashers
The entire front of the appliance is concealed either behind a matching furniture front or a Miele Clean Touch Steel Front. This allows the appliance to be perfectly integrated into the design of your kitchen. Miele's Dishwasher with Knock2open can be perfectly integrated into a kitchen design without handles.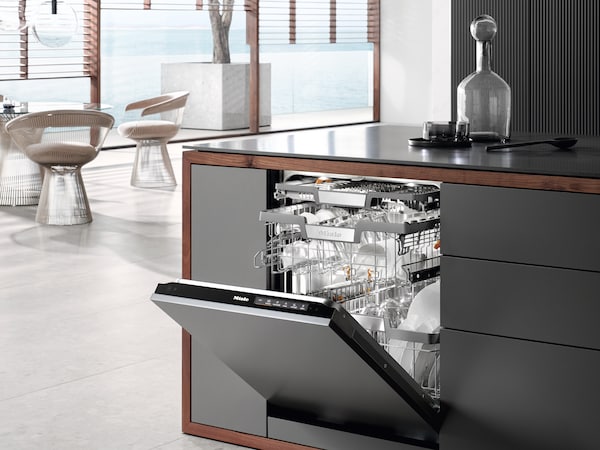 Exclusive to Miele
Patented* 3D cutlery tray
The new dimension of cutlery care
Even for bulky utensils: The height, width and depth of the patented cutlery tray can be adjusted.
Freshwater dishwashers - water consump. from 6.5 l
The most economical Miele dishwashers ever
Minimum consumption: The Automatic programme ensures best cleaning results with minimum water consumption.
Exclusive to Miele
A world first: AutoDos with PowerDisk
Automatic dispensing for excellent results
Automatic dispensing with integrated PowerDisk. Superior cleaning system, unparalleled freedom!
Exclusive to Miele
3D MultiFlex Tray*
Maximum flexibility
Stress-free loading: Ingenious adjustment options create space in the dishwasher even for small items.
Exclusive to Miele
FlexLine Baskets
Intelligent basket design for all types of dishes
Flexibility creates convenience: Easy adjustment and flexible loading for the best cleaning results.
QuickIntenseWash
Best cleaning in less than an hour
Short program: Best cleaning results for normally soiled dishware in 58 minutes.
EcoPower Technology 
Innovative water feed for rinsing with less water
Saving water and energy: Cleverly designed water supply reduces consumption.
Features depend on model – images are only examples and used for explanation purposes