Built-under dishwashers
Ideal as a replacement appliance in an existing kitchen. The appliance can be installed in a run of kitchen units. Select built-under dishwashers are available in Brilliant White, Obsidian Black, and Clean Touch Steel.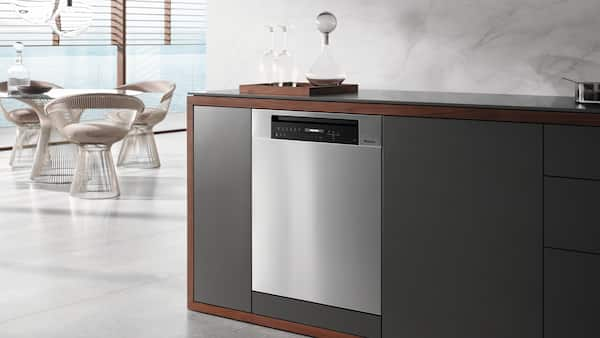 Exclusive to Miele
Patented* 3D cutlery tray
The new dimension of cutlery care
Even for bulky utensils: The height, width and depth of the patented cutlery tray can be adjusted.
Exclusive to Miele
A world first: AutoDos with PowerDisk
Automatic dispensing for excellent results
Automatic dispensing with integrated PowerDisk. Superior cleaning system, unparalleled freedom!
Exclusive to Miele
3D MultiFlex Tray*
Maximum flexibility
Stress-free loading: Ingenious adjustment options create space in the dishwasher even for small items.
Exclusive to Miele
FlexLine Baskets
Intelligent basket design for all types of dishes
Flexibility creates convenience: Easy adjustment and flexible loading for the best cleaning results.
QuickIntenseWash
Best cleaning in less than an hour
Short program: Best cleaning results for normally soiled dishware in 58 minutes.
EcoPower Technology 
Innovative water feed for rinsing with less water
Saving water and energy: Cleverly designed water supply reduces consumption.
Features depend on model – images are only examples and used for explanation purposes
Flawless shine
Experience the world of Miele dishwashers
Miele dishwashers are available in different heights and widths. The perfect solution for your kitchen, every time!
Go to products
Riedel recommends Miele Dishwashers
High-quality glassware cleaned gently and perfectly
Can delicate, expensive wine glasses really be washed in a dishwasher? Yes, perfectly, as long as it's a Miele!
Go to products