Built-in bottom-mount units
The perfect combination: refrigeration and freezing in one appliance. Our all-rounders are also adaptable: They can be fitted with a customized front so they blend perfectly into the existing kitchen design.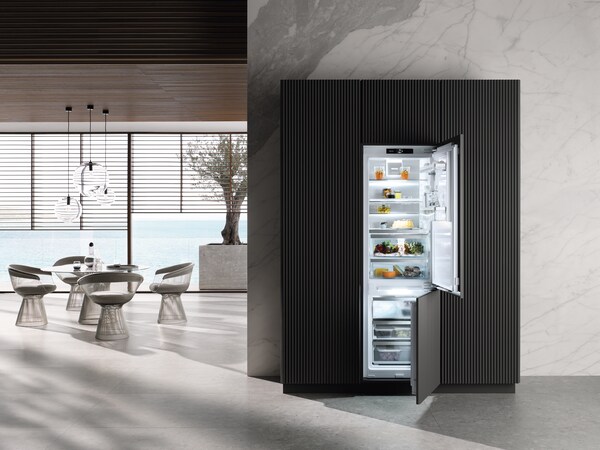 MasterCool – BrilliantLight
Perfectly lit
Soft and attractive: High-quality LED strips offer perfect illumination and a beautiful lighting.
MasterCool – MasterFresh
Protective storage for long-lasting freshness
Ideal climate: Food stays fresh for up to 3 times longer due to perfect temperature and humidity.
MasterCool – Push2open
The perfect solution for a handleless design
This appliance integrates perfectly into handleless kitchens, as the door opens by pressing the front.
PerfectFresh
Longer storage life for better quality and flavor
Fresh for up to 3x longer: The perfect storage temperature for fruit, vegetables, fish, meat and dairy products.
PerfectFresh Pro
Store food just like a professional
Our best fresh system: Food stays fresh longer under optimal storage conditions.
NoFrost
No more defrosting
Never defrost again: The no-frost system prevents ice from forming and saves you the trouble of defrosting.
MasterCool™ - IceMaker
Ice cubes for cold drinks
Produced quickly and stored: The IceMaker, which can be controlled separately, produces up to 150 ice cubes per day.
DynaCool
Perfect storage conditions for food and wine
Uniform distribution of temperature: a ventilator ensures excellent circulation and distribution of cold air.
MasterCool – NoFrost
Defrosting is a thing of the past
Convenient: A sophisticated NoFrost system saves you the hassle of defrosting and cleaning the appliance.
Features depend on model – images are only examples and used for explanation purposes
Subject to technical changes; no liability accepted for the accuracy of the information given.