$100 off Washers & Dryers
Savings on unrivaled performance.
For a limited time only,
receive $100 off any residential
Miele washer or dryer.
Find a dealer
Redeem now
Highlights
German Craftsmanship
A 120-Year Old Legacy
Since 1899, Miele has created thoughtfully designed, precisely engineered home appliances that fulfill the company's founding promise of 'Immer Besser' – a German phrase meaning 'Forever Better'. We are fully committed to discovering and developing ways to help our customers 'live better'
Perfecting Fabric Care
Customized For Your Lifestyle
Cap Dosing allows perfect wash results on items requiring special treatments like woolens and outdoor clothing.
Miele's patented honeycomb drum ensures your fabrics are handled with care. Choose either a standard program or customize for your individual fabric needs.
Flexibility
Speed, Ease of Use, and Convenience
With the new 'TouchControl' user interface, Miele has perfected the ease of use for the new Classic models, providing a simple way to select wash programs. In about 30 minutes, the 'Express' cycle saves both time and energy with unmatched results. The TwinDos feature has taken the guesswork out of detergent dosing on the remaining models.
And with the dryer running on a 120v outlet, you can install your machines anywhere within your home (without the need for ducting).
Terms & Conditions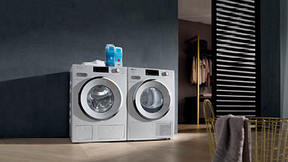 Redemption Steps:
1. Purchase applicable Miele products between
October 14th, 2019 - December 31st, 2019
2. Receive delivery by December 31st, 2020
3. Visit www.mielerebates.com by January 31st, 2020
to submit your rebate claim
4. Allow six to eight weeks for fulfillment (post submission)
$100 Off Laundry Promotion
Terms and Conditions of 2019 Miele® W1 T1 Laundry $100 OFF Promotion.
(1) This promotional offer (the "Rebate") from Miele, Inc., a Delaware corporation ("Miele"), provides $100 OFF each machine, when the customer purchases one Miele WWB 020 WCS, WWF 060 WCS, WWH 660 WCS, WWH 860 WCS, TWB 120 WP, TWF 160 WP, or TWI 180 WP (each, an "Eligible Appliance").
(2) After purchase of the Eligible Appliance and its registration online, the rebate will be sent to the customer by or on behalf of Miele.
(3) The Rebate only applies to the Eligible Appliance and shall not apply to any taxes (including sales tax), shipping charges or any other out-of-pocket expenses.
(4) Only end users (customers) may benefit from the Rebate. The Rebate shall not apply to wholesale buyers or any person or legal entity who offers for resale, or resells, the Eligible Appliance; when used, or attempted to be used, in connection with such transaction, the Rebate shall automatically be void.
(5) The Rebate shall be valid for Eligible Appliances purchased only at participating Miele Experience Centers, at participating authorized Miele dealers or online through participating authorized Miele dealers' websites. For a list of participating dealers and participating Miele Experience Centers, please see www.mieleusa.com/domestic/find-a-dealer-384.htm.
(6) The Rebate shall not be applied at the time of purchase of the Eligible Appliance.
(7) To redeem the Rebate, the customer shall register his or her Eligible Appliance with Miele and submit an online Rebate claim and copies of all of the required supporting documents (i.e., a valid order invoice and valid proof of payment). The customer shall retain all original documents.
(8) All Rebate claims shall be submitted online at mielerebates.com on or before date set forth on the Rebate (January 31, 2020); please allow 6-8 weeks for processing and shipment of the Rebate to the customer.
(9) To qualify for the Rebate, the Eligible Appliances must be purchased during the Rebate's redemption's period of October 14, 2019 through the December 31, 2019 (the "Redemption Period").
(10) Purchases made on or before October 13, 2019 shall not qualify for the Rebate. Purchases made on or before October 13, 2019, and subsequently cancelled and reissued during the Redemption Period shall not qualify for the Rebate. Purchases made during the Redemption Period and subsequently cancelled and reissued after the Redemption Period shall not qualify for the Rebate.
(11) In the event any of the Eligible Appliances are returned to Miele or a Miele dealer after any of the Cartridges have been delivered, the Rebate shall be forfeited and must be refunded to Miele in their entirety at the customer's expense together with shipping charges.
(12) The customer shall be eighteen (18) years or older.
(13) The Rebate shall be voidable at any time at Miele's discretion if the customer shall not produce a valid order invoice and valid proof of payment; or if the customer shall otherwise violate the applicable rules.
(14) No substitutions by the customer shall be allowed; however, Miele may at any time substitute the Rebate with any product of equal or greater value.
(15) By registering the Eligible Appliance, the customer hereby agrees to permit Miele to contact him or her with marketing emails at a later time. Customers may opt-out of such emails pursuant to the terms of Miele's Privacy Policy or by unsubscribing per email instructions.
(16) The Rebate is only available to residents of the fifty (50) states of the United States of America and the District of Columbia. The Rebate is not valid for residents of Puerto Rico, the U.S. Virgin Islands and any other territories or possessions of the United States of America.
(17) Any misrepresentation by the customer placing the order, whether innocent or fraudulent, shall disqualify him or her from the Rebate and further rebates offered by Miele; Miele reserves its right to refer such person for civil and/or criminal prosecution.
(18) In no event shall Miele be liable for more than the value of the Rebate.
(19) Miele may amend or discontinue the Rebate at any time with or without notice, including after an order is placed.
(20) The above terms and conditions are severable and, if one or more provisions shall not be valid under applicable law, the remainder shall be enforceable to the maximum extent permitted by applicable law.