Our newest line of cooling products has been engineered to keep each piece of food as fresh as possible – down to the exact, optimized degree.
Explore the Next Generation of MasterCool. Quality You Can See, Feel, and Taste.
The Evolution of Luxury Refrigeration
Explore the Next Generation of MasterCool. Quality You Can See, Feel, and Taste. From refrigeration to freezers and wine storage, we've got you covered.
Find a Partner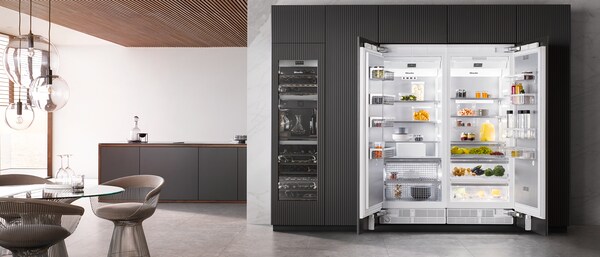 Push2Open
Convenient and reliable: a gentle press is all it takes to open the door of your Miele MasterCool appliance. This unique mechanism ensures maximum convenience – simply pull the door to open it further and take out whatever you need.
Push2Open
Thanks to Push2open, MasterCool appliances have an unobtrusive, minimalist design and can be integrated flush into any handleless kitchen. Prefer a classic design? Push2open can easily be converted to Pull2open via the control panel. The door won't respond to pressure – pull gently on the handle instead and the door will open automatically.
Unsurpassed quality
Perfection and precision of the highest quality. This begins when selecting the right materials. High-quality glass shelves, scratch-proof plastic and solid aluminium frames embody this high quality. Knowledge and experience are the best advisors on the path to high-end products.
BrilliantLight
BrilliantLight sets new standards within our MasterCool series. Multiple LED strips perfectly illuminate the entire inner cabinet of the appliance, displaying the food in a perfect light color.
With MasterCool, you can experience and enjoy convenience on a whole new level. A wide range of refrigeration appliances are available in various widths and combinations, to meet your individual needs.
Compare now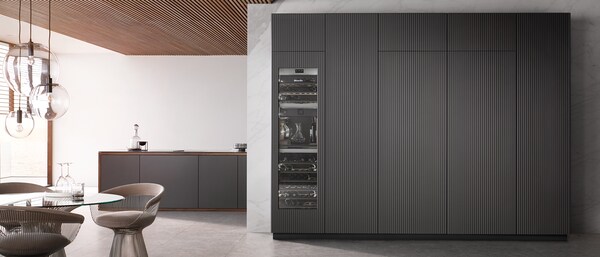 Bottom Mount Refrigeration
Offered in 30" & 36" pre-finished or custom panel options, our MasterCool refrigeration is perfectly fitting for any kitchen design. Additionally, our French Door bottom mount unit is available in 36".
42" Column Combination
Featuring an 18" freezer and 24" refrigerator, this MasterCool combination is available in stainless steel or custom-panel ready.
48" Column Combination
Our 48" refrigeration features a combination of two MasterCool units: 24" freezer and 24" refrigerator.
72" Column Combination
Side-by-side MasterCool refrigeration featuring a 36" refrigerator and 36" freezer, available in stainless steel or custom-panel ready.
78" Column Combination
Crafted to perfection, our 78" MasterCool combination features a 24" wine unit with 24" freezer and 30" refrigerator.
With the development of the large-capacity MasterCool built-in appliances, Miele is setting new standards. High-end design, impressive innovations and inimitable convenience features are combined in refrigeration appliances of the highest caliber. With MasterCool, you can experience and enjoy convenience on a whole new level.
Download brochure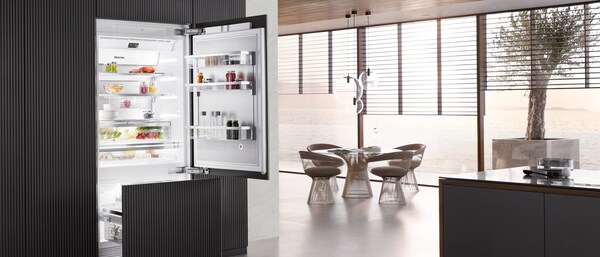 WifiConn@ct
Convenient and time saving: use your WiFi to remotely operate and monitor your appliance.
MasterSensor
Convenient operation: various settings can be conveniently configured using your fingertip.
MasterSensor
The innovative, high resolution TFT touch display allows you to configure all kinds of settings directly on your Miele refrigeration appliance/wine unit. A quick tap of the finger is all it takes to adjust the temperature or lighting to suit your specific preferences. You can also change the background color of the touch display: choose between elegant black and subtle white.
FlexiFrames wooden racks
Easy to reposition: individual wooden slats can be easily moved to make room for large wine bottles.
MasterCool appliances offer the best in terms of convenience each and every day, such as ideal food storage conditions, ice and water dispensing, a brilliant light concept and a simple user interface. MasterCool appliances meet the exact requirements of your everyday needs.
View products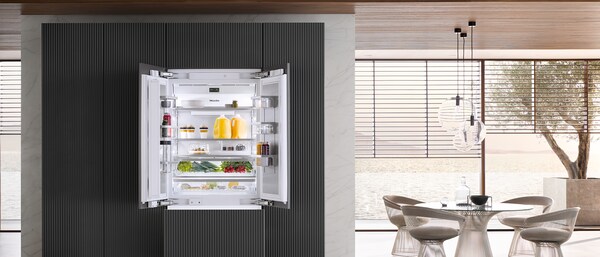 SommelierSet
Everything well thought through: cooling glasses, preparing wine for decanting and the conditioning of opened bottles to perfection.
EasyClean
Now it's even easier to clean your refrigerator: Miele refrigerators without a freezer have two-part storage containers in the door rack. The containers are therefore convenient to remove and their rounded corners are surprisingly easy to clean.
FullAccess
The high-quality drawers can be pulled out to their full depth to allow convenient loading. No need to search for frozen goods: frozen food items can now be found quickly and effortlessly.
MasterFresh
Fresh food is the basis for wholesome, healthy living. Fruit and vegetables should be consumed as crisp and fresh as when purchased at the local market. But who has the time to buy fresh ingredients every day? In addition to the quality of the food at the point of purchase, the right storage conditions are also important. The storage conditions determine how fresh, tasty and healthy food still is when preparing it for consumption.
MasterFresh
The drawers of your Miele MasterCool appliance provide the perfect climate for the gentle storage of your food. Thanks to the innovative MasterFresh function, the refrigerator temperature is particularly low, so that vitamins and minerals are preserved for a long time. The air humidity is also perfectly adjusted to suit fruit, vegetables, dairy products, fish and meat. This ensures that food stays fresh for up to three times longer.
DuplexCool Pro
The refrigerator and freezer have separate cooling circuits which ensure an optimum climate in both. In addition, there is no air exchange between the two areas. This prevents food in the refrigerator from drying out, and odors from fish, onions or cheese, for example, are not transferred to food in the freezer section.
DuplexCool Pro
In addition to the DuplexCool functionality, DuplexCool Pro provides maximum cooling with two separate compressors – one for each cooling circuit. DuplexCool is therefore the professional solution as it provides the safest storage conditions for your food in fridge-freezers.
ActiveAirClean filter
Inimitable aroma retained: the combination of active charcoal and chitosan (a natural product) effectively prevents odors.
Ice/Water Dispenser
Pure luxury: at the touch of a button you are treated to ice and cooled water from the front Ice/Water dispenser.
Ice/Water Dispenser
The automatic IceMaker inside Miele freezers can produce up to 150 ice cubes daily.
DynaCool
Top or bottom – where is it best to store your food? Thanks to DynaCool, you never need to ask yourself this question again. In MasterCool refrigerators, you can store your food wherever you like, as a fan on the back wall ensures that cold air circulates - for uniform temperature inside the entire fridge.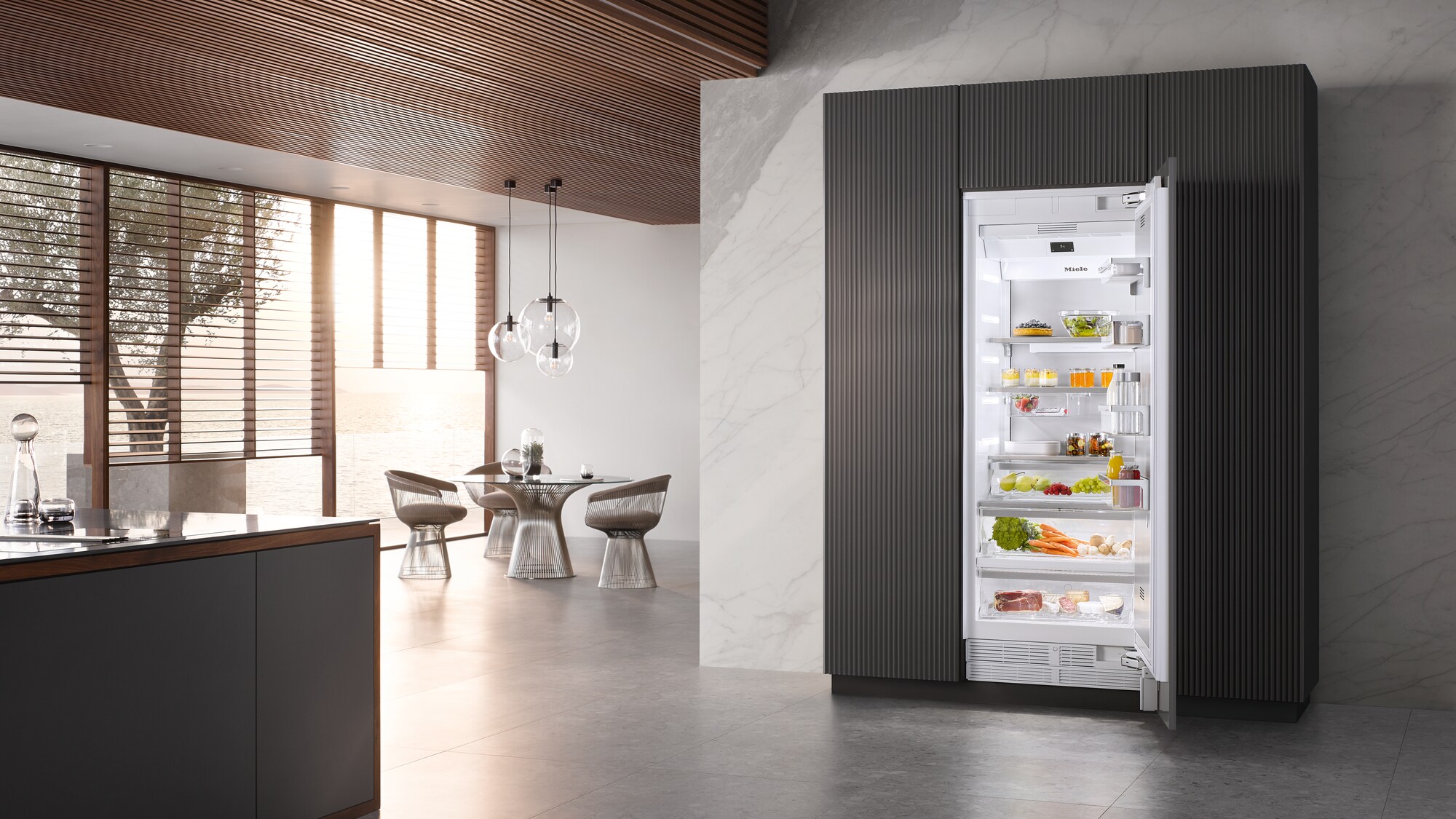 Discover Miele.
Learn more about our MasterCool assortment and the products available to you by locating an authorized Miele dealer closest to you.