DJ,musician,and gourmet
A chat about faraway lands, bizarre meals, and tired bones.
Alex Barck, founding member of Jazzanova, on why DJs are the new gourmets. A chat about faraway lands, bizarre meals, and tired bones.
Berlin-Kreuzberg, Maybachufer. On a summer Thursday evening, we catch up with Alex Barck, head of the internationally renowned Berlin-based DJ/producer collective Jazzanova, to talk about great food. And where better to do that than in a restaurant? He suggests we go to Life, a Japanese restaurant that opened just a few weeks before our interview took place. It has already become something of an insider tip on Berlin's gastro scene. Alex knows the restaurant and is friendly with the owner, so there's no danger of us being short-changed on the food front this evening.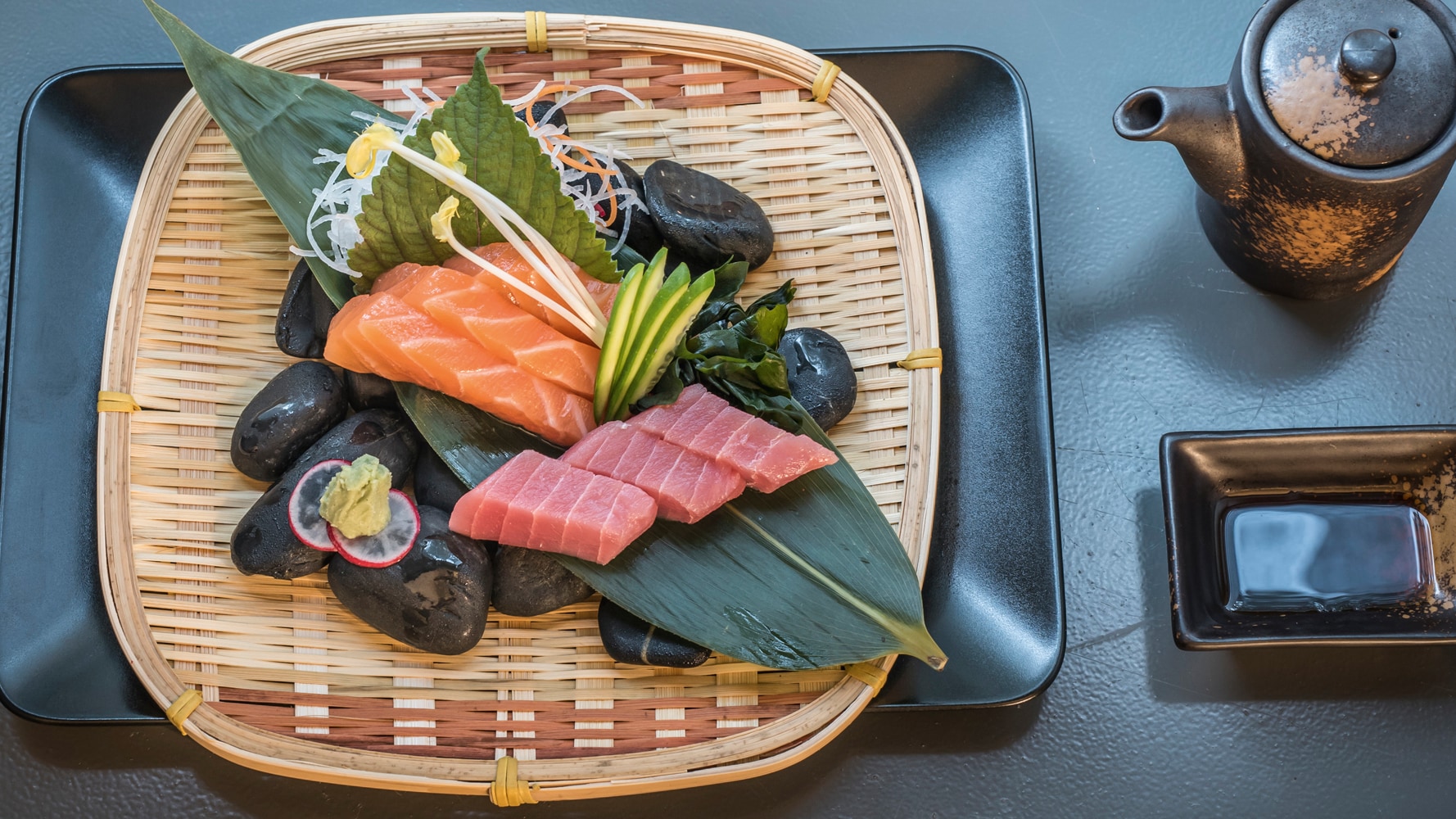 Successful DJs are well off, so they eat in expensive restaurants and automatically become foodies, right Alex?
It's not a theory that applies to me because I try to avoid the clientele of expensive restaurants. Rather than talking to the person they're dining with, they stare at their plates – like a dog fixated on a ball (laughs). It's more that when you're a DJ you're always on the road somewhere in the world and in the end you automatically try to make sure you eat well. It's a strenuous job and you have to make sure you get the energy you need.
Bands also spend a lot of time on the road, but they don't tend to have a reputation for being foodies.
Well, we DJs have one main advantage – there's only one of us so we're cheaper to fly in (laughs). That means we get better flights and hotels, and more than your basic backstage catering. At some point, DJs – and particularly the ones in our scene – suddenly insisted they wanted to eat in good restaurants.
What about you – how did you get into it?
I'm from the GDR and grew up in East Berlin, where food was something of a side product. It was just meant to fill you up. And when you're young you don't really care that much, all that matters is that you're full. I lived like that for years – a typical bachelor. But then I met my wife. She's French...
...and the rest is history.
(laughs) Food is hugely important in France and everyone seems to be a walking wine encyclopedia – they instantly know what goes with what food. Of course I really enjoyed it, but that was as far as it went – or so I thought. Then suddenly I was also considered to be a wine buff. My wife's image had rubbed off on me! The positive side effect of this was that it sparked my interest and now I actually know more than my wife.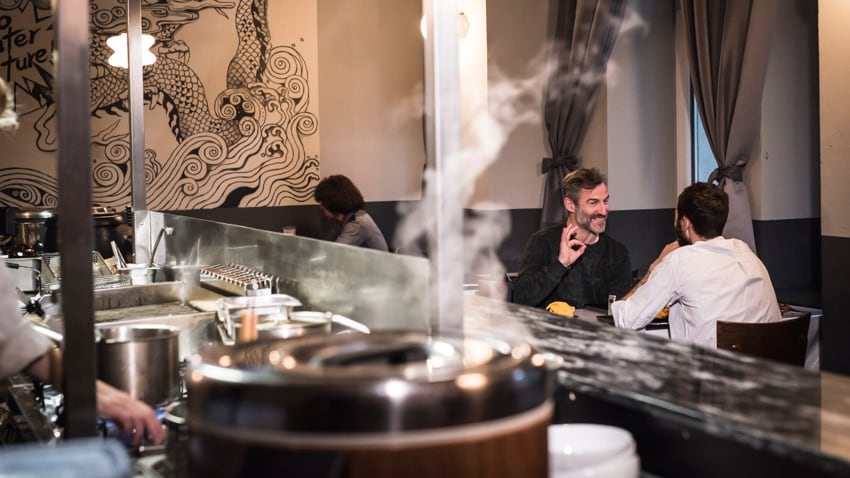 If they made a film it would be called "Alex, The Reluctant Foodie."
I wouldn't really call myself a foodie because I like eating at home – my wife is a great cook. What I enjoy most about food culture is actually the social aspect – the chance to meet people. Then you gradually learn more about it.
So eating with others and discussing food is a bit like rummaging through the records and talking shop in a record store.
Absolutely. Of course you can order all your records online – it's quick and easy. Then you sit at home with your two thousand records, which are all brilliant, but who do you talk to about them, who do you play them for? For me, it's just the same with food. Something can be really great, but then there comes a time when you say: I'd rather go out and eat with someone I can have a good time with, who appreciates the food and who perhaps has some interesting ideas on the subject.
I guess you often meet people like that on your travels?
There are always people who say: you're in Spain, so you have to drink this or that wine. And when you're in Italy you have to drink this one. Every village has the best wine, the best olive oil. So you say OK and give it a try, because I like working with buddies – I've been spinning records for more or less the same people for the last 20 years. It's a Japanese thing: you work with a promoter and help them out because it's all about give and take.
"So you're sitting there in the middle of this parallel universe"
You seem to have a soft spot for Japan. You even suggested that we meet up in this Japanese restaurant.
Over there you can go in any restaurant, it could be a bit of a dump or ultra-hip, and in the background they'll be playing some amazing jazz number you wish you'd written yourself. And they're just as dedicated to food as they are to music. They also still respect the old traditions – you sit there in the middle of this fascinating culture, this parallel universe, and you're served fermented nattō bean for breakfast and you think "I couldn't even get that down me for dinner!" Now that's living!
Different countries, different customs – do you have to be careful sometimes?
Wherever you go in the world, if you observe the basic principles of politeness and respect, you're usually OK. As a DJ, you also tend to live in a bit of a bubble, surrounded by people who are like you. You have to make an effort to get out from behind your turntable. Then you suddenly discover interesting things and find out how things work in this strange world.
Which countries have your favorite food?
I'm a big fan of Indonesia and especially the Chinese food that you find everywhere there. I spent a year on La Réunion, a small island in the Indian Ocean, and the food was very unusual but really good. It's a real mishmash of influences – French, Indian, Chinese, African, Creole, and indigenous. It's incredible how they mix everything together in a pan and it tastes just amazing.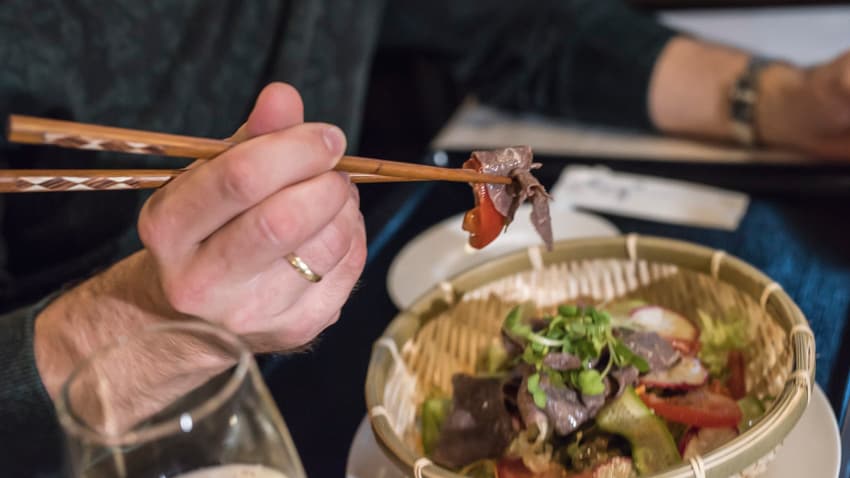 "When we invite people to dinner, they ask for this dish"
What's that?
Rougail saucisse – smoked sausages prepared with a special blend of spices. It's to die for! My wife learnt how to make it while we were in La Réunion. When we invite people to dinner, they ask for this dish. Of course it's hardly fine cuisine, it's the kind of food that's starting to die out. That's understandable because people don't do so much hard physical work these days so they prefer lighter meals.
Talking of changing times, are you still on the road as much as you used to be?
Jazzanova took off in the mid-90s, so that was obviously a crazy time. But I'm still on the road every weekend. That's great, because I like spinning records, being in clubs, communicating with people through music. But I have to admit, I'm now at an age where travelling is becoming a bit of pain. For example, tomorrow I have to get up at six to catch a flight to Slovenia, play there and then travel on to Croatia without getting any sleep so that I can play a festival in the afternoon. Over the last 20 years I've built up a huge sleep deficit – you could stand me in the corner and I'd fall asleep straight away. Unfortunately even the most delicious food doesn't help with that.
Author: Nico Cramer
Images: © PR, © Holger Talinski