Coffee desserts
Sweet treats for caffeine junkies.
Coffee isn't just for drinking! It's also perfect for creating delicious desserts, such as coffee caramel, crispy coffee tuiles, and coffee liqueur with cognac, tonka bean, and vanilla. How can you resist?
Coffee is incredibly versatile − it's not just a delicious drink but also perfect for desserts. Its slight bitterness adds buzz to your baking and rounds out the flavor of liqueurs. Coffee goes beautifully with ice cream, fruit and pastries, and adds a subtle kick to many other sweet dishes. That leaves just one question: why aren't all desserts made with coffee?
Portions: makes around 1 liter
Ingredients:
50 g espresso beans
1 vanilla pod
300 ml milk
250 g whipping cream
6 egg yolks (from medium fresh, organic eggs)
salt
100 g muscovado sugar (whole cane sugar, available from health food shops)
50 g glucose syrup (see tip)
3 tbsp cognac
80-100 g bitter coffee chocolate (espresso or mocha chocolate, at least 60% cocoa)
Preparation:
Place a wide, flat dish or ovenproof pan on the second shelf up from the bottom of the oven and preheat.
Settings: Top / Bottom heat / 160°C.
Grind the coffee beans in a mortar, add to the hot pan, and roast for 13–15 minutes. (See next recipe).
Slice the vanilla pod lengthwise and scrape out the seeds. Add the seeds and the pod, together with the milk and cream, to the coffee beans and bring to the boil on a low heat. Then remove the pan from the burner immediately, cover, and leave the mixture to steep for 15 minutes.
Prepare a large bowl of iced water.
Place the pinch of salt, muscovado sugar, glucose syrup, and egg yolks in a bowl (a heat-resistant, round-bottomed mixing bowl is best) and whisk with a hand mixer. Place the bowl over a small saucepan of simmering water and beat until frothy. Pour the hot coffee and cream mixture through a sieve, stirring continuously, and continue to beat over the bain-marie until a creamy consistency is reached. Ensure that the mixture does not overheat (max 85°C), as this will make it runny again. Stand the bowl in the iced water immediately, and beat the cream until cold.
Stir the cognac into the cooled mixture and leave to freeze in an ice cream maker. Chop the chocolate, place in a small bowl, and melt over a bain-marie. Leave to cool slightly. Slowly pour the chocolate into the frozen ice cream mixture in a thin stream and stir.
Put the ice cream into a pre-chilled freezer box and keep in the freezer compartment until serving. Ice cream that has frozen too hard can be placed in the refrigerator for 10-20 minutes to soften before serving. Serve portions using an ice cream scoop or a tablespoon dipped in water and dish up with fruits in coffee caramel or in crispy tuiles (see recipes).
Tips:
Ensure that no water gets into the melted chocolate, as this will dilute it and make it hard.
Order glucose syrup over the internet, or make your own: Add 50 g each of glucose and sugar to 100 ml water, bring to the boil, and reduce to half the volume. Leave to cool. Any unused syrup can be stored indefinitely in a screw-top jar. Syrup that has hardened can be softened once more over a warm bain-marie.
Serve the rest of the tuiles to nibble with the ice cream.
Ingredients:
1 pack vanilla sugar
70 g caster sugar (granulated sugar)
1 pinch of salt
75 g flour (fine white flour)
1 serving soluble coffee (2 g instant coffee)
1 tbsp ground almonds
2 tsp finely grated organic orange zest
1 egg (medium)
80 ml milk
1 silicone baking mat
Preparation:
Place all the ingredients in a tall jug, whisk with a hand blender, cover and leave to stand for at least 30 minutes. Prepare tumblers, a long-handled cooking spoon, and a rolling pin (see previous recipe).
Preheat the oven. Settings: Top / Bottom Heat / 160°C.
Place the silicone baking mat on a baking sheet. Using a teaspoon or tablespoon, place small portions of the mixture onto the baking mat and spread them into very thin circles with the back of the spoon or a small palette knife. The circles of mixture will not expand and do not need much space between them. The thinner the mixture, the crispier the tuiles will be.
Bake the circles on the second shelf from the bottom for 12–15 minutes, until they are well browned around the edges.
Release the circles from the hot baking mat immediately using a palette knife. Either fold and press together to create little cones and stand each cone in a glass, or lay them in a gentle curve over a wooden spoon handle or rolling pin. Leave to cool and firm up. Continue with the rest of the mixture.
Tips:
Tuiles can only be baked on silicone baking mat. Parchment paper is not suitable, as it creates creases.
The baking mat should not be greased before use.
The mixture can also be made without the instant coffee.
To make cones, the circles should be 10–12 cm in diameter.
Tuiles can only be shaped when they are warm.
The cooled tuiles should be kept cool and dry until they are used.
Portions: 6
Ingredients:
approx. 200 g fruit (e.g. raspberries, strawberries, blueberries, sliced apricots etc.)
6 tbsp brown sugar
1 cup of coffee (approx. 125 ml)
Preparation:
Wash the fruit and pat it dry with a paper towel.
Place the sugar in a small heavy-based pan and heat over a moderate heat (Level 7). Swirl the pan gently once the edges of the sugar begin to melt (see also tips for the recipe for glazed morello cherries).
Once everything has melted and slightly caramelized, add the coffee and 3–4 tablespoons of water. Reduce the heat and stir to dissolve the sugar. Keep the pan covered to ensure that all the liquid does not evaporate.
Swirl in the fruit, heat through, and dish up. Heat the caramel until the desired consistency is reached, distribute between the fruit dishes, and serve.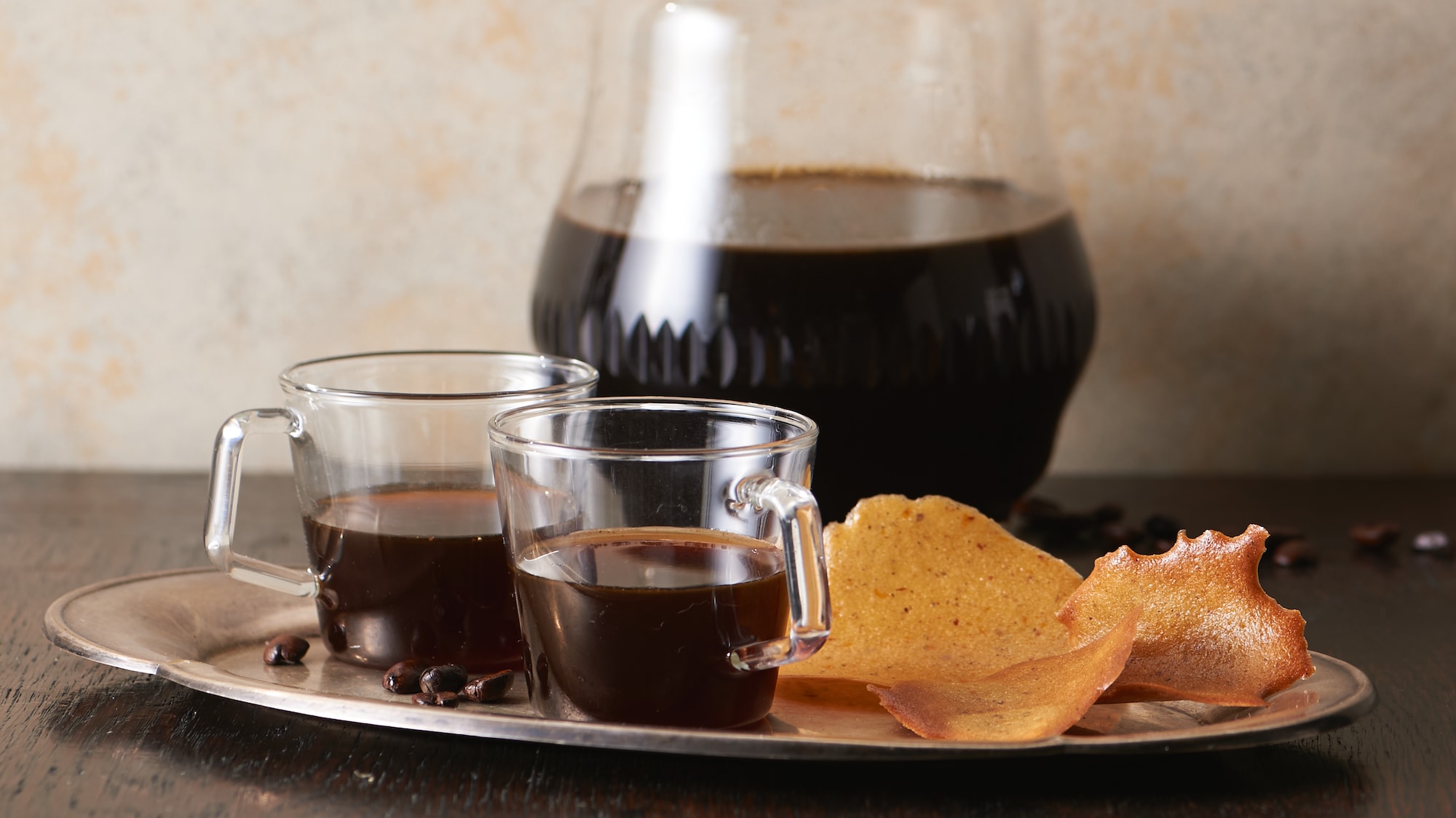 Coffee Liqueur with Cognac, Tonka Bean and Vanilla
Portions: For approx. 1.3 liters
Ingredients:
1 vanilla pod and 1–2 extra pieces for the filled bottles if required
1 tonka bean (spice shelf)
4 green cardamom pods
450 g sugar
70 g ground coffee or espresso (80% Arabica, 20% Robusta, not too finely ground)
0.7 l cognac (or brandy, 40%)
Preparation:
Slice the vanilla pod lengthwise, chop with the tonka bean and cardamom pods, and bring to the boil with the sugar and 500 ml water. Simmer over a low heat until the sugar has dissolved.
Stir in the coffee, cover, and leave to cool. Add the cognac, cover, and leave to steep for 3-4 days, stirring once daily with a clean spoon.
Pass the liqueur through a sieve lined with a dish towel, pour into bottles, and leave to mature for at least 3 weeks before serving.
Tips:
Coarser ground coffee makes the final filtering stage easier.
In small bottles, this liqueur makes a great gift.
For a mini-dessert, serve the liqueur topped with a little cream.
Use the coffee liqueur to pour over desserts (e.g. vanilla custards, flans, ice cream, or small cookie gateaux).
Production: Regine Smith Thyme
Food styling: Marlies Klosterfelde-Wentzel
Styling: Katrin Heinatz
Photo: © Wolfgang Kowall​