High Quality Washers and Dryers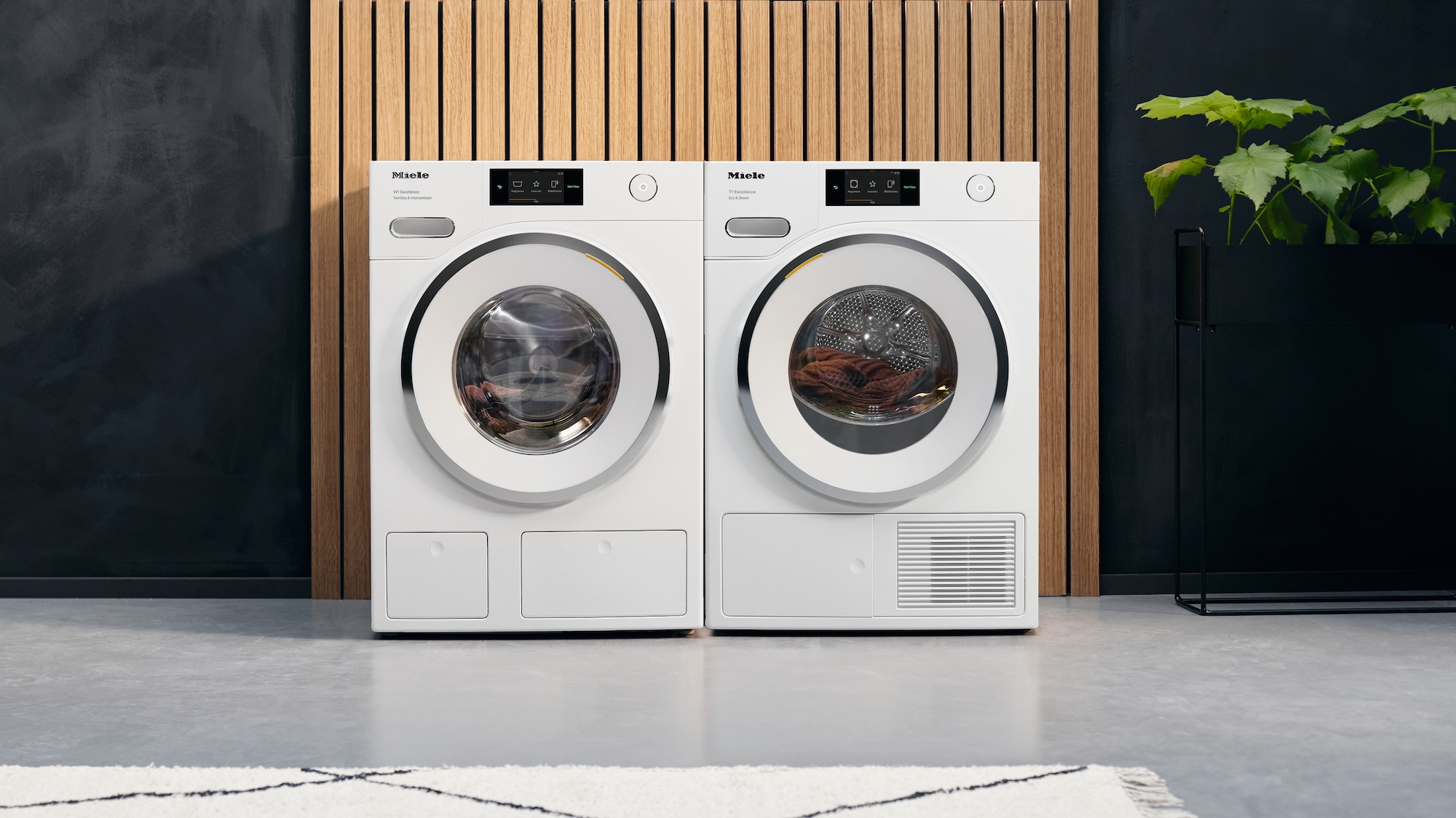 All-New W1 T1 Laundry Series
Miele's New High Quality Washers and Dryers
Experience Miele's new high quality washers and dryers with even faster performance and more convenient features than ever before. From automatic detergent dispensing and WiFi capabilities to energy and water efficiency, discover how these award winning high quality washers and dryers are a perfect fit for every home.
Rethink how you do laundry, by thinking less about it.
Every detail has been perfected with Miele's high quality washers and dryers. Experience how convenience meets performance with all the innovative features that Miele laundry machines have to offer. Depending on the size of your space, choose whether you'd like your machines to be stacked, side-by-side, or undercounter. Miele wants your laundry experience to be as easy as possible – removing all the guesswork. Let the TwinDos automatic dispensing detergent system measure the perfect amount of detergent for your load. For a quick load, use the QuickIntenseWash program to thoroughly wash your clothes in just 49 minutes. For a single load, SingleWash washes your single garments faster and more economically than ever before. As for the drying process, Miele dryers are known for their energy efficiency saving up to 60% with heat-pump technology. In addition to PerfectDry – never worry about your clothes coming out less than perfect ever again.
W1 Washers with TwinDos
Miele's TwinDos provides the most intuitive automatic detergent system on the market with two detergent containers integrated into the washing machine. The appliance dispenses the optimum quantity of detergent for the laundry at the optimal time in the wash cycle. Several detergent options are available, including sensitive and odor protection.
T1 Heat-Pump Dryers
T1 Heat-pump dryers are known for energy efficiency, saving up to 60% in consumption. They have been designated as Most Efficient Energy Star certified for 2021. Unlike condenser dryers, the heat generated is reused and low temperatures protect the high-quality fibers in the most delicate fabrics. T1 dryers run on a 120v outlet, providing flexible installation.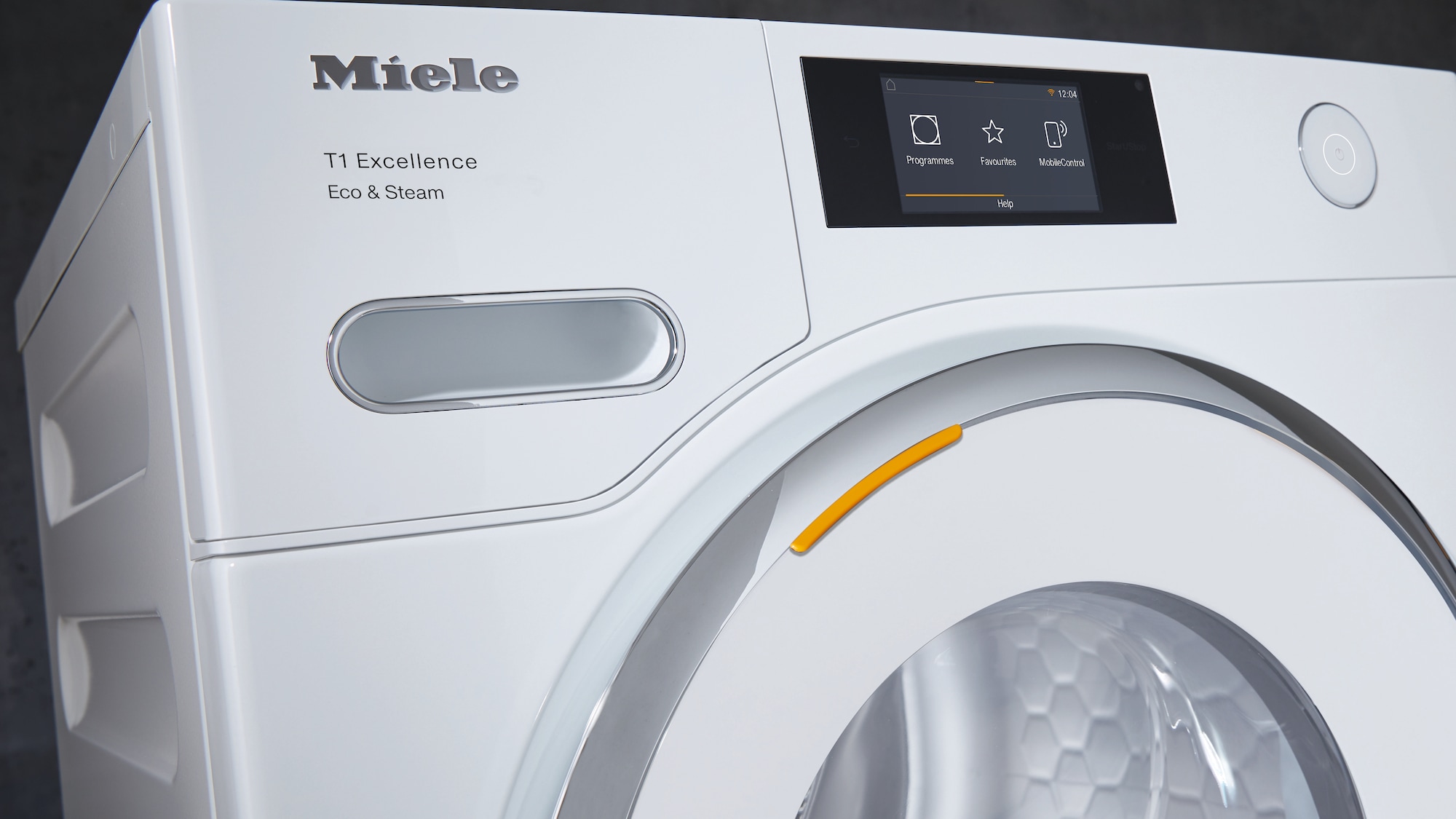 M Touch Controls
Miele's high quality washers and dryers now feature sleek and intuitive M Touch controls on select models. Choose your settings with only the touch of a fingertip. Your machines can be operated quickly and easily by tapping or swiping on the display panel.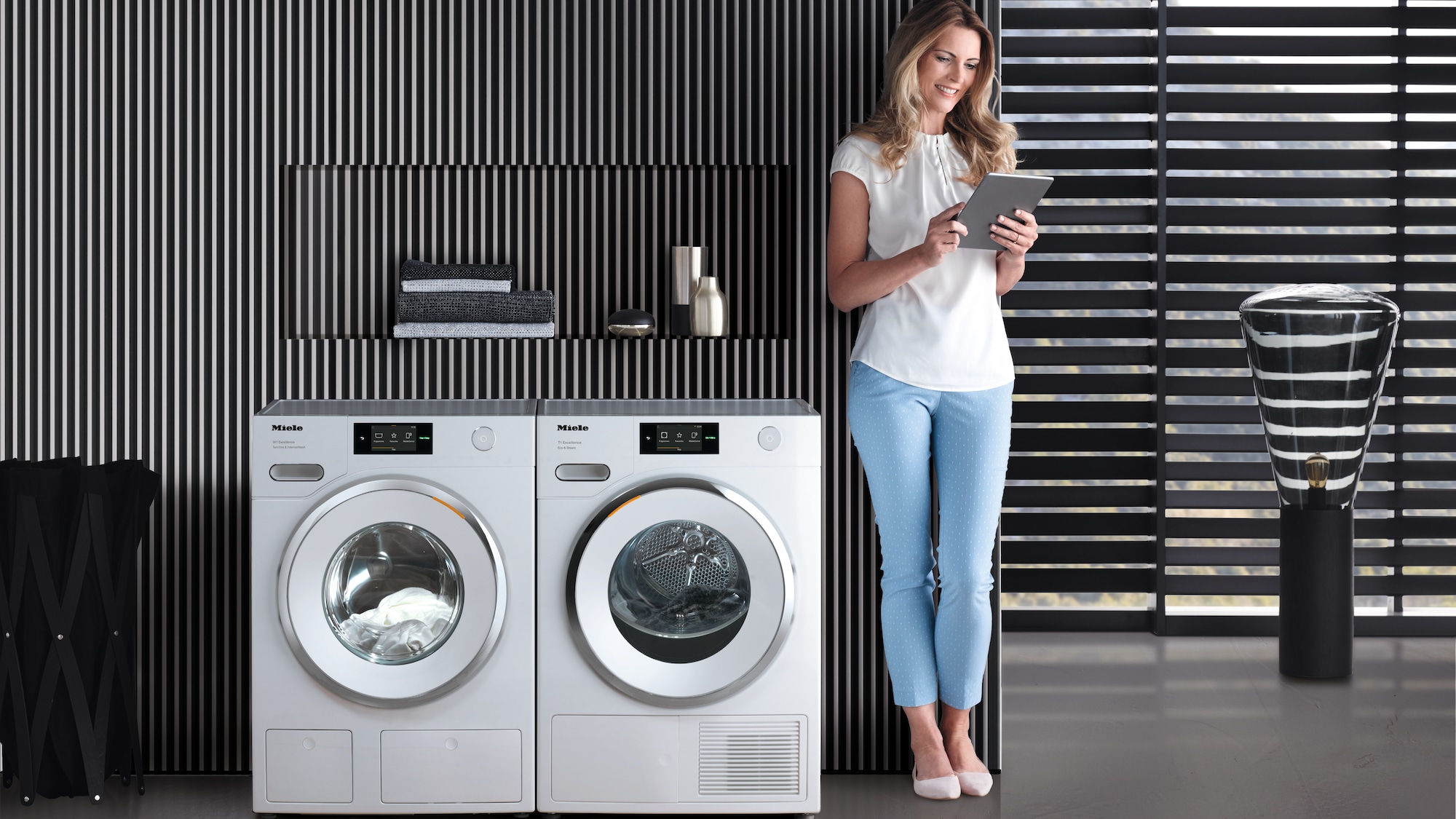 WiFiConn@ct
Operate your Miele laundry machines from anywhere on your smart phone or tablet with WiFiConn@ct. Explore different settings and programs, while having the ability to network your Miele appliances with the Miele@home app. Load your machine and then operate it while on the go - allowing you to come home to warm, fluffy laundry. Check out your detergent levels to see when it's time to reorder.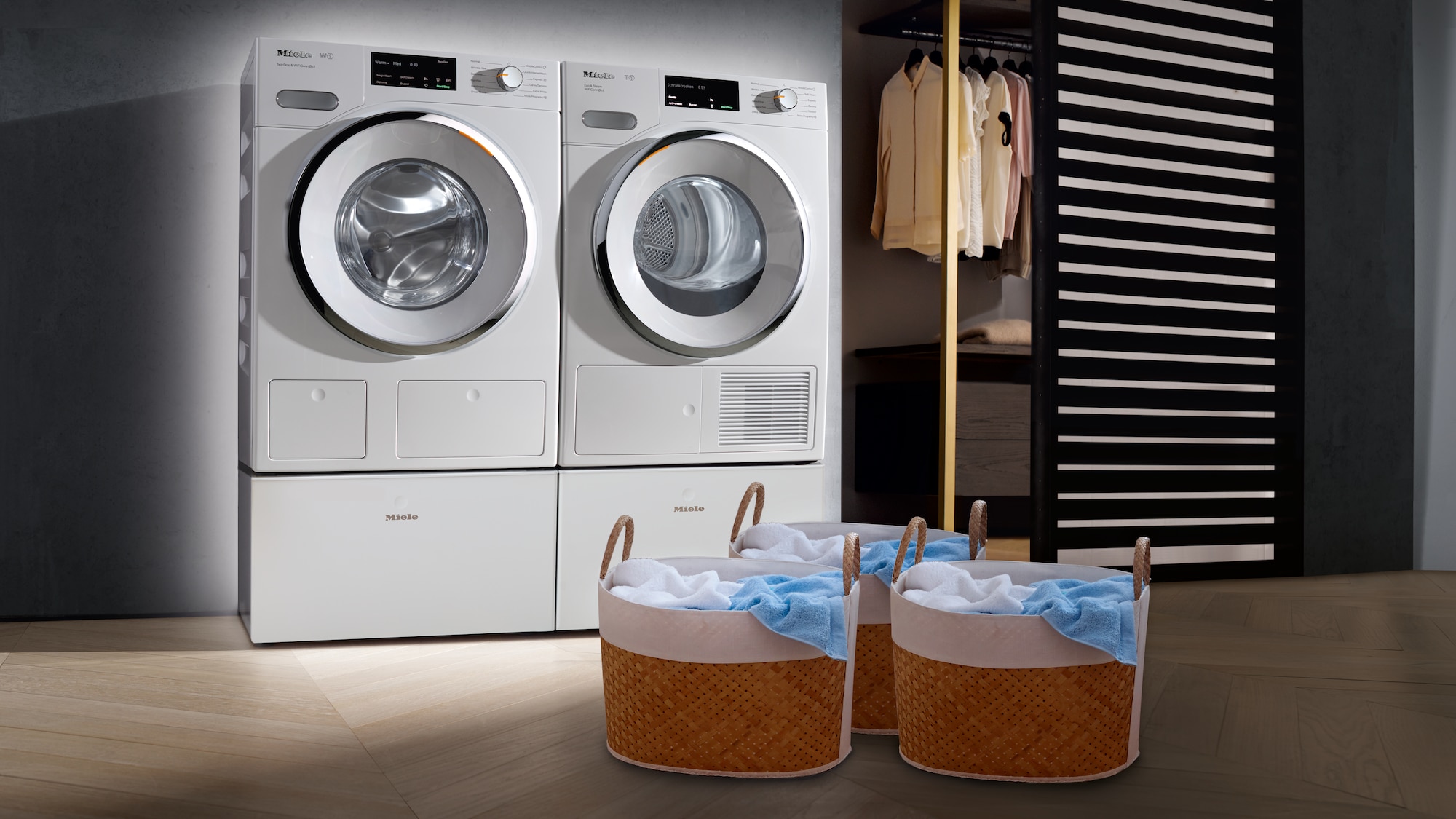 Capacity
Miele's W1 washing machine can hold up to 3 baskets of items (approximately 17.6 pounds) and provides a smaller footprint in terms of space. Let the W1 surprise you with what it can hold, while also offering the flexibility of handling smaller loads (i.e. half load) without the added energy.
Miele Quality
Miele's high quality washers and dryers are designed to last a long service life. Miele conducts intensive endurance tests to meet the highest quality standards. In these tests washing machines are expected to wash for 10,000 hours, while running a mix of approximately 5,000 two-hour wash programs. This corresponds to approx. 5 programs per week – over 20 years.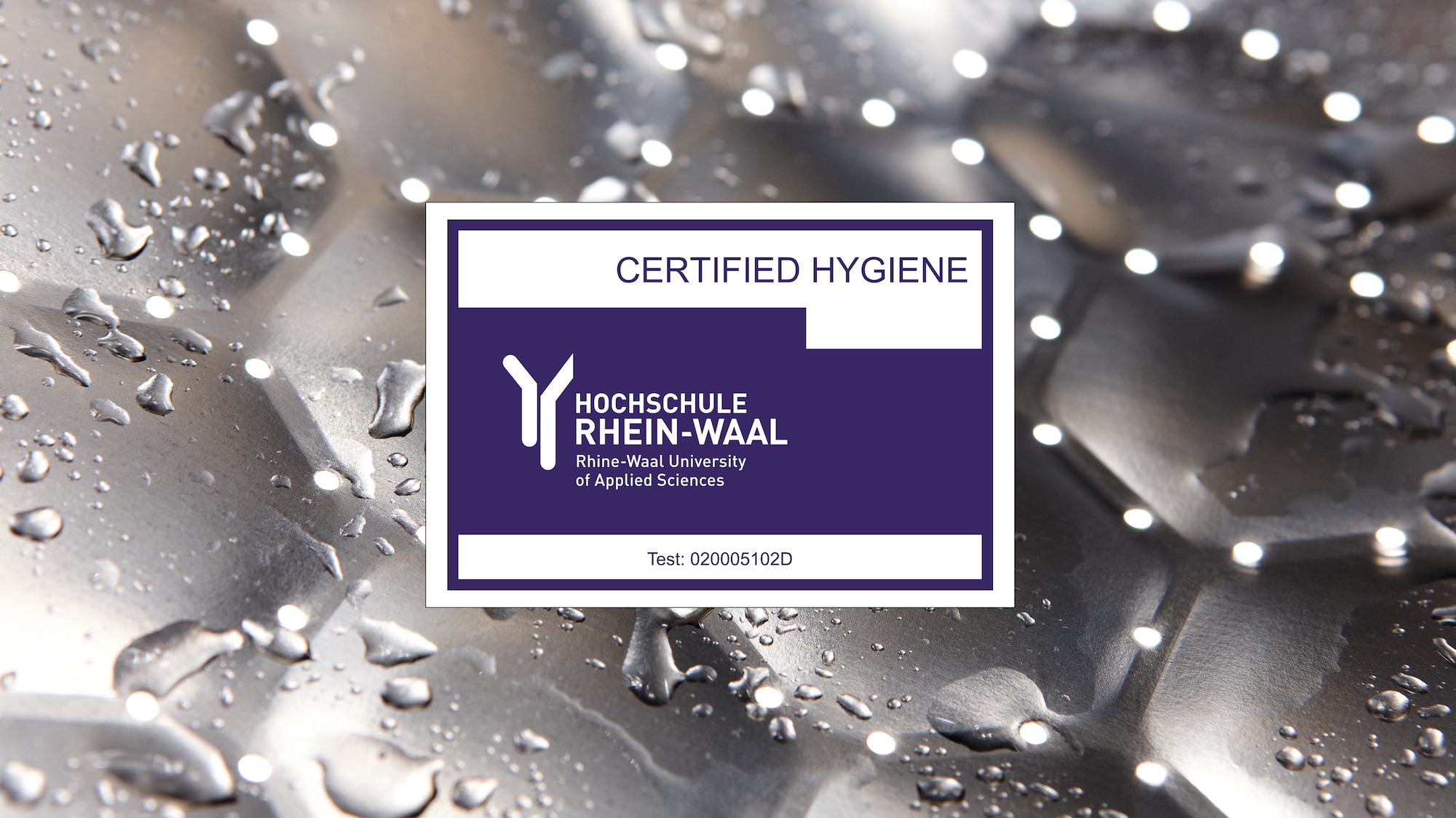 Hygiene Seal
Our washing machine technology and hygiene programs ensure textiles are germ-free. Tests by the independent Rhine-Waal University of Applied Sciences have confirmed that all Miele washing machines remove 99.99% of specific bacteria when using the Sanitize Program*. This applies to TwinDos with UltraPhase and standard detergents.
Every machine is in a class of its own
Find out more about Miele high quality washers and dryers.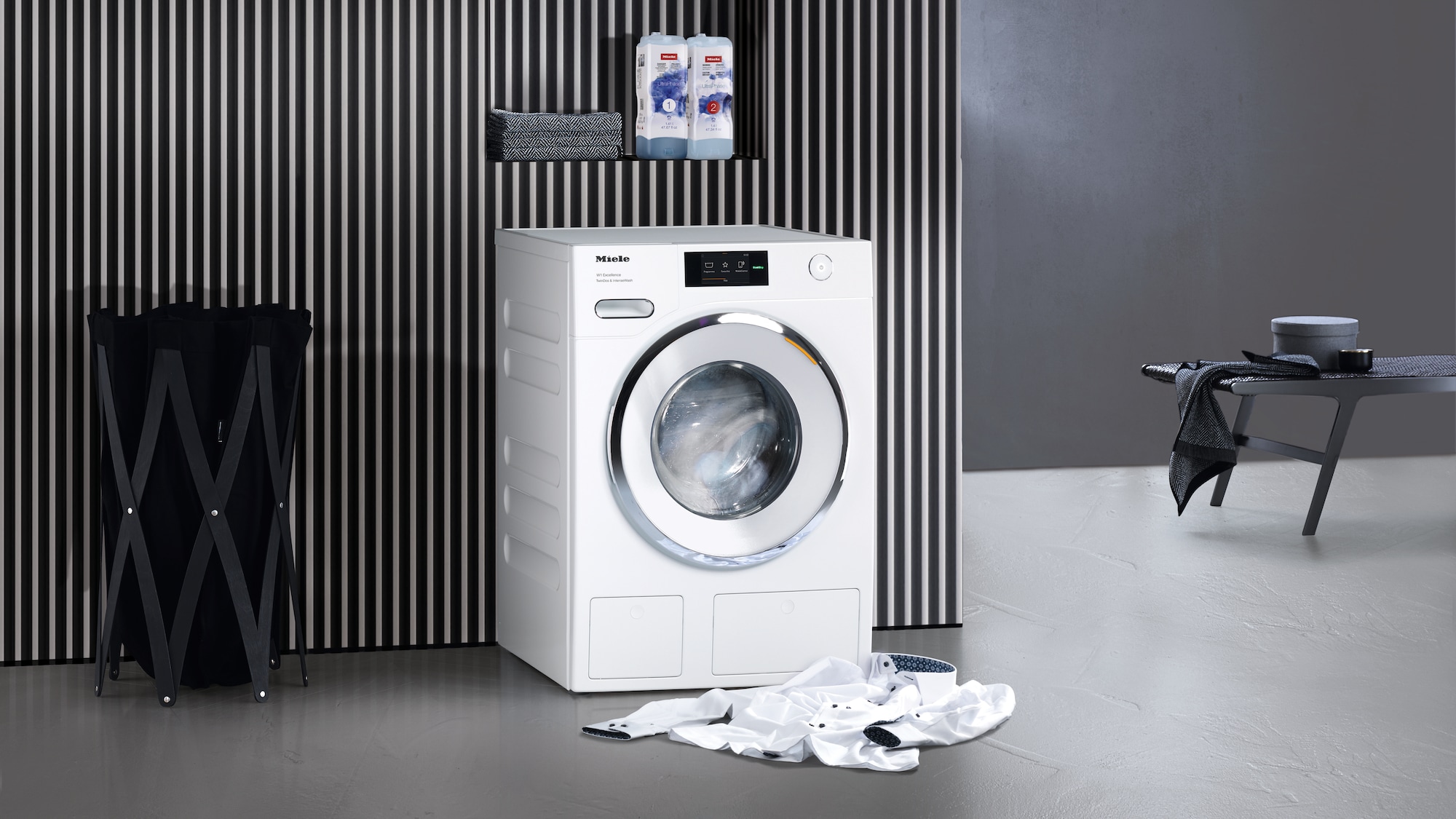 High Quality Washing Machines
Change how you do laundry forever. Explore the innovative features and benefits of Miele W1 washing machines.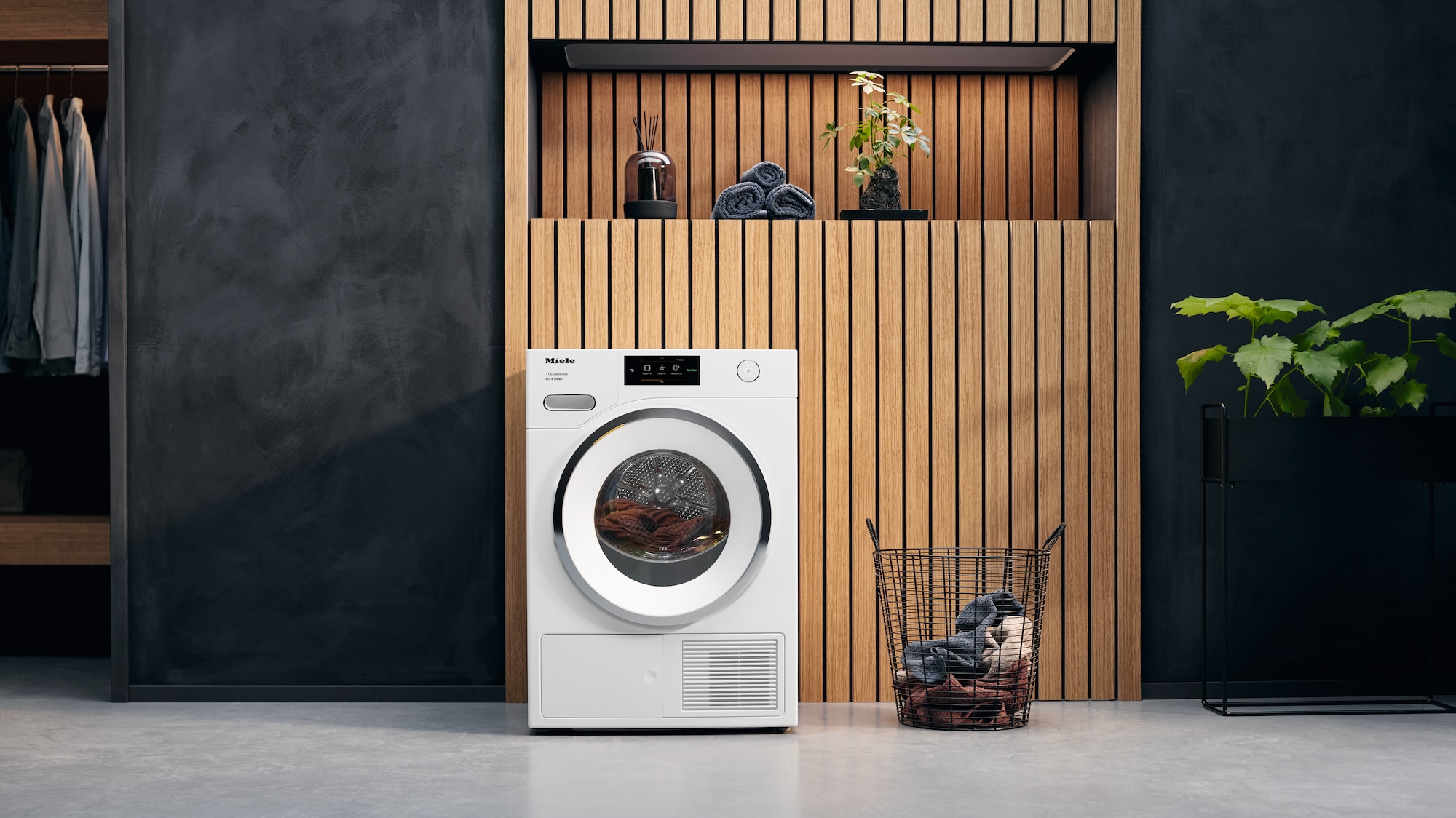 High Quality Tumble Dryers
Perfect results every time. Explore the innovative features and benefits of Miele T1 tumble dryers.
The ability to install anywhere
For more compact spaces, Miele's high quality washers and dryers can be conveniently combined as a washer-dryer stack. Conveniently install side by side or add the WTS 510 plinth (optional accessory) for practical storage space below the machines. All Miele front-loading machines can be placed under a countertop with a minimum niche height of 33.5 inches. All dryers are ductless, ventless, and run on a 120v outlet - providing flexible installation options.
Compact Washer and Dryer Stack
Compact Washer and Dryer Side by Side
Compact Washer and Dryer Undercounter