Product Detail
USD
Free shipping on online orders over $25 within the contiguous US.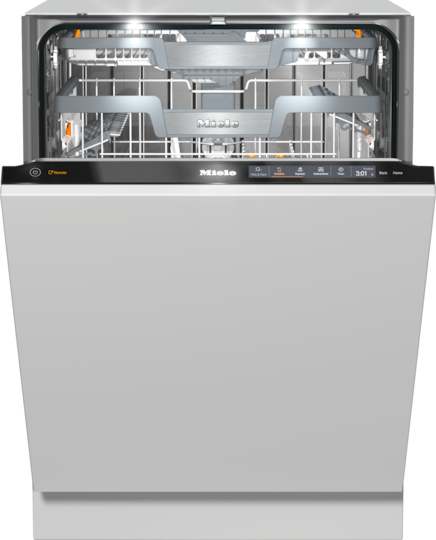 G 7966 SCVi AutoDos
Fully integrated dishwasher XXL – the Miele all-rounder for handleless kitchen designs.
---
Your exclusive advantages
Exclusive to Miele
3D MultiFlex Tray*
Maximum flexibility
Stress-free loading: Ingenious adjustment options create space in the dishwasher even for small items.
Exclusive to Miele
FlexLine Baskets
Intelligent basket design for all types of dishes
Flexibility creates convenience: Easy adjustment and flexible loading for the best cleaning results.
QuickIntenseWash
Best cleaning in less than an hour
Short program: Best cleaning results for normally soiled dishware in 58 minutes.
EcoPower Technology 
Innovative water feed for rinsing with less water
Saving water and energy: Cleverly designed water supply reduces consumption.
Exclusive to Miele
Appliance networking with Miele@home*
Cleverly networked
Make your life smart: thanks to Miele@home, you can cleverly network your domestic appliances – for more options.
Exclusive to Miele
A world first: AutoDos with PowerDisk
Automatic dispensing for excellent results
Automatic dispensing with integrated PowerDisk. Superior cleaning system, unparalleled freedom!
Features depend on model – images are only examples and used for explanation purposes
Optional products and accessories
Follow the link and you will find all the resources you need for planning and installing any of our products
Follow the link and you will find all the resources you need for planning and installing any of our products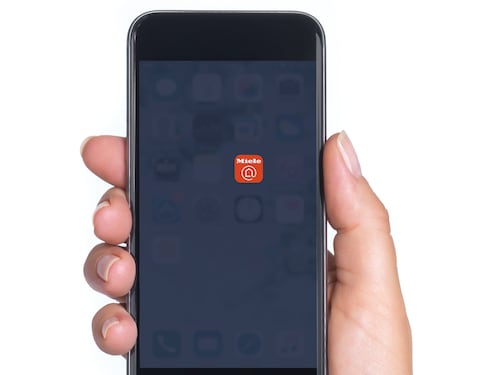 Monitor your Miele appliances while you are on the go.
With the Miele@mobile app for your smartphone or tablet you can now connect all your Miele appliances and benefit from its smart home features.
1 .

Refers to the Enterococcus faecium or Micrococcus luteus bacteria in the hygiene program or with AutoDos and PowerDisk in the Economy and QuickIntenseWash programs.

5 .

Additional digital offer from Miele & Cie. KG. All smart applications are made possible with the Miele@home system. The range of functions can vary depending on the model and the country.

6 .

According to certification by the Institute for Integrative Hygiene and Virology with respect to the removal of enveloped and non-enveloped viruses (e.g., coronaviruses, influenza viruses, or noroviruses) in the tested SaniWash and Intensive programs, in all cases using PowerDisk/UltraTabs. Details on the test criteria can be found at www.miele.com/g7000-c.
Subject to technical changes; no liability accepted for the accuracy of the information given.