Robot vacuum cleaners
Our robot vacuum cleaners make life easier for you by cleaning your home fully automatically. They are precise and reliable: The intelligent combination of cameras, sensors, electronics, and software ensures that you can trust them completely.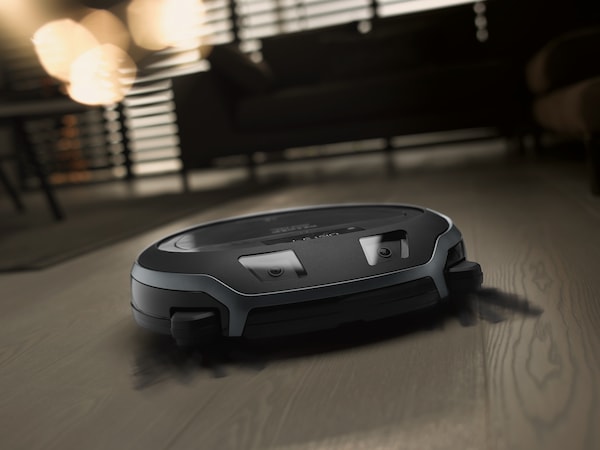 Quattro Cleaning Power
Efficient suction system for any kind of floor
Effective on carpets and hard floors: 4-stage cleaning system with 4 cleaning modes for perfect dust pickup.
3D Smart Navigation
Camera-based, three-dimensional room detection
Intelligent navigation: 2 front cameras enable high-precision 3D object detection for comprehensive cleaning.
MobileControl*
Can be run at home using the app or while on the go
Mobile control and monitoring: With the "Miele Scout RX2" app for mobile devices – anytime and anywhere.
Corner Brush
Sweeping side brushes for thorough cleaning
Clean all over: The sweeping side brushes extend over the unit and can reach any corner.
Features depend on model – images are only examples and used for explanation purposes
App-based control of Miele robot vacuum cleaners*
Want to communicate with your robot vacuum cleaner?
You have total control with MobileControl.
Go to products
Navigation of Miele robot vacuum cleaners*
Why do you need a smart robot vacuum cleaner?
Miele brings suction power and cleaning performance to a high level of precision, and sets the bar high for efficiency and thoroughness. With the unique combination of cameras, sensors, electronics, and software, the robot vacuum cleaners navigate through rooms systematically.
Go to products
The cleaning system of Miele robot vacuum cleaners*
Where does the high cleaning performance come from?
The Scout RX2 dutifully performs its task of cleaning every inch with the utmost care. With its side brushes, it cleans along walls and in corners with ease. As soon as the Scout RX2 encounters an obstacle, the side brushes retract.
Go to products
2 .

Available for a mobile device (for the minimum requirements, please refer to the information provided in the app store)

4 .

Transmission quality is dependent upon the speed of the Internet connection in your home and the speed of your mobile device.
Subject to technical changes; no liability accepted for the accuracy of the information given.