Built-in freezers
Maximum safety, maximum convenience: Miele Freezers allow you to freeze food safely and easily. The appliance can be fitted with a customized front so it blends perfectly into your existing kitchen design.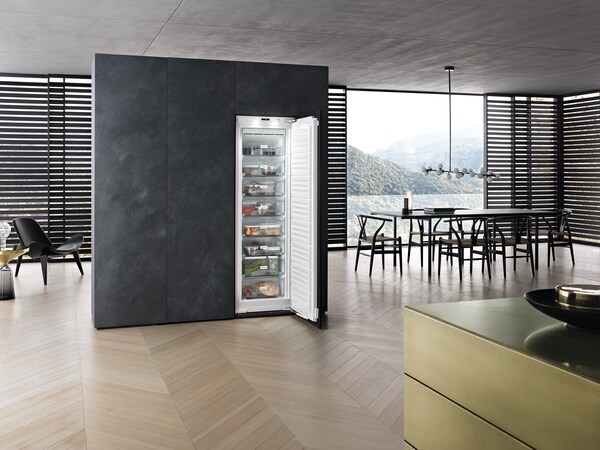 MasterCool™ - Ice/water dispenser
Ice and chilled water at the touch of a button
Pure luxury: At the touch of a button you are treated to ice and cooled water from the front Ice/Water Dispenser.
MasterCool – BrilliantLight
Perfectly lit
Soft and attractive: High-quality LED strips offer perfect illumination and a beautiful lighting.
MasterCool – Push2open
The perfect solution for a handleless design
This appliance integrates perfectly into handleless kitchens, as the door opens by pressing the front.
NoFrost
No more defrosting
Never defrost again: The no-frost system prevents ice from forming and saves you the trouble of defrosting.
MasterCool™ - IceMaker
Ice cubes for cold drinks
Produced quickly and stored: The IceMaker, which can be controlled separately, produces up to 150 ice cubes per day.
MasterCool – NoFrost
Defrosting is a thing of the past
Convenient: A sophisticated NoFrost system saves you the hassle of defrosting and cleaning the appliance.
Features depend on model – images are only examples and used for explanation purposes
Long storage times for greater convenience
Which freezing system would you like?
Freezing is the best solution for long-term storage of food. This method retains vitamins and flavors for a long time, and food is available when needed.
Go to products
The versatility of Miele Refrigeration Appliances
Do you want to place your appliances side-by-side?
Miele Refrigeration Appliances are not just excellent in terms of their scope, quality, and premium design, they are also known for being extremely versatile.
Go to products
Subject to technical changes; no liability accepted for the accuracy of the information given.