Built-in coffee machines
Combined vertically or horizontally with other Miele built-in appliances, they create a uniform appearance.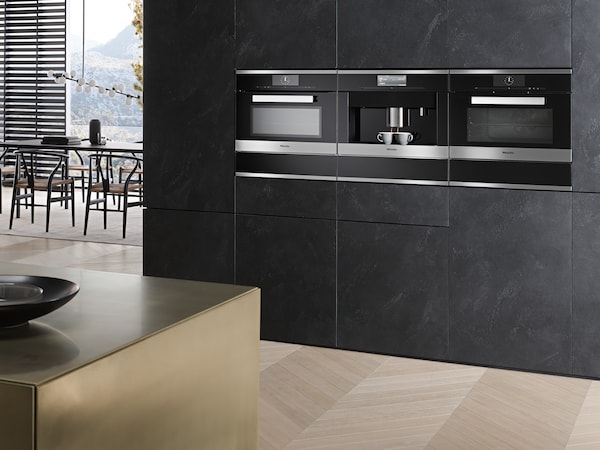 ComfortClean
Easy cleaning in the dishwasher
Thorough cleaning and maintenance of value: many components are dishwasher-safe.
Exclusive to Miele
ComfortDoor*
Door system with fully opening front
Easy access: Convenient access to bean container, water container, waste container and drip tray.
OneTouch and OneTouch for Two
For more enjoyment together
Single or double: Extra Program for making one or two espressos, coffees, cappuccinos, etc.
Exclusive to Miele
EasyClick milk system*
Easier docking of the milk system
Innovative and only from Miele: The milk system simply clicks into place at the front and is as easily removed.
Automatic rinsing of water container milk pipework
A plus for Filtration
Excellent user convenience: "After making special coffees with milk, the machine is cleaned automatically."
In perfect harmony with perfect coffee
In perfect harmony with perfect coffee
It's the perfect interplay of components – grinder, brew unit, and pump – that ensures a great coffee experience.
Easy cleaning
For greater cleaning convenience 
Machine hygiene made easy: removable components and automatic cleaning processes guarantee cleanliness.
Easy to use
Easy to use
 Smart functions: just one touch to serve a single or double dose of delicious coffee, incl. cup detection
Features depend on model – images are only examples and used for explanation purposes
The user interfaces of built-in coffee machines
Which user interface do you prefer?
All Miele Coffee Machines are equipped with user-friendly controls. The display is always centrally located and the functions of the array of sensor controls beneath are directly accessible.
Go to products
Experience coffee with all your senses
Experience the world of Miele Coffee Machines
Whether you decide to buy a built-in or a countertop coffee machine from Miele, you are guaranteed to experience pure coffee enjoyment and moments of unforgettable coffee delights. With a perfectly coordinated system, our coffee machines prepare a wide variety of specialty coffees as only an expert could. This is something you can see, smell, feel, hear, and, of course, taste.
Go to products