Classic Laundry - where convenience meets performance.
Our Classic laundry is the newest addition to the line-up. 'TouchControl' user interface provides a simple way to select wash programs, including the 'Express' cycle (30 mins.) which saves both time and energy with unmatched results. Fabric care can also be customized for your lifestyle with Cap Dosing. And with the 'single wash' option, you will dramatically save water, energy, and time for smaller loads.
The Classic T1 dryer features heat-pump technology, saving up to 60% in energy consumption, and runs on a 120v outlet for installation flexibility. Superior Clean. Exceptional Price.
Rethink how to do laundry, by thinking less about it.
Every detail has been perfected with Miele's sophisticated W1 washing machines and T1 dryers. Miele's TwinDos provides the most intuitive automatic detergent system on the market. With the TwinDos function, two detergent containers can be integrated into the washing machine and the appliance dispenses the optimum quantity of detergent for the laundry at the optimal time in the wash cycle.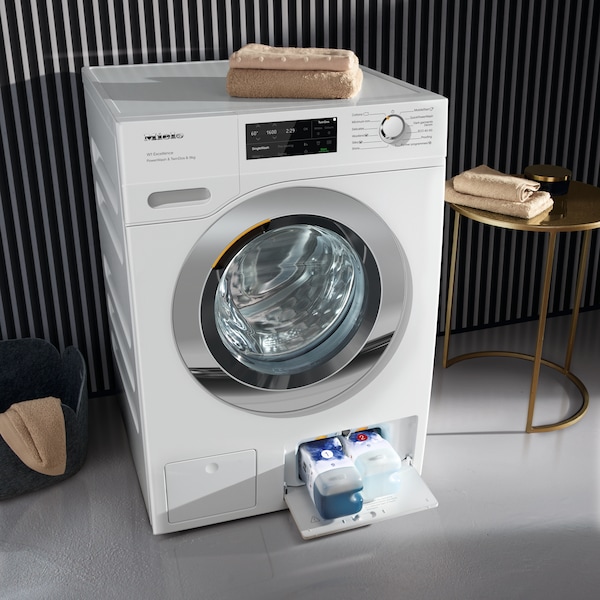 Good Housekeeping Seal
Products aren't awarded the Good Housekeeping Seal – they earn it. Miele's entire suite of W1 washers and T1 dryers has earned this renowned Seal. When a product has the Seal it has been thoroughly evaluated by the scientists, engineers, and technicians at the Good Housekeeping Institute (GHI).
If any product that bears the limited warranty Seal proves to be defective within two years from the date it was first sold to a consumer by an authorized retailer, Good Housekeeping will refund the purchase price or $2,000, whichever is less or, at Good Housekeeping's sole discretion, repair or replace the product.
Reviewed.com Editors' Choice
Miele's W1 washing machine (WWH860) and T1 dryer (TWI180) has received Reviewed.com's acclaimed Editors' Choice Award! Additionally, as a result of this award, the W1 and T1 is currently ranked the Best Overall Compact Washer and Dryer.
Reviewed.com is the most comprehensive source for unbiased, trustworthy, and lab tested reviews. Reviewed.com is a division of USA Today and is viewed by over 3 Million consumers monthly.
Top Miele quality for a long service life
Miele carries out intensive endurance tests during the development phase in order to meet the highest quality standards. In these tests the appliances (e.g. washing machines) are expected to wash for 10,000 hours. This involves running a mix of approximately 5,000 wash programs. This corresponds to approx. 5 programs per week with an average cycle time of two hours – over 20 years.
The ability to install anywhere.
Undercounter, stacked, in a closet etc.
Washer and dryer stack
If there is not sufficient space available to install two appliances next to one another, Miele washing machines and tumble dryers can be conveniently combined as a washer-dryer stack.
Side by side
Technically and optically, Miele washing machines and tumble dryers match each other perfectly. This allows you to install both appliances side by side and transfer freshly washed textiles conveniently to the tumble dryer. The WTS 510 plinth (optional accessory) offers practical storage space below the appliance – and a convenient working height.
Undercounter
All Miele front-loading machines slot in under a worktop with a minimum niche height of 33.5 in. This installation option does not require the appliance lid to be removed. Miele appliances are particularly suitable for this type of installation.
Capacity
Miele's W1 washing machine can fit all of your stuff without taking up all your space. With the ability to hold up to 3 baskets of items (approximately 17.6 pounds) your laundry needs are easily met while providing a smaller footprint in terms of space. Let the W1 surprise you with what it can hold, while also providing the flexibility of handling smaller loads (i.e. half load) without the added energy.
Every machine is in a class of its own
Do you want to find out more about the washing machine or tumble dryer? Then simply choose your favorite.
Find a local dealer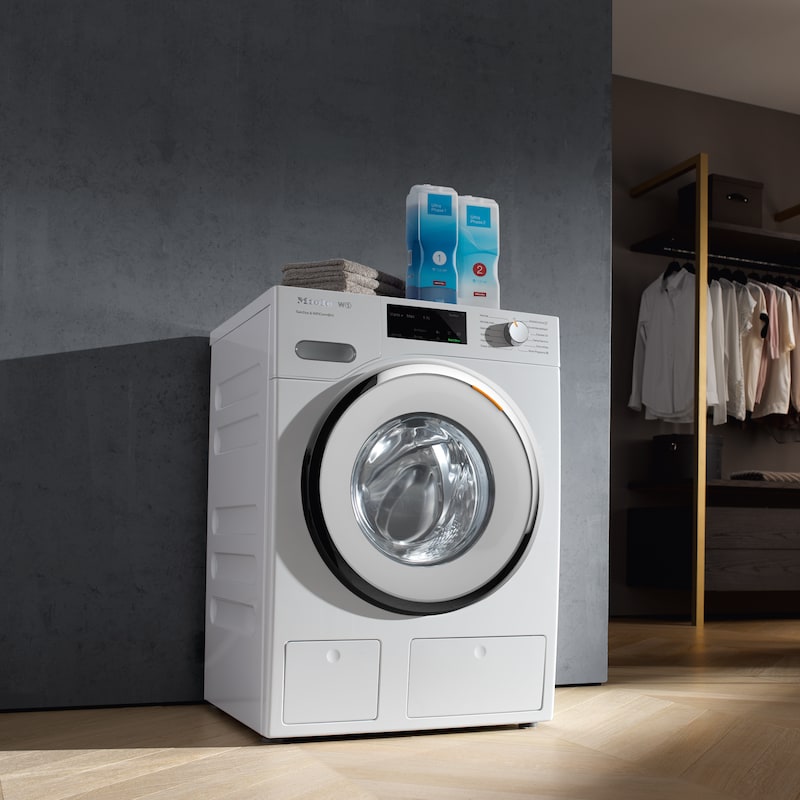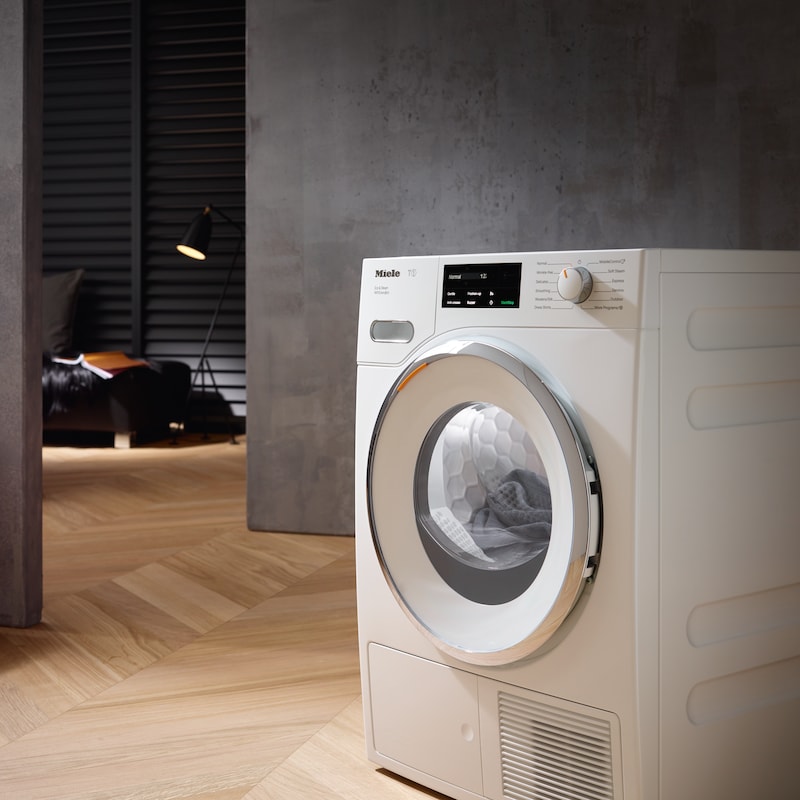 IntenseWash
Excellent cleanliness in less than 1 hour – barely believable. With QuickIntenseWash, Miele realizes a high-level cleaning performance in a surprisingly short time.
TwinDos
The best liquid detergent system with push of a button. TwinDos function has two detergent containers that are integrated into the washing machine, and the appliance dispenses the optimum quantity of detergent for the laundry to be washed at the touch of a button.
CapDosing
Miele's portioned capsules are a convenient solution for processing laundry requiring special applications. They are simply placed into the fabric conditioner compartment. The appliance dispenses the contents automatically at the perfect point in time during the wash process.
Energy Star
ENERGY STAR® is the government-backed symbol for energy efficiency, providing simple, credible, and unbiased information that consumers and businesses rely on to make well-informed decisions. Miele prides itself on being an ENERGY STAR partner.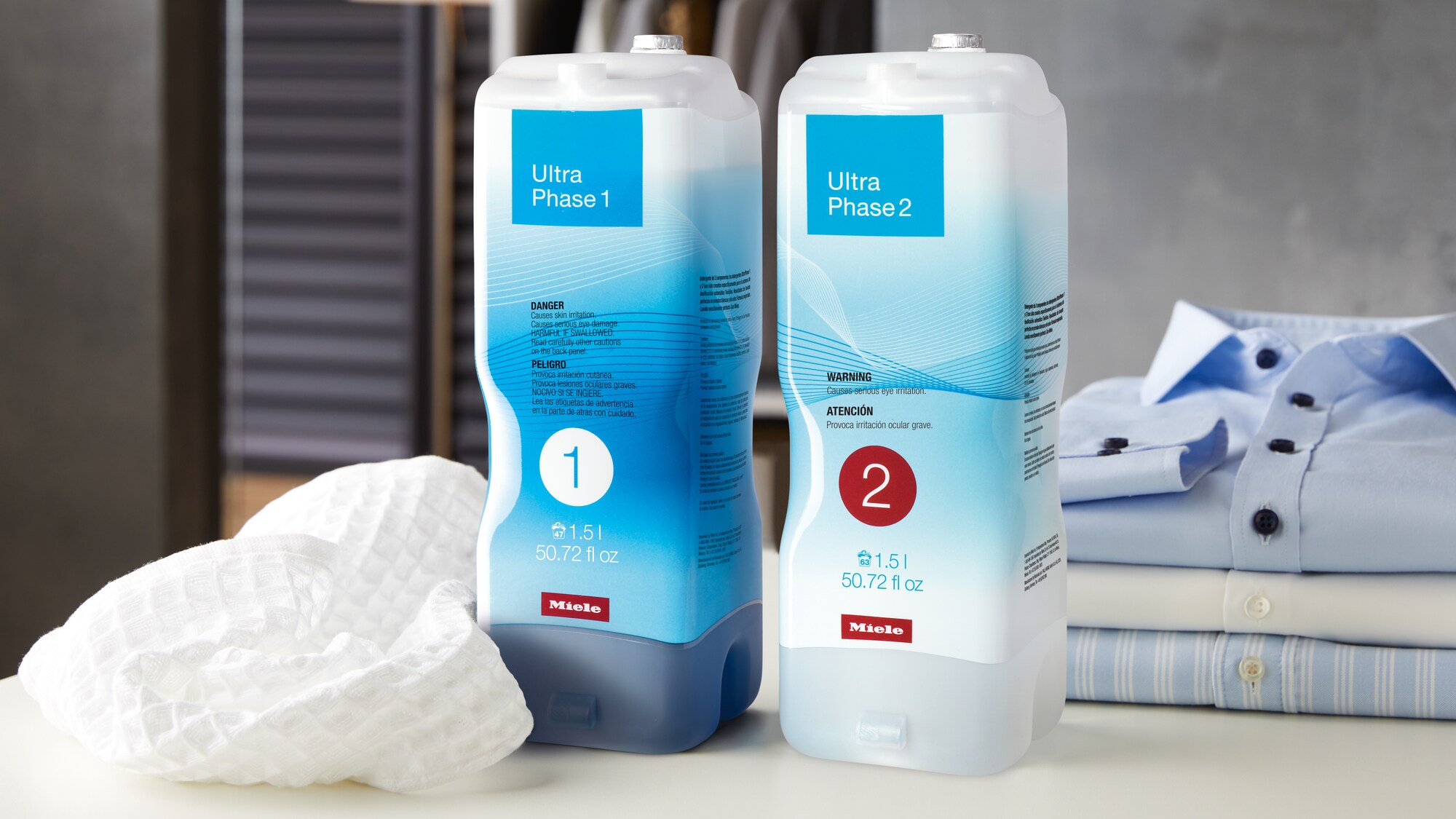 UltraPhase 1 and 2
UltraPhase 1 and 2 are two detergents stored in separate cartridges and dispensed automatically at a touch of a button. Active ingredients in UltraPhase 1 break up the soil and remove stains such as oil, grease, protein and starch stains. With UltraPhase 2, bleach is added at the appropriate time during the wash process and removes even stubborn stains such as coffee, tea, fruit juice or red wine. Sensitive versions with no perfumes or dyes also available.
Caps
Items requiring special treatment can be dealt with conveniently using Miele portioned capsules. Your choice: 6 special detergents (Sport, Down, Outdoor, WoolCare, SilkCare, Proofing agent), 3 softeners (Aqua, Nature, Cocoon), as well as a Booster for stubborn soiling.
Heat-Pump Technology
The T1 heat-pump dryers are known predominantly for their energy efficiency. Unlike condenser dryers, the heat generated is used again. Also, the low temperatures of the heat-pump technology protects the high-quality fibers of your laundry. This allows you to dry delicate textiles with convenience. Miele's installation is on a 120V outlet providing the ability to install your dryer anywhere. For those that need an adaptor, Miele has that available as well.
FragranceDos
With the tumble dryer you can now enjoy the superb convenience of a long-lasting and well balanced fragrance. The new Miele fragrances add your personal favorite scent to your laundry during the drying process. This results in particularly bouncy and beautifully fragrant laundry. The fragrance flacon is simply fitted into a holder on the easily accessible fluff filter and distributes an unobtrusive fragrance evenly onto your laundry. The intensity of the fragrance can be adjusted by turning the flacon.
SteamFinish
If ironing is not one of your favorite tasks, then you will appreciate Miele's SteamFinish with the Steam Smoothing program. At the beginning of the drying process, water is sprayed into the honeycomb drum creating a fine mist which is heated by the drying air. The developing steam penetrates the textiles and visibly smoothes the laundry. This ensures that ironing is much easier and faster – or completely superfluous.
Energy Star
T1 tumble dryers have been designated as the Most Efficient ENERGY STAR certified products in 2018. Products that are recognized as the Most Efficient of ENERGY STAR in 2018 prevent greenhouse gas emissions by meeting rigorous energy efficiency performance levels set by the U.S. Environmental Protection Agency.
Fragrance flacons
The new Miele fragrance flacons envelop your laundry with fragrance during drying. As a result, you get not only particularly soft laundry, but also laundry that smells great. Fragrance flacons come in 3 fragrances: Aqua, Cocoon and Nature.