Did you know that turning ordinary ingredients into an extraordinary dish only takes one extra ingredient? Our Chef Albert-Jan Van Santbrink, will show you how it's done. You'll be inspired to experiment in your own Miele Kitchen with this Carrots & Coffee salad. Use this recipe and follow along while you watch Chef Albert-Jan Van Santbrink piece together this artistic yet delish Carrot & Coffee salad.
Watch Chef Albert-Jan Van Santbrink on our Instagram TV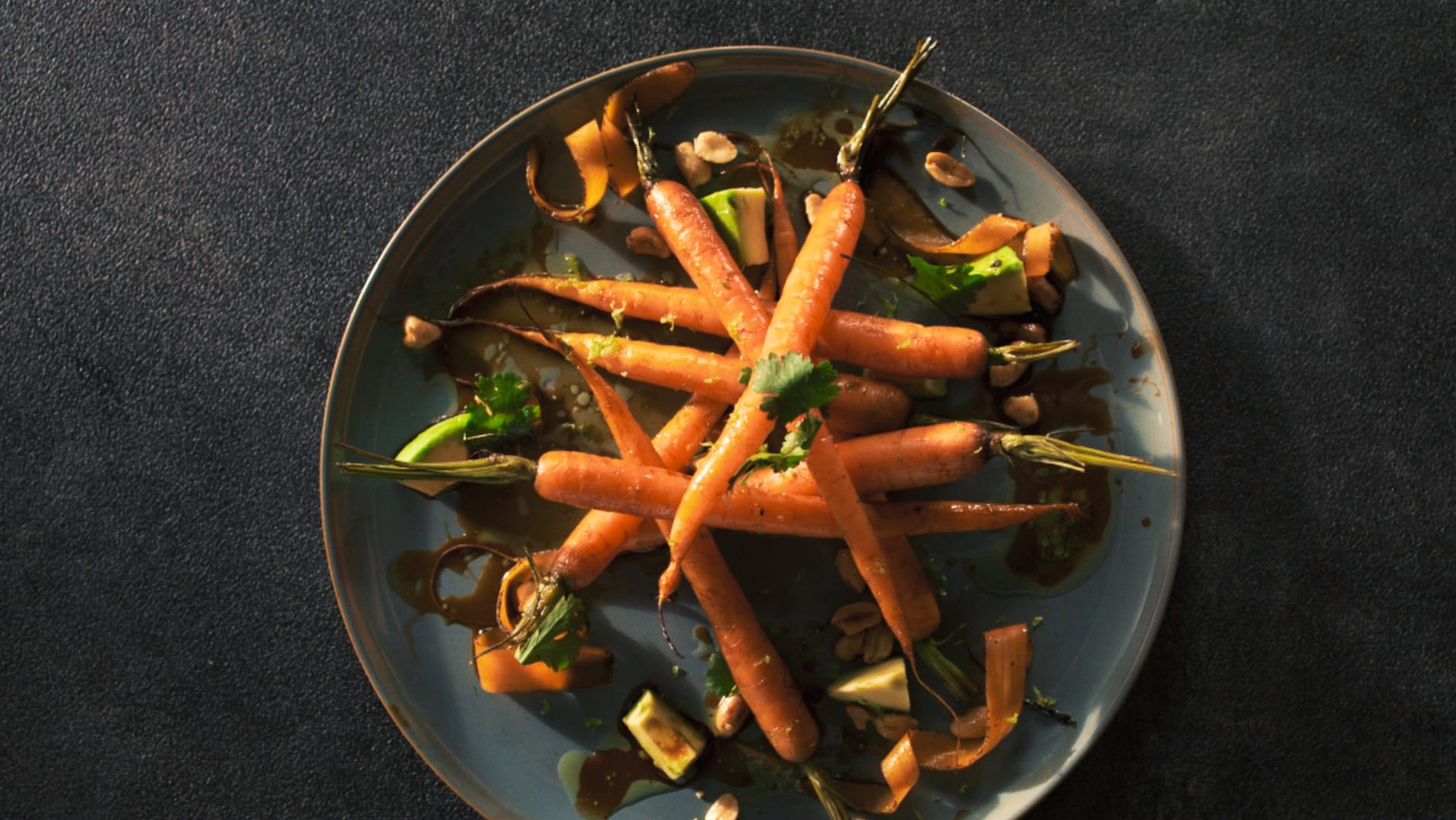 Prepare the Carrots

Ingredients
2 pounds carrots, rainbow variety if available
Marinade
12 ounces freshly brewed coffee
1.5 ounces red wine vinegar
2 tablespoons honey
1/4 cup brown sugar
5 whole cardamom pods
2 cinnamon sticks
2 bay leaves
Black pepper
Salt
Method
Peel the carrots, set two whole carrots aside. Halve the remaining carrots and cut into 3-inch pieces.
Place the carrots in a baking dish.
Marinade
On a cutting board, crush the cardamom pods with the side of a large knife.
Tear the bay leaves into a few pieces and break the cinnamon sticks into smaller pieces.
In a medium saucepan, place the spices and heat on medium heat for 5 minutes until fragrant. Add the vinegar and coffee. Gently boil until reduced to half.
Add honey and brown sugar. Reduce to a light syrup consistency.
Remove cinnamon sticks, bay leaves and any whole cardamom pods.
Take 1/3 of the syrup and set aside. Let the syrup cool slightly and add to the baking dish with carrots.
Preheat the oven.
Once oven has preheated, add carrots on any shelf level.
Convection Bake 375°F. Time 20 minutes
Take the carrots out of oven and allow to cool.
Prepare Peanuts
Ingredients
1 cup unsalted peanuts
Peanut oil
Salt
Method
Preheat a small frying pan and roast the peanuts until golden brown. Stir constantly for even browning.
Add a few drops of peanut oil and salt, to taste.
Transfer to a paper towel lined plate to cool.
On a cutting board, roughly chop the peanuts using a sharp chef's knife.
Set aside.
Prepare Black Roasted Carrots

Ingredients
2 carrots
Method
Using a culinary torch, carefully roast the carrot until black.
Keep the carrots refrigerated until further use.
Note: In place of a crème brulee torch, broil the carrots until slightly charred, but not cooked through.
Prepare Avocado
Ingredients
1 avocado
1 lime
Method
Place the ripe avocado on a cutting board. Using a sharp chef's knife, cut it lengthwise around the pit. Separate the two halves and remove the pit with a spoon.
Use spoon to scoop the flesh out of the skin.
Cut the avocado halves into thin slices.
Zest the lime over the avocado slices.
Halve the lime and sprinkle the avocado with the juice of half the lime.
If not used immediately, the avocado slices should be stored in the refrigerator. To store, place slices on a plate and cover tightly with plastic wrap.
Assemble Salad
Ingredients
Coffee roasted carrots
2 black roasted carrots
Roasted peanuts
Marinated avocado
2 tablespoons fresh cilantro, whole leaves
Salt and pepper
Method
Remove oven roasted carrots from baking dish and place on a serving platter.
Evenly add avocado slices between the carrots.
Using a peeler, make thin ribbons of black roasted carrots and place on top.
Sprinkle with reserved coffee marinade and top with roasted peanuts.
Garnish generously with cilantro leaves.
Watch Chef Albert-Jan Van Santbrink on our IGTV