The Gilborn practice
The Gilborn practice in Hanover guarantees expert treatment and excellent levels of care. The team of specialists from all fields of dentistry provides patients with comprehensive care as well as a great service.
Dentistry at the highest level
The Gilborn practice in Wedemark-Mellendorf and Burgdorf was founded in 1997. A team of 5 doctors and 19 assistants ensure expert treatment and dentistry. Each week, 150 to 200 patients are treated by specialists from all fields of dentistry. Along with excellent dentistry, Gilborn provides optimum round-the-clock service, individual appointments, and dentures from their own laboratory. The in-house laboratory offers advantages to patients, such as prompt and personal care on site.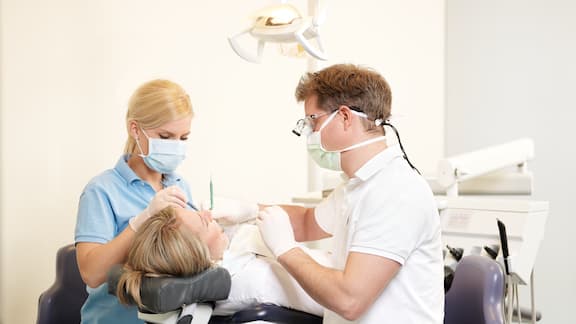 Miele Professional machines have been in use since the practice was founded to ensure excellent levels of treatment. The Gilborn practice is equipped with the latest washer desinfectors. Before any treatment begins, machines are cleaned and disinfected, and each instrument is then sterilised. This rules out any possibility of transmitting infections, and protects patients, practitioners, and employees alike. In addition, there is no longer any need to laboriously clean instruments by hand.
Learn more about related industries
You will also find our expertise in other reference objects