Dr. Oetker
Pizza and muesli, custard powder and baking mixtures: Founded more than 130 years ago in Bielefeld, Dr. Oetker counts among the leading manufacturers of branded goods in the German food industry. The broad range of products offered by the family-owned company caters for the varied tastes of consumers – both in Germany and throughout the world.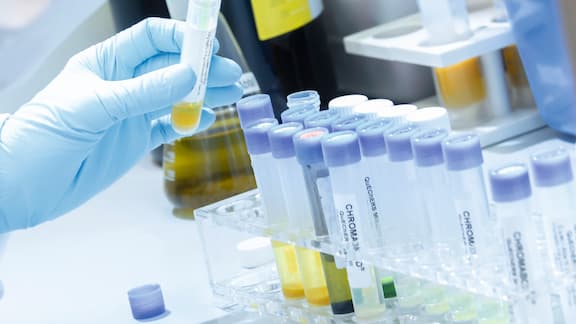 To ensure that Dr. Oetker products deliver what it says on the box, each individual ingredient is put through its paces in a strict testing regime. In laboratories in the company's own research and development centre at Bielefeld headquarters, employees chop and crush raw ingredients and extract them with solvents – from cheese to fresh hot peppers. A process which provides an insight into the quality of produce and is key to approving raw materials for use in production. In conducting their experiments, employees use, above all, spatulas, beakers and full pipettes made from glass. The residue-free reprocessing of laboratory glassware is key to arriving at reliable results. This is where Miele laboratory glasswashers have stood the test of time for more than 3 years. There are two each in three separate areas.
Purity through high water pressure
The Miele PG 8583 and PG 8593 undercounter models offer multiple benefits: The pressure of water in circulation is higher than on the previous generation. And they provide more space. Two modules are available for pipettes and – depending on their length – an additional upper basket for beakers. Spatulas are placed in a cartridge originally developed for dental instruments. The new light-weight baskets and favourites such as 'Injector Plus', 'Pipettes' and 'Universal' which are launched at the touch of a button are highly practical. The shortest cycle lasts only 38 minutes and fits in perfectly with the fast pace of laboratory work. This is important as glassware and other apparatus has to be ready for use again in time for the arrival of the next crate marked 'Raw materials' on the laboratory doorstep.
Learn more about related industries
You will also find our expertise in other reference objects