Miele Earns Two USA Today's Reviewed.com Best of Year Awards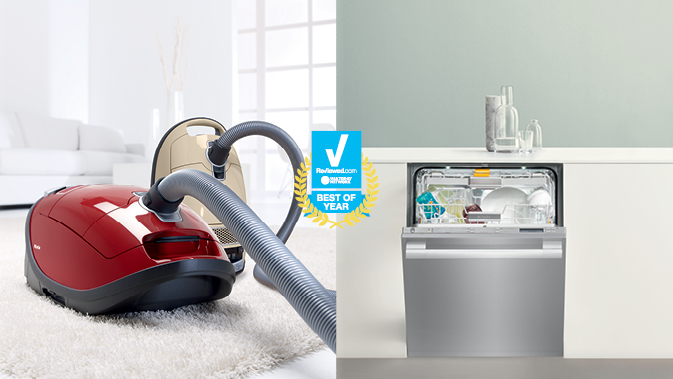 The Miele Complete C3 Series Wins for Best Vacuum and the EcoFlex Line Wins Best Dishwasher Innovation
Princeton, NJ – Miele, the largest family-owned luxury appliance manufacturer, is honored to have received two 2017 Best of the Year Awards bestowed upon by USA Today's Reviewed.com. Miele's Complete C3 Series is the top overall vacuum, while the new EcoFlex line won the most innovative dishwasher award.
"It is a privilege to receive this coveted recognition awarded by one of the premier product review sites, backed by USA Today," said Christian Schwarz, Vice President of Marketing for Miele, Inc. "We are especially pleased to have received this recognition in two categories where Miele USA has a rich history – floor care and dishwashers. Vacuums were the first Miele products sold in the United States, 37 years ago, shortly followed by our dishwashers. We take pride in manufacturing products that benefit the consumer. And we are delighted that Reviewed.com had the positive experience developed for all consumers."
Each year, Reviewed.com reviews hundreds of products in their consumer labs in order to provide comprehensive, scientific and trustworthy reviews. The outlet's team of expert reviewers acknowledged the Complete C3 might come at a higher cost – but it is the best vacuum in the world. The Complete C3's powerful motor is quiet and outperformed the competition in picking up dirt and debris. Given the ease of use and list of accessory options, the C3 can replace your dust buster, stick vacuum, and carpet vacuum.
Additionally, Miele's 2017 line of EcoFlex dishwashers stood out against the competition for its innovative energy efficiency and effective quick wash cycle. The EcoFlex's QuickIntenseWash, available on the Crystal, Dimension, Lumen, and Diamond, cleans and dries in 58 minutes and uses a little more than two gallons of water.
For more information on Reviewed.com's 2017 Best of the Year awards visit http://www.reviewed.com/features/2017-best-of-year-awards
Miele's Complete C3 Series is available online at www.Mielestore.com. Or visit the Dealer Finder page to locate your nearest authorized floor care or appliance retailer.
About Miele
Founded in Germany in 1899 with a single promise of Immer Besser, a phrase meaning Forever Better, Miele has dynamically grown to become the world's largest family-owned and operated appliance company with more than 16,600 employees, 12 production facilities and representation in nearly 100 countries. As a premium appliance brand represented on all continents, Miele is steadfastly committed to the highest quality, performance and environmental standards. Miele's range of exceptional consumer appliances includes: vacuum cleaners; laundry systems; rotary irons; dishwashers; ranges; built-in convection, speed, steam and combi-steam ovens; cooktops; ventilation hoods; refrigeration; wine storage and espresso/coffee systems.
To learn more, visit www.mieleusa.com or www.youtube.com/mieleus, and follow us on www.facebook.com/mieleus and Instagram @MieleUSA.
About Reviewed.com
Reviewed.com's product experts use lab testing to rate and review the latest consumer electronics and home appliances, helping guide consumers purchases. Reviewed.com editors select the best performing and best value products for the company's Editors' Choice and Best of Year Award programs. Founded in 1998, the company was acquired by USA TODAY in January 2011 and powers technology coverage in USA TODAY and Gannett media properties. Reviewed.com and the USA TODAY Network reaches more than 140 million monthly U.S. uniques.