MIELE TO DEBUT NEW GENERATION 7000 COOKING APPLIANCE COLLECTION AT KITCHEN & BATH INDUSTRY SHOW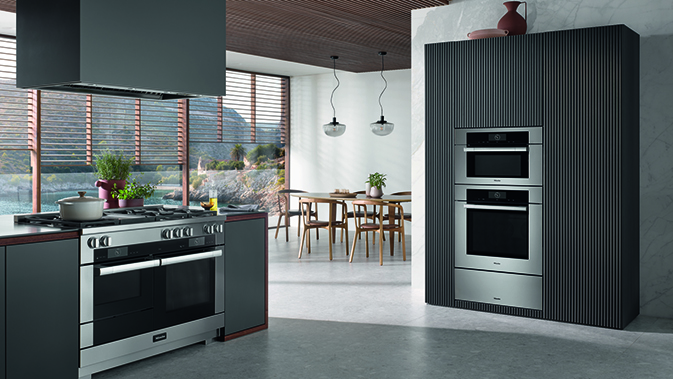 Limitless Design Options and Endless Innovations: Miele to Showcase Entire Product Portfolio from Kitchen to Laundry to Floorcare
Miele, the largest family-owned luxury appliance manufacturer, returns in-person to the 2022 Kitchen and Bath Industry Show (KBIS) in Orlando taking place from February 8-10. Miele will unveil a full suite of appliances from its brand-new Generation 7000 cooking line, the largest product launch in Miele USA's history, and conduct culinary demonstrations using them. Featuring refined design and pioneering technology, these intuitive appliances integrate purposeful innovation for a completely new kitchen experience.

"Miele is excited to be back in-person at the biggest kitchen and bath industry show of the year to officially launch the brand-new Generation 7000 cooking line," said Jan Heck, President and CEO of Miele USA. "This new generation of built-in appliances brings the innovative technology and quality craftsmanship Miele is known for to kitchens across North America."

Generation 7000 will renew all of Miele's built-in cooking appliances – from convection and combi-steam ovens to coffee machines and vacuum sealing drawers. Its four new design lines complement virtually every interior design and kitchen style. The appliances also provide new smart assists to help users attain culinary excellence, such as an in-oven camera and a function that allows users to heat and reheat food to ultimate textures.
Miele will also debut its new G7166 SCVi and G7166 SFP dishwasher models. Now featuring the line's innovative AutoDos technology, even more users can experience the convenience and powerful performance of the PowerDisk®. Other features added to the model include a water softener and connectivity to the Miele@Home app through Wi-Fi.

Miele will show a new line-up of PerfectCool built-in refrigeration, featuring lighting and high-quality interior design updates, updated controls, Miele@Home app connectivity through Wi-Fi, PerfectFresh Active and a clean steel back wall. The brand will also display the recently updated W1 and T1 laundry systems and MasterCool refrigeration line.

On the professional side, Miele will be showing its new ProfiLine dishwashers at the show, which feature short wash programs, high final rinse temperatures and a flexible basket design. Combining speed and user-friendly technology, Miele's new ProfiLine offers efficient cleaning performance for today's office and co-working environments, as well as in the modern home. Miele ProfiLine dishwashers feature a simple, intuitive interface including eight unique wash programs, and a flexible basket design with non-slip materials that allows for adjustable positioning of dishware and cutlery for excellent cleaning results.

The Miele Experience comes to life on stage, at the booth, with live culinary and coffee demonstrations, as well as several design discussions centered about Generation 7000 and sustainability. Participating in some of these on-site conversations is renowned interior designer, Michael Schluetter, who cultivates a genuine passion for the German craftsmanship and quality of Miele appliances. As one of the first designers to specify the new Generation 7000 line in the US, he will be sharing why he has selected these appliances for his clientele and upcoming projects.

For more information and to experience Miele's newest launches in person, stop by booth W1328 or visit MieleUSA.com.

About Miele
Founded in Germany in 1899 with a single promise of Immer Besser, a phrase meaning Forever Better, Miele is the world's leading manufacturer of premium domestic appliances with more than 20,100 employees, 12 production facilities and representation in nearly 100 countries. As a premium appliance brand represented on all continents, Miele is steadfastly committed to the highest quality, performance and environmental standards. Miele's range of exceptional consumer appliances includes: vacuum cleaners; laundry systems; rotary irons; dishwashers; ranges; built-in convection, speed, steam and combi-steam ovens; cooktops; ventilation hoods; refrigeration; wine storage and espresso/coffee systems.

To learn more, visit www.mieleusa.com or www.youtube.com/mieleus, and follow us on www.facebook.com/mieleus and Instagram @MieleUSA.