MIELE PUSHES PRODUCT AND INNOVATION BOUNDARIES WITH THE LAUNCH OF A NEW GLOBAL BRAND CAMPAIGN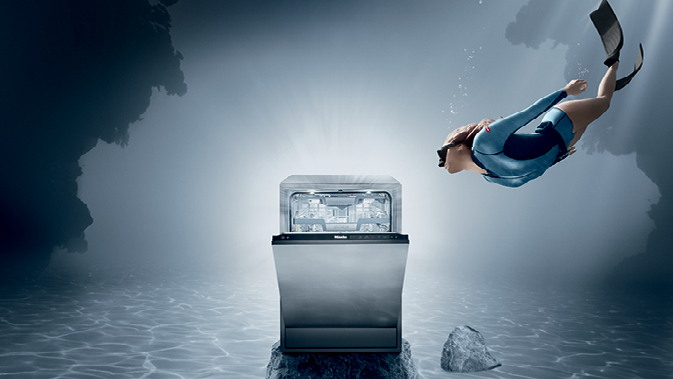 Making the Seemingly Impossible Happen with #LifeBeyondOrdinary as the Brand Introduces Revolutionary New G7000 Dishwasher Line
Princeton, NJ – Miele, the largest family-owned luxury appliance manufacturer, is unveiling its new global brand campaign #LifeBeyondOrdinary at the Kitchen & Bath Industry Show 2020. The campaign supports the launch of Miele's new revolutionary G7000 Dishwasher line, the most innovative dishwasher on the market, and how Miele pushes the boundaries of what is possible. Miele specifically created the campaign to feature Marina Kazankova, the world record holder in free diving, as both Miele and Kazankova feel there are no limits, impressing with top-class performance and setting new standards.
Kazankova strives to experience things that no one else has. Being 'forever better' than others and breaking new records, with this drive and motivation, she holds the world distance record for underwater swimming of 505 feet. And just as Kazankova makes what is seemingly impossible under water a reality, so too is Miele once again pursuing its brand claim of 'Immer Besser' (Forever Better). This is a statement, which places the focus squarely on the corporate credo of offering customers the best products and services available on the market.
"#LifeBeyondOrdinary is a multi-channel storytelling platform which revolutionizes the way an appliance brand communicates its passion for creating products," says Christian Schwarz, VP of Marketing for Miele, Inc. "Through inspirational content and unique visuals, we are making the correlation between the passion behind setting personal goals and the advancement in product innovation that makes technology a reality."
Kazankova immerses herself in fascinating underwater worlds, providing the beholder with unique insights into the depths of the oceans. Miele associates this experience with the user's interaction with the new generation of dishwashers – which also extends the envelope of what is possible.
With this groundbreaking campaign, Miele is launching its latest world premiere, the G 7000 dishwasher which takes dishwashing technology and convenience to a new level: The AutoDos system with integrated PowerDisk® dispenses detergent automatically – taking into account the degree of soiling of the load and the selected program.
The campaign first launched in Europe in 2019 and is now rolling out throughout North America.
Visit KBIS booth C6716 to learn more about the #LifeBeyondOrdinary campaign and G7000 Dishwashers.
For further information about the #LifeBeyondOrdinary campaign and the New G7000 Dishwasher line, you can also visit: www.mieleusa.com/g7000-dishwashers
For more company and product information, visit MieleUSA.com.
About Miele
Founded in Germany in 1899 with a single promise of Immer Besser, a phrase meaning Forever Better, Miele is the world's leading manufacturer of premium domestic appliances with more than 20,100 employees, 12 production facilities and representation in nearly 100 countries. As a premium appliance brand represented on all continents, Miele is steadfastly committed to the highest quality, performance and environmental standards. Miele's range of exceptional consumer appliances includes: vacuum cleaners; laundry systems; rotary irons; dishwashers; ranges; built-in convection, speed, steam and combi-steam ovens; cooktops; ventilation hoods; refrigeration; wine storage and espresso/coffee systems.
To learn more, visit www.mieleusa.com or www.youtube.com/mieleus, and follow us on www.facebook.com/mieleus and Instagram @MieleUSA.
Download as PDF
Download including media (zip)