Miele Professional Introduces New Line of Benchmark Machines for On-Premise Laundry Operations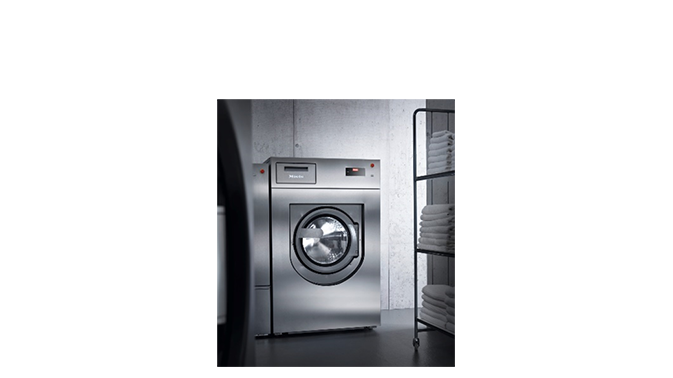 Miele's quality linen and garment reprocessing technology is now tailored for on-premise laundry in lodging, healthcare and large-scale facilities
Miele Professional, a global leader in state-of-the-art, commercial-grade appliances, is launching its Benchmark line of washers and dryers for on-premise laundry applications in the United States. Engineered for high throughput and trusted durability, the Benchmark on-premise laundry line provides hotels, hospitals and other facilities with reliable, onsite textile and linen reprocessing. Encompassing seven washers and seven dryers, the Benchmark on-premise line is available in a range of sizes to support various load capacities, spanning 25 – 75 lbs. for washers and 30 – 100 lbs. for dryers.
"Miele Professional has long been known as an exclusive brand for wet cleaning and niche applications and now we're bringing our expertise to on-premise laundry," said Scott Lombardi, U.S. Country Director, Miele Professional. "Our Benchmark on-premise laundry machines are designed with advanced technology to provide faster turnover and a higher quality clean for bedding and textiles, creating a positive brand experience while improving the bottom line for large-scale facilities."
Machine Capacity and Capabilities
Initially launched in Europe, Miele Professional has adapted its Benchmark on-premise laundry line to include configurations that meet the needs of the North American market. Benchmark on-premise washers are available in single phase configurations and Benchmark dryers are available in a gas dryer option, in addition to other offerings.
Benchmark machines are engineered to withstand the relentless demands of commercial laundry, passing endurance tests to ensure 30,000 hours of operation for washers and 20,000 hours of operation for dryers.
The Benchmark line is also engineered for sustainable performance and maximum fabric longevity. Specially calibrated wash and dry programs optimize each cycle, conserving water and electricity and reducing resource consumption. Miele's patented Honeycomb Drum prolongs the lifespan of textiles with a convex drum pattern for effective wetting and gentle fabric care in the washer, and a concave drum pattern that protects laundry as it dries. The Miele PerfectDry system also includes a residual moisture sensor to ensure garments dry evenly.
Other user-friendly features of the Benchmark on-premise laundry line include:
More than 90 customizable programs, including high-hygiene and disinfection cycles that ensure textiles are cleaned according to specifications and standards.
Capability to connect to external pumps for controlled dispensing of detergents.
M Touch Pro or M Touch Pro Plus touchscreen controls that provide a seamless user experience*.
Wi-Fi connectivity for efficient data transfer and integration of operations.
Fully digital display that supports more than 30 languages.
Training and Purchase Information
To support the launch of the Benchmark on-premise laundry line in the U.S., Miele Professional has added technical support resources. The company has established a new training center in Princeton, New Jersey, where authorized dealers and their networks of service technicians can receive hands-on, immersive training on Benchmark machines so they can best support their customers.
Laundry dealers interested in information on units and availability, or those seeking to carry the Benchmark on-premise laundry line can contact Paulo Rocha, Head of Sales, Miele Professional U.S. End-users in the hospitality, healthcare and senior living segments interested in purchasing a Benchmark machine may place an order through the company's network of authorized equipment dealers found online at https://www.mieleusa.com/p/benchmark-5348.htm.
*Available on select models
About Miele Professional
Miele Professional concentrates on the manufacturing of commercial products for industries using commercial dishwashers, commercial laundry technology and laboratory, medical and dental technology. Wherever innovative high-end products with outstanding cleaning performance and high hygiene requirements are needed, Miele Professional wants to be the first choice. Follow the company on LinkedIn.

About Miele
Founded in Germany in 1899 with a single promise of "Immer Besser," a phrase meaning Forever Better, Miele is the world's leading manufacturer of premium domestic appliances with more than 20,100 employees, 12 production facilities and representation in nearly 100 countries. As a premium appliance brand represented on all continents, Miele is steadfastly committed to the highest quality, performance and environmental standards. Miele's range of exceptional consumer appliances includes vacuum cleaners; laundry systems; rotary irons; dishwashers; ranges; build-in convection, speed, steam and combi-steam ovens; cooktops; ventilation hoods; refrigeration; wine storage; and espresso/coffee systems. To learn more visit Miele USA, view our YouTube channel and follow us on Facebook, Instagram and LinkedIn.