Miele Professional Brings Powerful Cleaning and Disinfection Technology to SmileCon 2023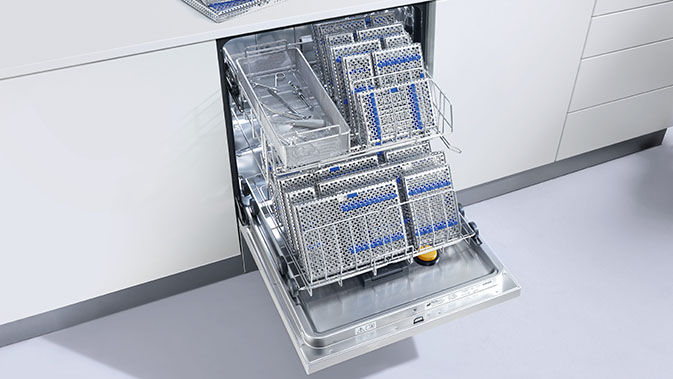 Company to display PG 8581 undercounter washer-disinfector
Miele Professional, a global leader in high-quality commercial and industrial appliances, today announced its participation in SmileCon 2023. The conference, which takes place October 5-7, 2023, in Orlando, Fla., is the premier event for dental professionals in the U.S. and is organized by the American Dental Association. Miele will display its PG 8581 undercounter washer-disinfector, which is specially designed with unique features that enhance safety, promote infection control, and increase dental practice efficiency.
"Miele Professional delivers worry-free, disinfected instruments through our automated reprocessing technology," said Josh Camp, Head of Laboratory, Medical, Dental USA, Miele Professional. "Dental practices that trust our PG 8581 washer-disinfector not only operate more efficiently, but they also experience decreased infection rates, creating a safer environment for both patients and staff. We're excited to spotlight our sustainable disinfection solutions at SmileCon, so even more dentists can enhance their operations."
According to the CDC, instruments cleaned with automated cleaning equipment, or the use of washer-disinfectors, do not need to be pre-soaked or scrubbed. As such, relying on washer-disinfectors like the Miele PG 8581 increases dental practice productivity, improves cleaning effectiveness and decreases staff exposure to infection. The combined usage of time, temperature, force of water and enzymatic solution is specific to automated cleaning and helps to fully debride contaminated instruments.
PG 8581 Washer-Disinfector Features & Benefits
With a focus on infection-control, the PG 8581 from Miele Professional features a welded, crevice-free wash cabinet for decreased risk of germs and enhanced hygiene protection. Other features of the washer-disinfector include:
Sustainable performance that conserves natural resources

High-capacity wash cabinet, which is able to reprocess up to 24 regular sized cassettes
Adjusted water and energy consumption due to the variable heater speed pump
Long lifespan with 15,000 tested operating hours


Unique design that promotes user convenience

Specially designed Vario TD Dental program that includes pre-wash, neutralization and thermal disinfection
Selection of components, baskets and inserts for general practice and oral surgery needs
Convenient drying support with Miele Professional's EcoDry technology, and automatic open and door functions


Enhanced safety and hygiene

Thermal disinfection of instruments for the enhanced safety and hygiene for staff prior to sterilization
Spray arm and spray arm pressure monitoring for reliable cleaning performance
Neutralization creates a passivation layer to protect the dental instruments
SmileCon attendees can learn more about Miele Professional's dental solutions by visiting the company's booth (1226), or by visiting the company's page.
For more company news, visit the Miele USA media center.
About Miele Professional
Miele Professional concentrates on the manufacturing of commercial products for industries using commercial dishwashers, commercial laundry technology and laboratory, medical and dental technology. Wherever innovative high-end products with outstanding cleaning performance and high hygiene requirements are needed, Miele Professional wants to be the first choice. Follow the company on LinkedIn.
About Miele
Founded in Germany in 1899 with a single promise of "Immer Besser", a phrase meaning Forever Better, Miele is the world's leading manufacturer of premium domestic appliances with more than 20,100 employees, 12 production facilities and representation in nearly 100 countries. As a premium appliance brand represented on all continents, Miele is steadfastly committed to the highest quality, performance and environmental standards. Miele's range of exceptional consumer appliances includes vacuum cleaners; laundry systems; rotary irons; dishwashers; ranges; build-in convection, speed, steam and combi-steam ovens; cooktops; ventilation hoods; refrigeration; wine storage and espresso/coffee systems. To learn more visit Miele USA, view our YouTube channel, and follow us on Facebook, Instagram and LinkedIn.