MIELE OPENS EMERGING TECHNOLOGIES LAB TO EXPLORE INNOVATIVE TECHNOLOGIES AND ENHANCE CURRENT AND FUTURE HOUSEHOLD APPLIANCES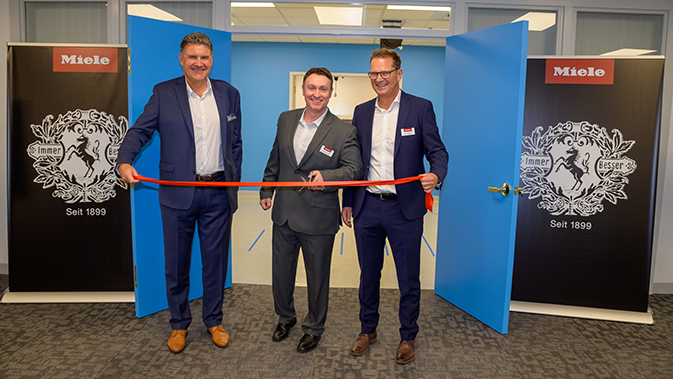 Prioritizing Innovation and Technology with Opening of Boston Based Location
Miele, the largest family-owned luxury appliance manufacturer, is expanding its footprint in the innovation space with the opening of a US-based Emerging Technologies Lab (ETL), which officially opened in October 2022. Based in the Greater Boston area at the forefront of innovation, the lab will focus its efforts on identifying and testing of cutting-edge technologies that will be brought to global product lines, across all categories.
"Miele, at its core, embraces the message of 'Immer Besser,' meaning 'Forever Better,'" said Jan Heck, President and CEO, Miele USA. "We believe there is always room to make it – whether it's a product, technology, functionality, design – better. Since Miele was founded in 1899, the brand has represented purposeful innovation, detailed craftsmanship and refined design. Opening a lab location in an area of the US, which is surrounded by key universities and technological facilities, to continuously improve upon these tenets is a natural fit."
In a world of continued connectivity, the importance of ever-improving technology is not lost on Miele. The company believes in offering technological advancements, while remaining intuitive, functional and convenient for all users.
"Today's technical modernization and changing consumer expectations are driving an exponential increase in the speed of innovation", said Peter Hübinger, Senior VP of Miele's Smart Home business unit at the company's headquarters in Gutersloh, Germany. "With the customer in focus, we at Smart Home take up these dynamics and develop new ecosystems with a growing number of digital functionalities. The new ETL connects Smart Home to innovation hubs in North America and will drive innovation through strategic partnerships with leading technology startups."
The Emerging Technologies Lab, which is located in Peabody, MA, reports directly to the Smart Home unit. The lab will collaborate with startups and other innovators across the United States to explore new technologies that improve the customer experience and make home appliances "Forever Better."
"The U.S. was established by visionary pioneers that took risks and embraced challenges as opportunity. It is that same spirit that drives today's startups and motivates companies like Miele to collaborate with this innovative and creative group of individuals," said Sebastian Osswald, the Managing Director of the new lab. "The many impactful innovations that will result from this lab will benefit Miele's customers worldwide for years to come."
For more company and product information, please visit MieleUSA.com.
About Miele
Miele is the world's leading manufacturer of premium domestic appliances including cooking, baking and steam-cooking appliances, refrigeration products, coffee makers, dishwashers and laundry and floor care products. Their product portfolio also includes dishwashers, washing machines and tumble dryers for commercial use as well as washer-disinfectors and sterilizers for use in medical and laboratory applications. Founded in 1899, the company has eight production plants in Germany, one each in Austria, the Czech Republic, China, Romania and Poland as well as two production plants belonging to its Italian medical technology subsidiary Steelco. Miele is represented with its own sales subsidiaries and via importers in almost 100 countries/regions. Throughout the world, the family-run enterprise, now in its fourth generation, employs a workforce of around 22,300. The company has its headquarters in Gütersloh in Westphalia.
To learn more, visit www.mieleusa.com or www.youtube.com/mieleus, and follow us on Facebook at www.facebook.com/mieleus and Instagram @MieleUSA.