Miele Introduces PG 8056 Freshwater Dishwasher at 2022 National Restaurant Association Show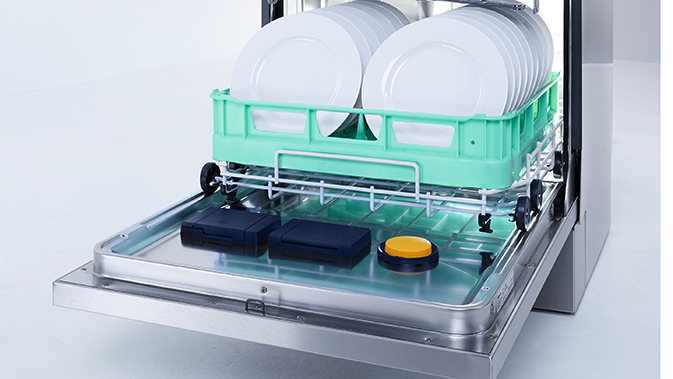 Freshwater system ensures maximum hygiene and spotless glassware in 6 minutes
Miele USA, a subsidiary of the global leader in state-of-the-art, premium home and professional-grade appliances, will be introducing their PG 8056 Freshwater dishwasher at the 2022 National Restaurant Association Show in Chicago. The PG 8056 features a wide range of wash programs, including a 6 minute wash cycle, uses soft, fresh water for hygienic and gentle glass care and offers exceptionally flexible basket design. With an emphasis on user convenience and efficiency, the PG 8056 from Miele offers high-quality cleaning performance for fast-casual restaurants, wineries, breweries and tap rooms. Miele's Freshwater dishwasher will be on display at the Restaurant Show in booth 11328 at McCormick Place, May 21-24th.
"At Miele, we truly understand how much time and effort it takes to make sure your dishes and glassware are clean and ready for use," said Scott Lombardi, Country Director U.S., Business Unit Professional, Miele, Inc. "Oftentimes, the demands of fast-paced industries that rely extensively on dishes and glassware are overwhelming. With Miele's Freshwater dishwasher, you never have to sacrifice the hygiene, sustainability or quality of your service."
Designed for fast turnaround times and hygiene
The PG 8056 dishwasher has been engineered and tested rigorously to meet the high throughput demands of dining establishments. In an industry that requires extremely fast turnaround times, the Freshwater dishwasher can maintain the highest quality of sanitation while reducing environmental impact.
With its large capacity and multi-level simultaneous cleaning that incorporates three spray arms for maximum water drenching, Miele's Freshwater dishwasher increases efficiency and helps businesses lower their water consumption levels. The use of less water, while still maintaining a freshwater system, offers cost savings through reduced energy and resource consumption.
PG 8056 Dishwasher Key Features
Business Benefits
The freshwater system ensures optimal dish washing results and hygiene, compared to traditional tank dishwashers.
Includes 13 programs with various parameters that can be precisely tailored to each wash load.
Simple to use intuitive controls.
Labor Savings
No manual pre-rinse required and no hand polishing or towel drying needed.
Large capacity and multi-level cleaning for high throughput (2-racks, 2-level cleaning).
Low maintenance – no descaling required, with a crevice free hygienic chamber.
Includes an external detergent dispenser for liquid detergents (optional, up to 2 liquid detergents).
Maximum drenching with three spray arms (lower, middle, upper) for high throughput and perfect results.
Ultimate Protection
Perfect GlassCare adjusts to water hardness so that glasses are thoroughly but gently cleaned, with no hand polishing needed.
Variety of racks to choose from designed for maximum material protection and ergonomics.
Have the highest protection of tableware and minimize breakage in the process.
Use Miele ProCare Shine detergents and rinse aid for optimum cleaning results, while maintaining your machine for peak performance
Miele Freshwater dishwashers are available for order by contacting an authorized manufacturer representative/dealer or reaching Miele Professional directly at 1-800-991-9380.
About Miele
Founded in Germany in 1899 with a single promise of Immer Besser, a phrase meaning Forever Better, Miele is the world's leading manufacturer of premium domestic appliances with more than 20,100 employees, 12 production facilities and representation in nearly 100 countries. As a premium appliance brand represented on all continents, Miele is steadfastly committed to the highest quality, performance and environmental standards. Miele's range of exceptional consumer appliances includes vacuum cleaners; laundry systems; rotary irons; dishwashers; ranges; built-in convection, speed, steam and combi-steam ovens; cooktops; ventilation hoods; refrigeration; wine storage and espresso/coffee systems. To learn more visit Miele USA, view our YouTube channel, and follow us on Facebook and Instagram.
About Miele Professional
Miele Professional concentrates on the manufacturing of commercial products for industries using commercial dishwashers, commercial laundry technology and laboratory, medical and dental technology. Wherever innovative high-end products with an outstanding cleaning performance and high hygiene requirements are needed, Miele Professional wants to be the first choice. Follow us on LinkedIn.
Media Contact:
Tiny Mighty Communications
Kamryn Heath
704-804-0076