Miele Debuts its first Bagless Vacuum and New Scout Robovac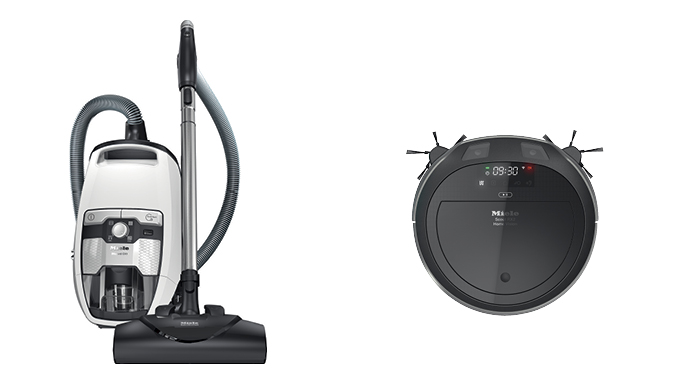 Floor care line expands to satisfy Miele customer needs
Princeton, NJ – Miele, the largest family-owned luxury appliance manufacturer, is returning to the Kitchen and Bath Industry Show (KBIS) with two revolutionary floor care products: the Blizzard, Miele's first canister without a filterbag, and the new Scout RX2, offering the ultimate in performance and user convenience.
Blizzard CX1
After intense internal research and development, Miele has found a bagless solution that meets our high expectations for cleaning performance and hygiene. The Blizzard CX1 is a new category for Miele and will offer a comprehensive 5 model assortment. Now consumers who prefer a bagless vacuum have a true Miele solution!
The Blizzard operates with Miele's Vortex Mono Cyclone Technology, in which air only passes through a single, large cyclone: facilitating great cleaning performance and lower noise levels.
For optimal hygiene, this technology is part of an innovative, multi-stage filtration process where the rotating air reaches speeds over 62 mph (100 km/h) to separate fine and coarse dust particles. Fine dust is then captured in the Gore® CleanStream® fine dust filter, allowing the large dust container to be emptied with significantly less fine dust escaping. This unique method has earned Miele recognition for its hygienic emptying from the US American IBR Laboratories, international market leader in filtration testing.
Scout RX2
In developing of the second generation of robotic vacuum cleaners Miele recognizes the speed of innovation in this category by launching a completely new design. The Scout RX2, will exceed the suction power of its predecessor. A newly developed 4-stage cleaning system referred to as 'Quattro Cleaning Power,' effectively sweeps dirt and debris underneath the unit before a beater bar brushes all coarse dirt in the wide suction opening while the remaining fine particles are sucked up and contained in the easy to empty dust container.
Directing the Scout RX2's every movement is the newly developed 3D Smart Navigation, which uses two front cameras to facilitate the recognition of obstacles and improved calculation of distance; easily finding its way around a room and protected against collisions and falls. In addition, the Home Vision feature allows live picture images to be transmitted directly from the Scout RX2 to your mobile device.
The Scout RX2 features MobileControl, which is available on both iOS and Android operating systems. Using the app, the machine can be started from anywhere, its current status called up and its timer programmed.
The Blizzard CX1 units will launch in April, starting at $499 and the Scout RX2 models will be launching in August starting at $849. Both lines will be sold in Miele Experience Centers, mielestore.com and all authorized floor care dealers. To locate a dealer near you, please click here.
About Miele
Founded in Germany in 1899 with a single promise of Immer Besser, a phrase meaning Forever Better, Miele has dynamically grown to become the world's largest family-owned and operated appliance company with more than 16,600 employees, 12 production facilities and representation in nearly 100 countries. As a premium appliance brand represented on all continents, Miele is steadfastly committed to the highest quality, performance and environmental standards. Miele's range of exceptional consumer appliances includes: vacuum cleaners; laundry systems; rotary irons; dishwashers; ranges; built-in convection, speed, steam and combi-steam ovens; cooktops; ventilation hoods; refrigeration; wine storage and espresso/coffee systems.
To learn more, visit www.mieleusa.com or www.youtube.com/mieleus, and follow us on www.facebook.com/mieleus and Instagram @MieleUSA.