Miele Professional's PG 8581 Combines Washing and Disinfection To Achieve Optimal Dental Instrument Reprocessing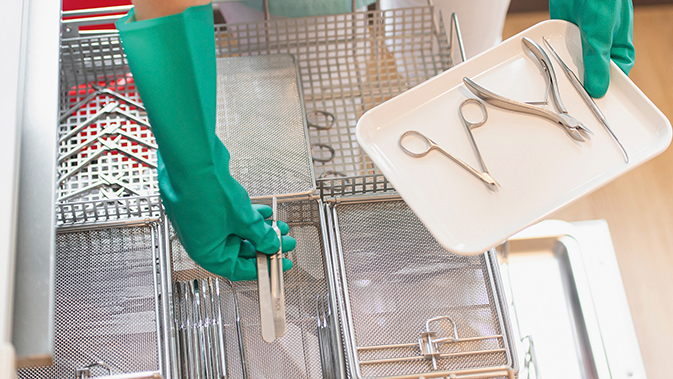 Thorough cleaning and flexible performance designed for dental practitioners
Miele Professional, a global leader in state-of-the-art, premium commercial-grade appliances, is proud to offer an automated solution for cleaning and disinfecting dental instruments. Featuring individual inserts and accessories, customized specialty programs and efficient water purification, Miele's PG 8581 Washer-Disinfector delivers optimized hygienic cleaning that reduces the risks of infection for both patients and dental professionals.
"Having a machine that both washes and disinfects critical instruments is essential for hygiene in a dentist office," said Joshua Camp, Head of Lab, Medical and Dental, Miele Professional US. "At Miele Professional, clean is our top priority. We designed the PG 8581 with features and benefits that fit the specialized sanitization needs of a dental practice, so practitioners can be confident that they're achieving optimal cleaning results."
Washing and disinfection for mission critical instruments 
The washing and reprocessing of instruments is vital to hygiene at every dental practice. Miele's PG 8581 offers unique features that achieve optimal disinfection results, including:
Variable-Speed Heater Pump
The variable-speed heater pump is the beating heart of Miele's washer-disinfectors. The speed of the pump and the wash pressure are adjusted in alignment with cycle requirements and program settings. For dental instruments, high pressure can facilitate the removal of stubborn soiling, while low pressure can guarantee the complete soaking of all wash items. The integrated heater element saves space in the chamber, heats the water more quickly and delivers water through the feed pipes and spray arms more efficiently.
Vario TD Program
First introduced in 1994 by Miele, Vario TD is a program in which typical soiling agents (like blood and other residues typically found on dental instruments) are thoroughly removed in a low temperature pre-wash phase that is non-denaturing. After an intense wash that includes neutralization, disinfection is carried out in a main cleaning phase at a temperature higher than 199°F for five minutes.
Proven Process Chemicals
Miele ProCare Dent Process Chemicals include powerful cleaning agents, neutralization agents and surfactants that deactivate germs and remove soiling, while still being gentle on the instruments. The neutralization process helps maintain the quality of products longer by creating a layer of passivation and thus reducing the corrosion of instruments.
Spray Arm Monitoring
Both the spray arm and its pressure are monitored to ensure that dental instruments are getting fully cleaned and are protected from harsh water in the process. The monitoring of the spray arm pressure guarantees optimum process operations, so that the machine always produces reliable, clean and disinfected results. 
Efficient Instrument Cleaning
With a wash capacity of up to 24 regular sized cassettes per cycle and adjustable baskets and accessories to best fit a range of products, the PG 8581's wash cycle offers quick turnaround times with hygienic results. The automated and safe reprocessing ensures staff and hygienists can spend more time and resources in the operating rooms rather than in the MDR area.
Service Excellence
Sustainability is very important, and that is why our dental washer disinfector lasts ten years or more. Miele also offers warranty and extended coverage throughout the duration of the lifespan of the machines. 
The PG 8581 is available to order by contacting an authorized manufacturer, representative or dealer, or by reaching Miele Professional directly at 1-800-991-9380.  To learn more about Miele Dental Washer-Disinfectors, please visit https://www.mieleusa.com/professional/dental-washer-disinfectors.
About Miele   
Founded in Germany in 1899 with a single promise of Immer Besser, a phrase meaning Forever Better, Miele is the world's leading manufacturer of premium domestic appliances with more than 20,100 employees, 12 production facilities and representation in nearly 100 countries. As a premium appliance brand represented on all continents, Miele is steadfastly committed to the highest quality, performance and environmental standards. Miele's range of exceptional consumer appliances includes vacuum cleaners; laundry systems; rotary irons; dishwashers; ranges; built-in convection, speed, steam and combi-steam ovens; cooktops; ventilation hoods; refrigeration; wine storage and espresso/coffee systems. To learn more visit Miele USA, view our YouTube channel, and follow us on Facebook and Instagram.
About Miele Professional   
Miele Professional concentrates on the manufacturing of commercial products for industries using commercial dishwashers, commercial laundry technology and laboratory, medical and dental technology. Wherever innovative high-end products with an outstanding cleaning performance and high hygiene requirements are needed, Miele Professional wants to be the first choice. Follow us on LinkedIn.
Media Contact:   
Tiny Mighty Communications   
Kamryn Heath  
kheath@tinymightyco.com   
704-804-0076