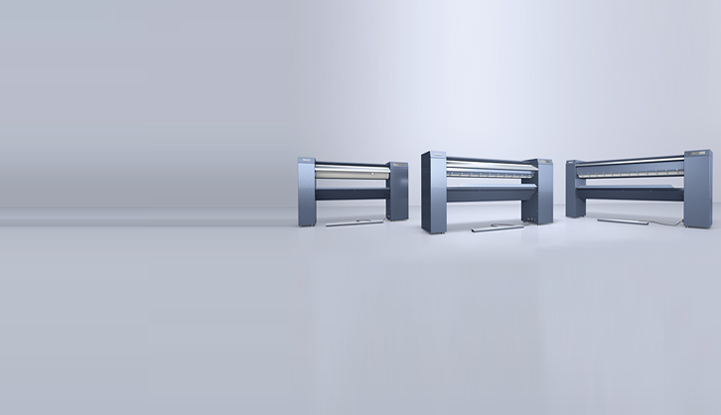 Miele flatwork ironers PM 12
New standard with exclusive features
Thanks to the best ergonomics, unique user convenience, perfect laundry finish, exclusive features and excellent power, the new PM 12 product range sets the benchmark in the compact class.
Product overview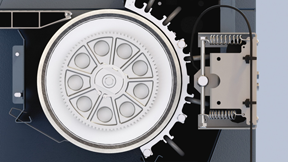 Animation Miele Professional rotary ironers
Watch the film and learn about the features in the PM12 new generation of rotary ironers. 
Watch animation on YouTube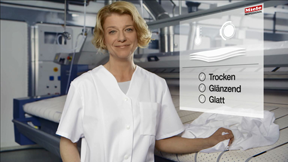 Miele Professional rotary ironer manual
The film will show you how to use them correctly and also give you a lot of tips
Watch film on YouTube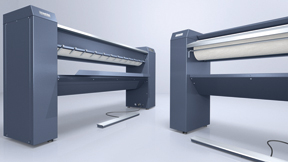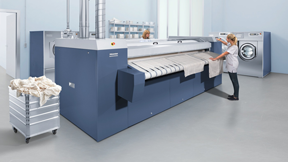 Mounds of washing?
With a working speed of up to 16 m per minute up to 1.6 tonnes of washing can be processed in one shift. Find out more about the high performance flatwork ironers from Miele Professional. 
Find out more
Exclusive features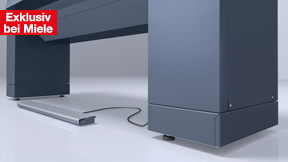 Best possible ergonomics
Work standing or sitting
Exclusive to Miele: Individual work height thanks to adjustable machine feet and optional plinth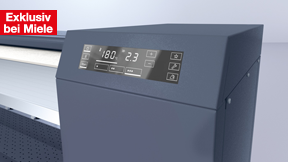 Simplest user interface
Large touch display with easy-to-use programme display and overview of all the important functions
Exclusive to Miele: Freely placeable footswitch for quick and convenient start and stop of the ironer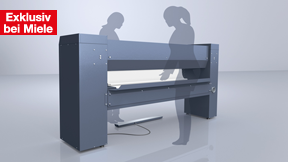 Flexible laundry feed for top model PM 1217
Exclusive to Miele: Simple switching between front laundry infeed and outfeed for wash throughput with 2 operators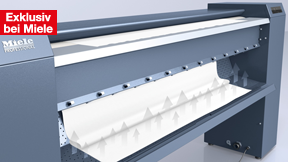 Perfect laundry finish
Aluminium heater plate for perfect processing
Optimum heat distribution from infeed to outfeed of laundry
Optimum leaf-spring padding for the PM 1217
Exclusively in Miele products: Even pressure over the whole rolled width thanks to the air suspension in the heater plate
Laundry outfeed table with automatic textile cooling
Efficient performance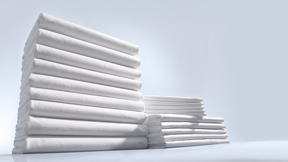 More performance for maximum efficiency
Savings of up to 50% mean not only shorter working time and thus massive savings in processing costs, but also clearly lower energy bills. Because the less time that is required for the ironing of great volumes of laundry – of course whilst maintaining premium quality – means that less energy has to be used. And your investment in the new ironer in the PM 12 range amortises itself in a very short space of time.
Sample calculation
Laundry volume 80 kg
Work time
work time
per day [h:mm)

Work time
work time
per year [h]

Savings in
work time
per year [h]
Savings in
work costs
per year [EUR]
HM 21-100
5:43
1429
-
-
PM 1210
3:49
952
476
4762
Basis for the sample calculation
Comparison of the earlier model HM 21-100 with the new PM 1210 with fan
At maximum performance
Laundry volume to be ironed 80 kg
Capacity usage of roller width 80%
Residual moisture at entry 25%
One layer cotton textiles
Work costs 10 €/h
Washing, drying, ironing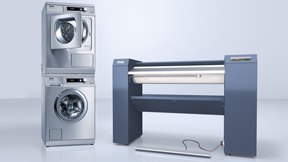 System with flatwork ironer PM 1210
Together with the washers and dryers in the Little Giants range, the new flatwork ironer PM 1210 is the ideal solution for small operations.
Go to product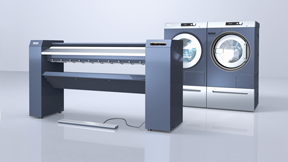 System with flatwork ironer PM 1214
The flatwork ironer PM 1214 is the perfect supplement to the Miele washers and dryers in the octoplus range. The performance capacity of the ironer ensures the efficient care of linen in smaller hotels and retirement homes.
Go to product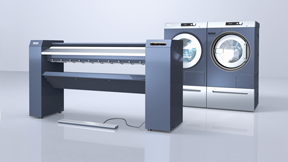 System with flatwork ironer PM 1217
The new flatwork ironer PM 1217 is the first choice for dealing with laundry from large restaurants and hotels as well as retirement and nursing homes. With compact external measurements, flexible laundry handling and a high performance capacity the PM 1217 is the ideal system supplement for intensive daily work situations with large quantities of washing
Go to product