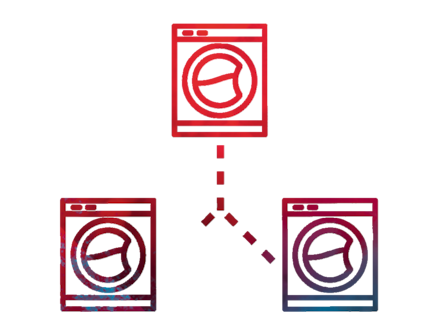 Exclusive to Miele
Network-enabled with Miele MOVE
Machine data can be accessed at all times
Whether you prefer to use a smartphone, tablet, laptop, or PC, with Miele MOVE you can keep track of your machines and your company from any location at any time. All data – current and historical – can be viewed and managed. Additionally, different users can configure MOVE to suit their needs. This ensures that everyone is provided with all the information they require.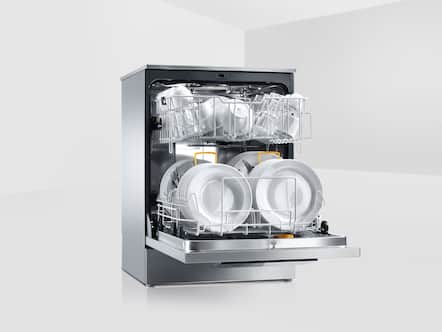 Fresh water system
Maximum hygiene assurance
Fresh water dishwashers change the water after each cycle. A thorough final rinse is then carried out using a temperature that has been adjusted to the washed items. This process ensures perfect dishwashing results and a very high standard of hygiene that clearly exceeds the requirements for commercial dishwashers.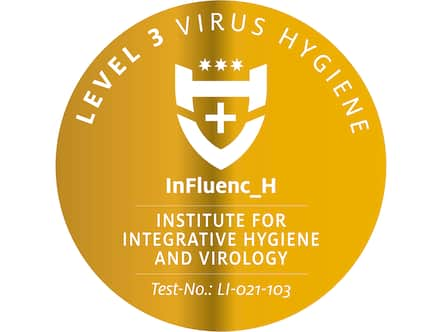 Proven hygiene
Effective against viruses – scientifically proven 
According to the InFluenc_H – Institute for Integrative Hygiene and Virology
*
, cleaning with PFD 10x dishwashers using Miele's ProCare Shine 11 OB and 12 GC cleaning agents removes enveloped and non-enveloped viruses (e.g., coronavirus, influenza, or noroviruses) in the Intensive & Hygiene programs, as well as enveloped viruses (but not the hepatitis B virus) in the Short & Universal programs, even if wash items are difficult to reprocess.
A description of the relevant methodology can be found at the following link: https://www.miele.com/media/ex/com/Professional/Pruefberichte_Virussiegel/PFD10x_Viruswirksamkeit_Testkriterien_Virus_effectiveness_test_criteria_2021-11-25.pdf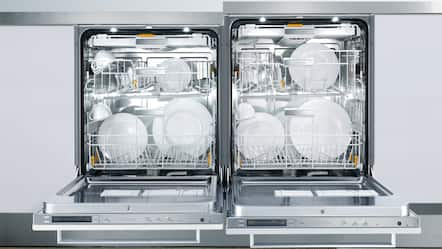 XXL dishwashers
Lots of space
Large-capacity dishwasher with a height of 33 7/16" (85 cm), giving you even more room in the upper basket for large dishes or long stemmed wine glasses.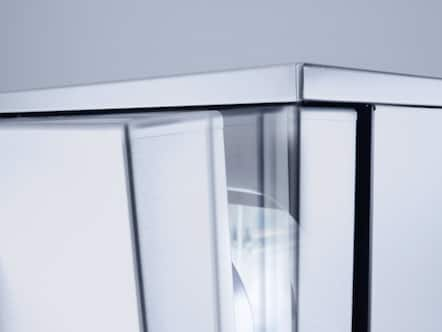 AutoOpen assisted drying
For dry dishware in next to no time
Even challenging items such as plastic dishware can start to dry before unloading. Thanks to the automatic door opening process at the end of the wash program, the drying process starts automatically without the need for manual input.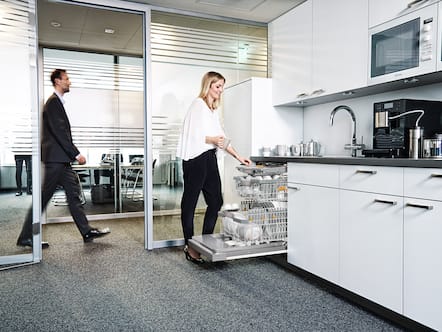 For businesses
Dishwashing professionals for daily large loads of dishes
The ProfiLine dishwashers are the perfect solution wherever large amounts of dishware need to be washed. Even large amounts of dishware that accumulate during breaks, meetings and events are washed quickly and thoroughly. However, they are also really impressive for private households with a large amount of dishware to deal with.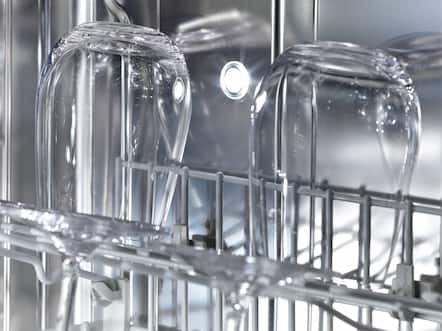 Exclusive to Miele
BrilliantLight*
European patent EP 2 233 061 B1
Brilliant visibility
When the dishwasher is opened, the patented door control automatically lights up 4 high-performance LEDs. The interior cabinet is illuminated and loading and unloading of the baskets is noticeably easier.