The Nostalgic Ingredient That Changed My Cheesecake Game Forever
We're partnering with Food52 to help you Cook Smarter with simple yet delicious recipes where the technique makes all the difference. Here, we're sharing our best tips for perfect cheesecake (yep, there's steam involved!) and a few fall-ready flavor combos.
Over the last few years, I've gotten a lot more relaxed about entertaining. I rarely do any cooking when it comes to appetizers (assembling a good meat and cheese board is exactly my speed). For entrees, I rely on simple, unfussy dishes that feed a crowd with ease—especially in the fall and winter months when I can break out my Dutch oven and let a cozy braise or stew simmer away for hours.
But for dessert, I'd be lying if I said I don't like to make something that elicits a few oohs and ahhs. Something that feels a little bit fancy, but doesn't require much effort or any complicated techniques. I give bonus points to desserts that call for easy-to-find ingredients and can be assembled days in advance without sacrificing any quality or flavor.
Enter: malted chocolate cheesecake, a dessert that checks all of the above boxes, and then some.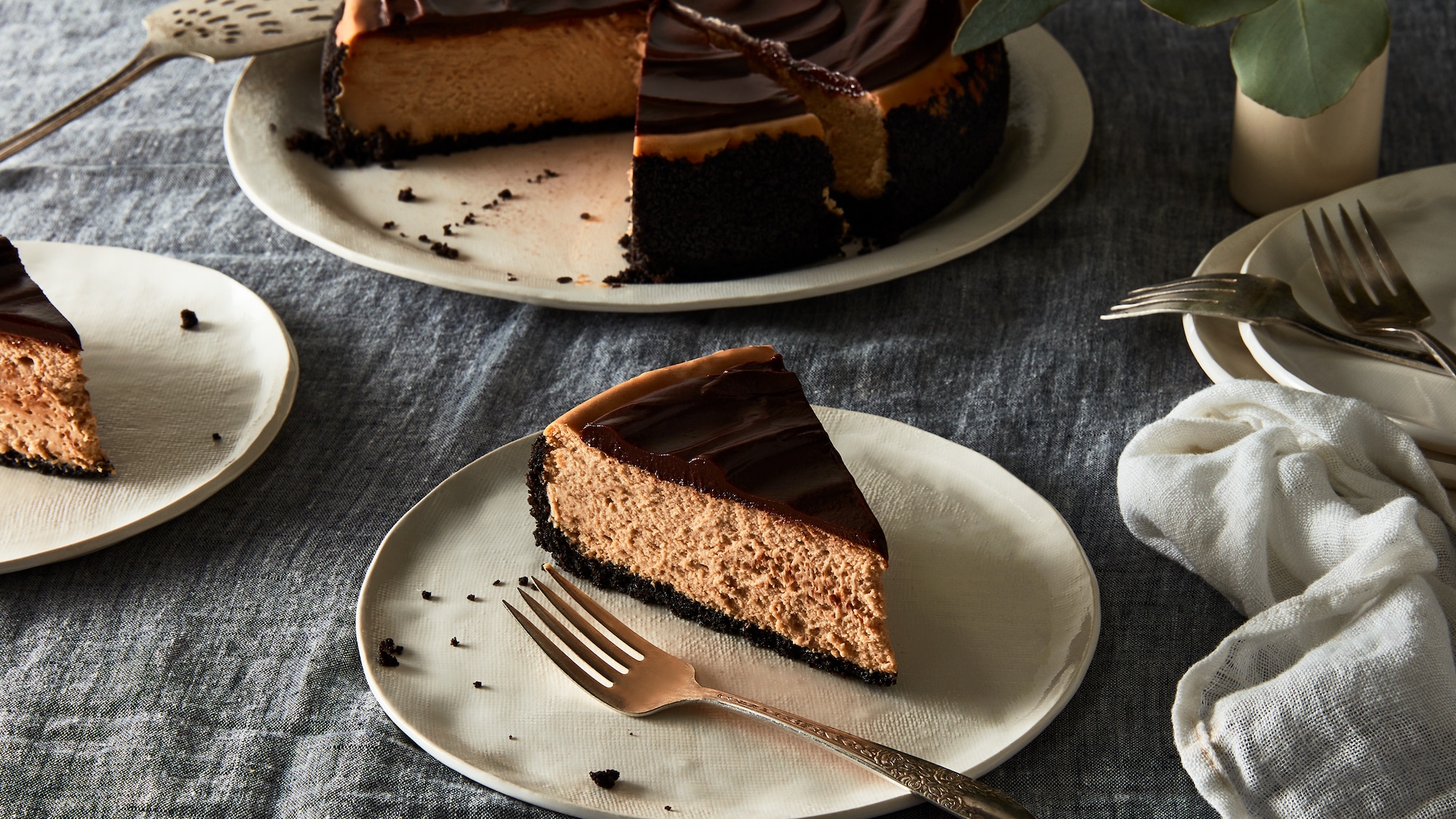 It's my ode to the chocolate malt milkshakes of my youth—both the ones my mom made (always with vanilla ice cream, chocolate syrup, and a heavy hand on the malted milk powder) and the ones we'd order from the local drive-in where they were a specialty.
In my mind, it's the perfect cheesecake: It has all of the qualities of the classic version (crunchy crust, ultra-smooth, creamy filling), but with a chocolate malt's unbeatable flavor profile.
In fact, I love malted milk powder (smartly dubbed the "umami bomb of dessert" by Stella Parks) so much that I added it to the cookie crust, filling, and chocolate ganache topping. Oh, and I did I mention that there's nutty brown butter in the cookie crust? Yep, there is, and it's pretty magical with malted milk.
If the thought of a chocolate malt-inspired cheesecake doesn't get your pulse racing like it does mine, then use this recipe as a template for making better, never-boring cheesecakes all season long. Because once you've mastered the basics, you can riff to your heart's content and make a creamy, dreamy version every single time.
Here are my tried-and-true tips for becoming a cheesecake master, plus a few of my favorite variations.
Malted Chocolate Cheesecake
Ingredients
FOR THE CRUST
9 ounces (255 grams) chocolate wafer cookies, such as Nabisco Famous Chocolate Wafers
8 tablespoons salted butter
1/4 cup (22 grams) malted milk powder (chocolate or plain), such as Ovaltine or Carnation
FOR THE FILLING
3 8-ounce packages full-fat cream cheese, at room temperature
3/4 cup (150 grams) granulated sugar
1 cup (88 grams) malted milk powder (see note above)
3 large eggs, at room temperature
1 cup (240 grams) sour cream, at room temperature
1 tablespoon vanilla extract
FOR THE MALTED GANACHE
1/2 cup heavy cream
8 ounces semisweet chocolate, chopped
1/4 cup (22 grams) malted milk powder (see note above)
Directions
Line the bottom of a 9-inch springform pan with parchment paper.
TO MAKE THE CRUST: In a food processor, pulverize the cookies until they're finely ground.
In a small saucepan over medium heat, melt the butter and cook until it turns brown and smells nutty, about 4 to 6 minutes. Stir frequently, scraping up any bits from the bottom so they don't burn. Remove from heat, and let cool slightly.
In a medium bowl, stir together the crumbs and malted milk powder, then add the brown butter. Stir together until evenly integrated. Transfer crumbs to the prepared pan, and press them up the sides of the pan, then evenly over the bottom of pan. Chill the crust (either in the fridge or freezer) while preparing the filling.
Heat oven to 325°F
TO MAKE THE FILLING: In a mixer fitted with the paddle attachment, beat together the cream cheese, sugar, and malted milk powder on medium-low speed until ultra-smooth, about 3 to 4 minutes, scraping down the sides and bottom of the bowl as needed. (Resist the temptation to mix on high speed, which will introduce air into the batter, causing it to rise, then deflate and crack, in the oven.) Beat in eggs, one at a time, then add sour cream and vanilla. Mix until smooth.
Pour filling over the crust. Bake for 65 to 75 minutes, or until the edges are dry and puffed but the center is still jiggly and wetter looking. (Optional: use a water bath to ensure an even distribution of heat from edge to center--or the steam function on your oven if you have that!). If the edges crack a little, don't worry—they won't affect the taste or appearance since you're going to cover the whole thing with malted ganache!
Cool on the counter, then refrigerate until fully chilled, at least 4 hours or up to 2 days.
TO MAKE MALTED GANACHE: Heat cream in a small saucepan until steaming (but not boiling). Add malted milk powder, whisking until evenly incorporated. Off the heat, whisk in chocolate until smooth and glossy. Cool for about 10 minutes. Pour onto chilled cheesecake and spread to the edges. Return cheesecake to the fridge until the ganache sets, about 45 minutes to 1 hour.
Consider This When Prepping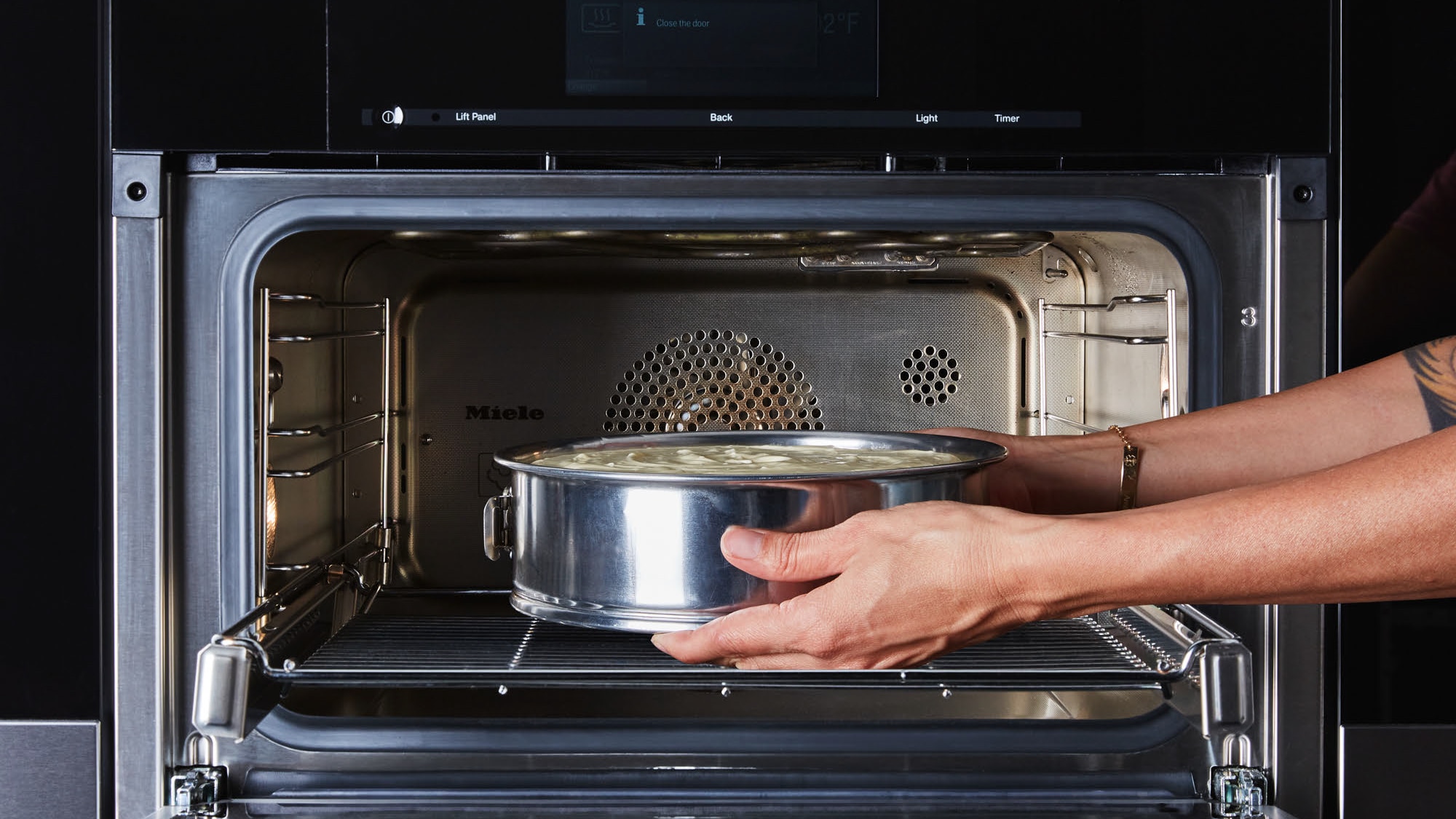 1. Rethink The Crust
When it comes to the crust, it pays off to think outside the graham cracker box. For my malted chocolate version, I turn to chocolate wafer cookies, but there are so many other options. Think: crushed gingersnaps, vanilla wafers, peanut butter cookies, and even pretzels. My rule of thumb is to use one stick of melted butter for every eight to nine ounces of crumbs. The crust will hold nicely together when pressed on the bottom and up the sides of a springform pan, no blind-baking necessary.
2. Make Sure Everything Is At Room Temperature
The cream cheese, sour cream, eggs—they all need to be at room temperature for a smooth, lump-free batter. Keep in mind that a brick of cream cheese can take several hours to come to room temperature. If you're in a hurry, cut the cream cheese into small chunks and place in a warm, sunny spot in your kitchen. To warm up the sour cream, partially submerge the open container in a bowl of warm water. Same for eggs: Place them in warm water for a few minutes and they'll be ready to go.
3. Opt For Full Fat, Please
Cheesecake really isn't the time to skimp on fat. Full-fat cream cheese and sour cream will produce a much creamier, smoother, more full-flavored cheesecake than their lower-fat counterparts. Remember: Even a little slice of rich cheesecake can satisfy a sweet tooth, so go for the real deal.
4. Slow Down On The Mixing
Cheesecakes require a lot of mixing for a velvety filling. Now's the time to get out your mixer, not rely on your elbow grease. It may be tempting to crank up the speed, but don't. Mixing too fast or for too long will introduce air bubbles into the filling, which can cause the cake to rise too rapidly in the oven, then fall and crack.
5. Go Low And Slow On The Bake, Too
For a perfectly-baked cheesecake, maintain a low and steady temperature; I like to bake mine at 325°F. For extra insurance against over-baking and a cracked top, opt for a water bath, which helps to evenly distribute the heat from edge to center. Or for even less stress and mess, use a combi-steam oven (if you're lucky enough to have one!) to bake your cheesecake; the gentle, even steam ensures the most satiny textured cheesecake. Be sure to follow visual cues for doneness, as well. Generally speaking, slightly puffed edges and a soft, wobbly center are what you're after.
6. Don't Forget The Toppings!
Toppings are totally optional, and I'm sure cheesecake purists would argue that they don't belong. But I love toppings for two reasons: (1) They add so much textural contrast and interest, and (2) they conceal the sometimes inevitable cracks that form even when you're dutifully following the rules. If cracks do pop up here and there, don't despair—with a thin layer of chocolate ganache, some saucy cranberries, or crumbled-up cookies, no one will ever be the wiser.
Tips for Other Cheesecakes
1. Candied Lemon Cheesecake
Swap in graham crackers for the chocolate wafers in the crust, skip the malt powder from the filling and the crust, and top with lemon curd and candied lemon slices for a citrusy twist.
2. Cookies & Cream Cheesecake
Follow the malted chocolate cheesecake recipe, but top the whole thing with fresh whipped cream and some crushed chocolate wafers.
3. Vanilla-Cranberry Cheesecake
Use vanilla wafers for the crust, omit the malt powder from the filling and the crust, and top with your favorite cranberry sauce (this one's zingy and delicious).
4. Caramelly Pumpkin Cheesecake
Use gingersnaps for the crust, add one cup of pumpkin puree and your favorite spices to the filling (no malt powder for the crust or filling), and top with a caramel drizzle.
With these tips and riffs in hand, you can churn out perfect, crowd-pleasing cheesecakes for fancy holiday soirees or laid-back gatherings without breaking a sweat. As I've learned myself, no matter what you serve for an appetizer or a main course, or how the evening unfolds, there's nothing better than ending a meal on a sweet note.
We've partnered with Food52 to highlight easy tips for making your cheesecakes tastier than ever, plus a few seasonal riffs to keep in rotation this holiday season. Ready to make getting them on the table even faster and easier? Miele's combi-steam ovens can do it all for you with the touch of a button. Convenient and easy to use, Miele's steam technology makes for fuss-free cooking so simple, you might just ditch your can-only-do-one-thing appliances for good.