Stunning Steamed Buns are Impressive to Look at but Simple to Make
Featuring Miele's Combi-Steam Oven
FOOD52 partnered with Miele for a special edition of our Change the Way You Cook series, all about the power of a simple, essential technique: steaming.
I'm always delighted to learn that a top-tier comfort food—the kind that can go anywhere, do anything, the kind that fills you perfectly, like it's the exact size of your hunger—is easy enough to get right at home. Because this means I can have it anytime I want.
That's how I felt when, thanks to Food52ers Joy Huang and Betty Liu, I saw how dazzlingly simple it is to make mantou—steamed Chinese buns—at home. Not only are they deceptively easy to shape (even the twisted knots are doable if you have someone to teach you—or a handy graphic to reference—scroll down!), but mantou are squishy and plush—my number one choice for food flotation device. Oh, and they taste good, too.
The word "mantou" has a long and complex history in China. According to the Oxford Symposium on Food and Cookery, it has referred to "a large stuffed bun, a small stuffed bun, and an unstuffed bun; a ritual food used in seasonal feasts and sacrificial offerings; a snack for university students; a staple food and a dainty pastry" depending on time and place.
But here, I'm using "mantou" to mean the small, steamed, unfilled buns that were once a staple in Northern China, where rice was reserved for the upper class. Across East Asia, mantou are eaten alongside breakfast, lunch, and dinner. In Beijing, delivery men zip them across the city so that they're still warm when they reach markets and restaurants, and in Taiwan, you might have a hard time choosing between the different mantou at the 7-11 on the corner.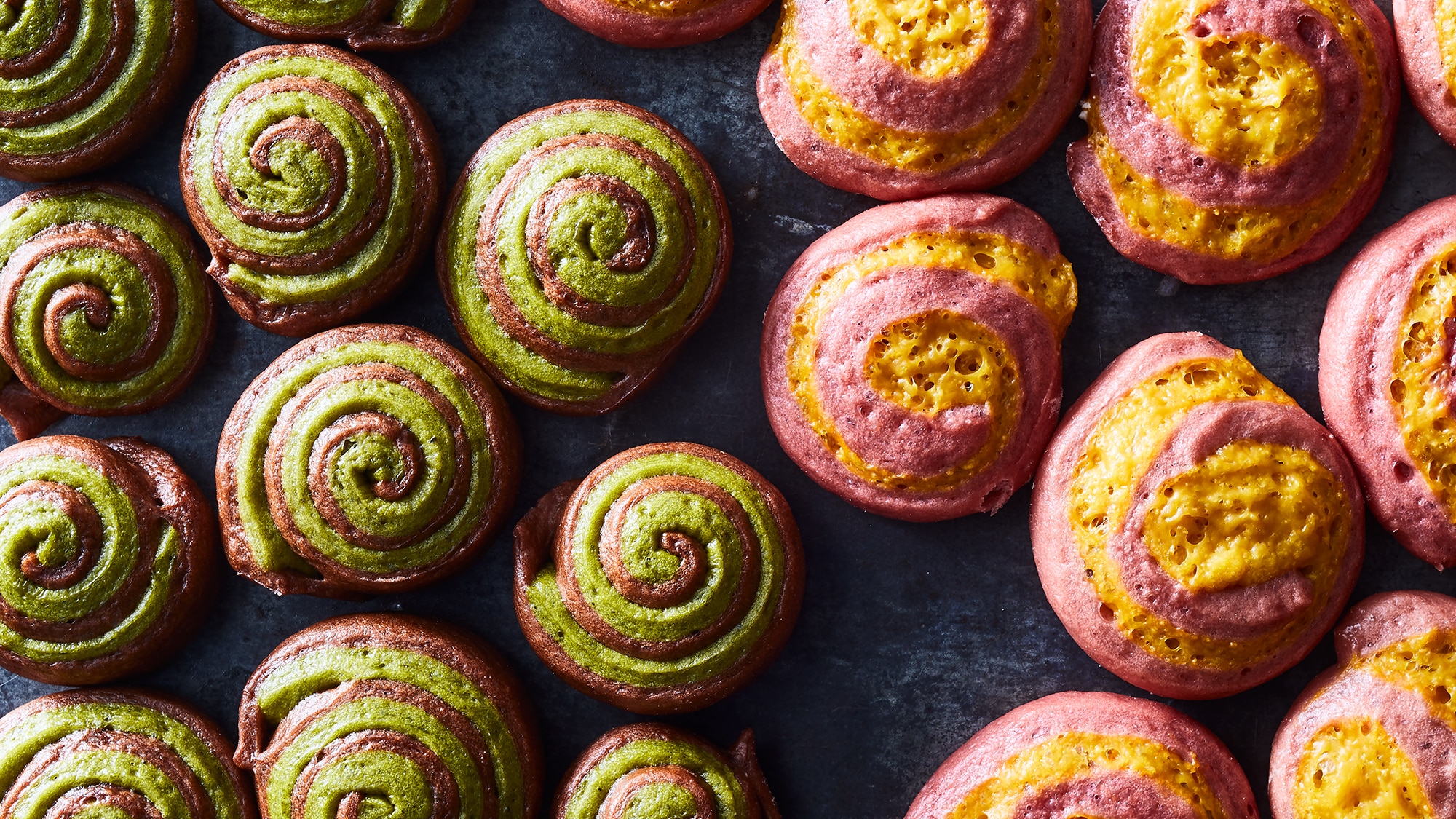 The dough itself is a simple yeasted white dough, made of all-purpose flour, instant yeast, milk, and sugar; not too wet, not too dry, it's a dream to shape and roll. And because the buns are steamed rather than baked, they're soft and fluffy all the way through—ideal for dipping in a spicy or vinegary dish or eating on the run, when you don't want to grapple with the crumbs of a crusty loaf.
And there are as many variations of mantou and baozi (filled buns) as there are meanings of the word, which is what makes them so endlessly fun. To make basic mantou, follow this recipe, but skip the glaze. When it comes time to shape, roll the dough into several logs, then cut off 3- or 4-inch pieces. Put each one on a piece of parchment paper, let rise, and steam. But to get creative, consider some of the possibilities below.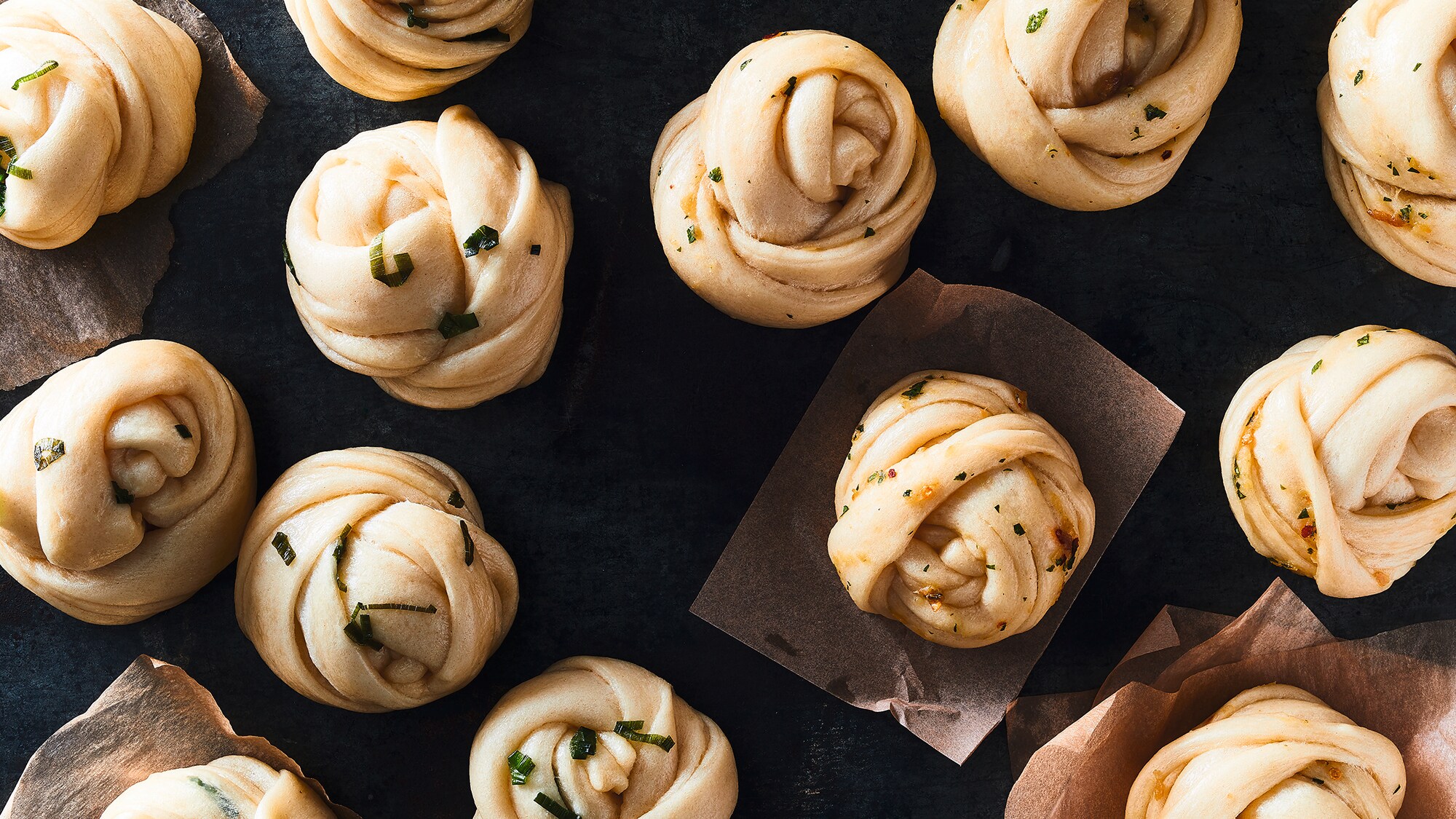 First, consider the flavor of the dough itself.
When left plain and unseasoned, mantou are lightly sweet and comfortingly bland, like the underdone innards of a simple white bread (which I personally love). But you can go wild: Add pumpkin purée to turn the mantou orange, or mashed beet to turn them pink. Whisk a handful of black sesame seeds in with the flour to give them speckles, or add squid ink, like they do at Pagu in Cambridge, Massachusetts to make them completely black.

Then, think about the shape.
You can roll them like sandwich buns, or twist them into flowers, which is really much simpler than it looks. (If I can do it, so can you! Check out our infographic below for a step-by-step guide.) Betty makes Willy Wonka-esque steamed buns by swirling purple sweet potato dough with plain dough, as you would make cinnamon rolls. Once you've mastered that, get creative—try for Winston knots, or any other shape you can dream up.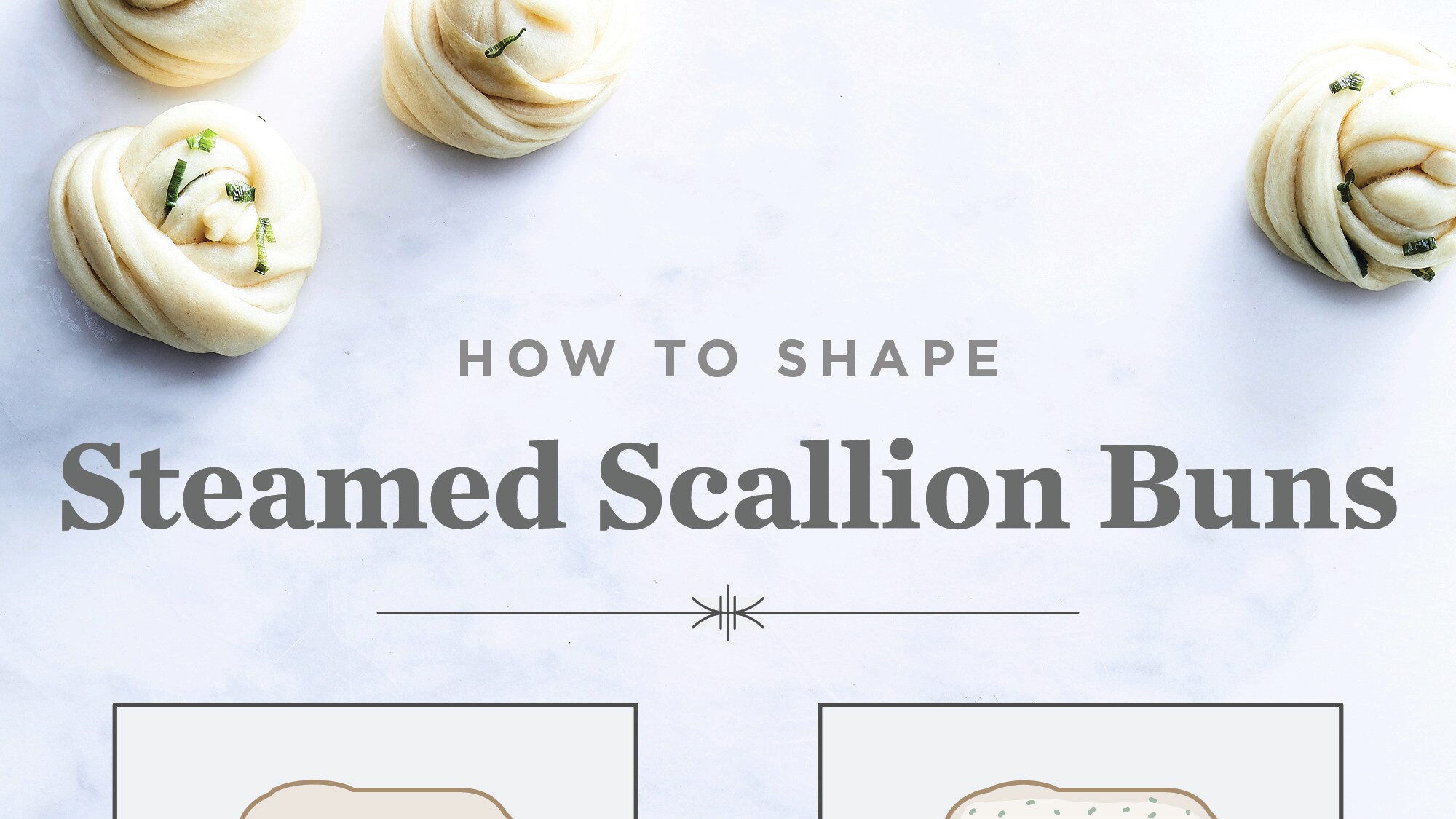 For added flavor, you can glaze the buns as you shape them. Joy's hua juan (steamed scallion buns, shown below) are brushed with sesame oil and scallions before they're twisted, and I tried my own variation, using roasted garlic mashed with chile flakes and parsley. For sweet buns, you could brush the dough with an infused simple syrup or reduced fruit juice.
You can skip any twisting, braiding, and weaving and focus on filling your buns instead. For something sweet, you can try red bean paste, a simple mixture of brown sugar and sesame seeds, or the intensely rich salted egg yolk custard (you'll be making liu sha bao). For a savory option, try pork floss and scrambled egg, like Joy's mom used to make her, or ground pork and finely chopped vegetables.
To make the stuffed buns, you'll roll out small circles of dough, then wrap them around spheres of your filling of choice, pleating the top to seal everything inside.
Finally, get to the eating.
No matter what variety of buns you make—white or bright purple, twisted or filled—watching them inflate in the steamer is a wonder: like rehydrating a pop-up sponge! While the color won't change much, the buns expand and their surface becomes shiny and slick. (And pssst—they can also be fried, then dunked in sweet condensed milk.)
Once they're steamed, you get to decide how to eat them. Scarf one done with no theatrics, but then try slicing one open and filling it with roasted pork belly and sliced cucumbers or fried eggplant and roasted red peppers. Joy suggests using the leftover hua juan for lobster rolls, either with brown butter vinaigrette or ginger-scallion sauce.
Serve them on their own or with a dipping sauce, like soy whisked with chile-garlic paste or hoisin.
Once you've mastered the simple dough, you've opened up a portal of possibilities. And while steamed buns are normally served piping-hot, when they're the fluffiest and squidgiest, just because you can't eat 25 in one sitting doesn't mean your work was for naught. They freeze well, too: Simply wait for the buns to cool completely, then put them in a freezer-safe bag or container. To reheat, wrap with cling film or place in a sandwich bag and microwave for 45 seconds, or return to a steamer for about 2 minutes, until they've re-puffed.
Keep a bag of your latest creations in the freezer and you'll always be only a couple of minutes away from a hot steamed bun.
Article by Sarah Jampel
Photo by Julia Gartland