Nothing beats a dinner classic like Spaghetti and Meatballs. Using the Miele Combi-Steam makes this meal, delicious, easy and cleanup a breeze!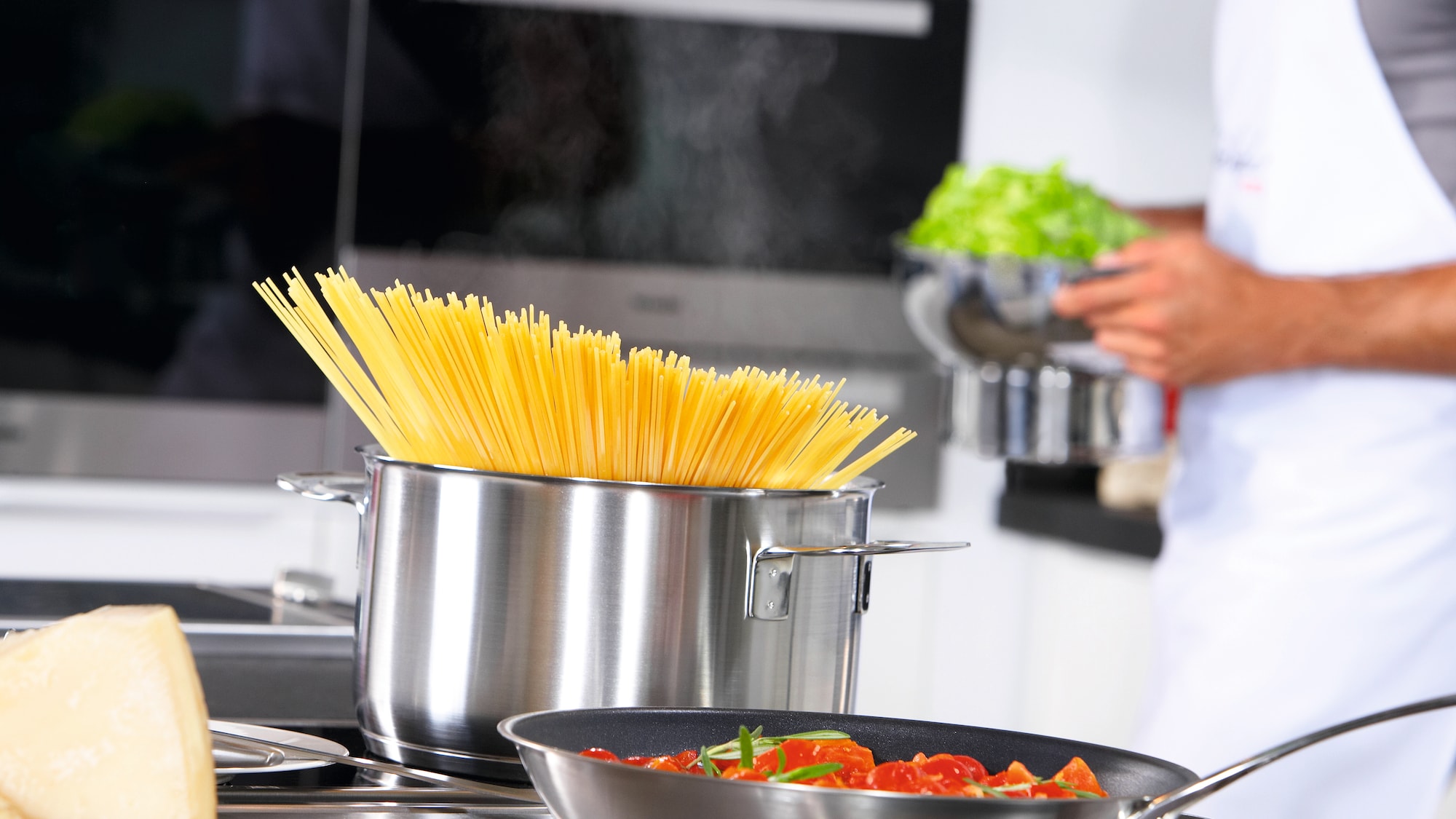 Ingredients
1 Pound lean ground beef
1/2 Medium onion, diced, sautéed in 1 teaspoon of olive oil until translucent
2 Large cloves of garlic, chopped and lightly sautéed in 1 teaspoon of olive oil
2 Tbsp. ketchup
1/2 Cup chopped parsley
1 Egg
1/2 Cup panko bread crumbs
1 Tbsp. dried oregano
1 Tbsp. olive oil
1 Tsp salt
1/2 Tsp pepper
Dash of Aleppo pepper or red pepper flakes to taste.
Directions
Place all ingredients in a large bowl.
Using your hands, combine the ingredients being careful not to over mix. Mixture should be a little loose.
Place parchment paper on Miele Universal tray.
Form golf ball sized meatballs and place on the tray.
Place tray in middle rack of Combi-Steam oven and set program

Go to Operation Modes
Select Combi-Mode
Select Duration
Choose convection bake at 350 degrees, 20 minutes and 15 percent moisture.
Select OK,
Add an additional stage
Choose maxi broil level 2, 5 minutes, zero moisture
Select OK, Start Now

Spaghetti Sauce and Pasta
Sauce and Spaghetti Ingredients
2 24 oz. bottles of marinara sauce
1 15 oz. can of chopped tomatoes
1 Cup of dry red wine
1 Pound dry spaghetti

Directions
Combine first three ingredients, stir to blend in large sauce pot
Bring to a gentle boil and lower heat and allow to simmer for 10 - 15 minutes
Place meatballs in sauce and simmer for 30 - 40 minutes.
Place spaghetti in Miele solid half pan.
Just barely, cover the pasta with water and add a pinch of salt and 1 tablespoon of olive oil.
Place spaghetti in Combi-Steam oven
Go to operation modes
Select Steam cooking and follow the time on the pasta box, the pasta will be in the oven while the oven is preheating.
Drain cooked pasta and serve with sauce and meatballs.
Serve with a salad and fresh bread, enjoy!