This hearty and delicious vegetarian recipe can be made by all. Inspired by your kids favorite movie, Ratatouille, enjoy this delicious healthy meal that will encourage them to help in the kitchen plus get them to eat more veggies!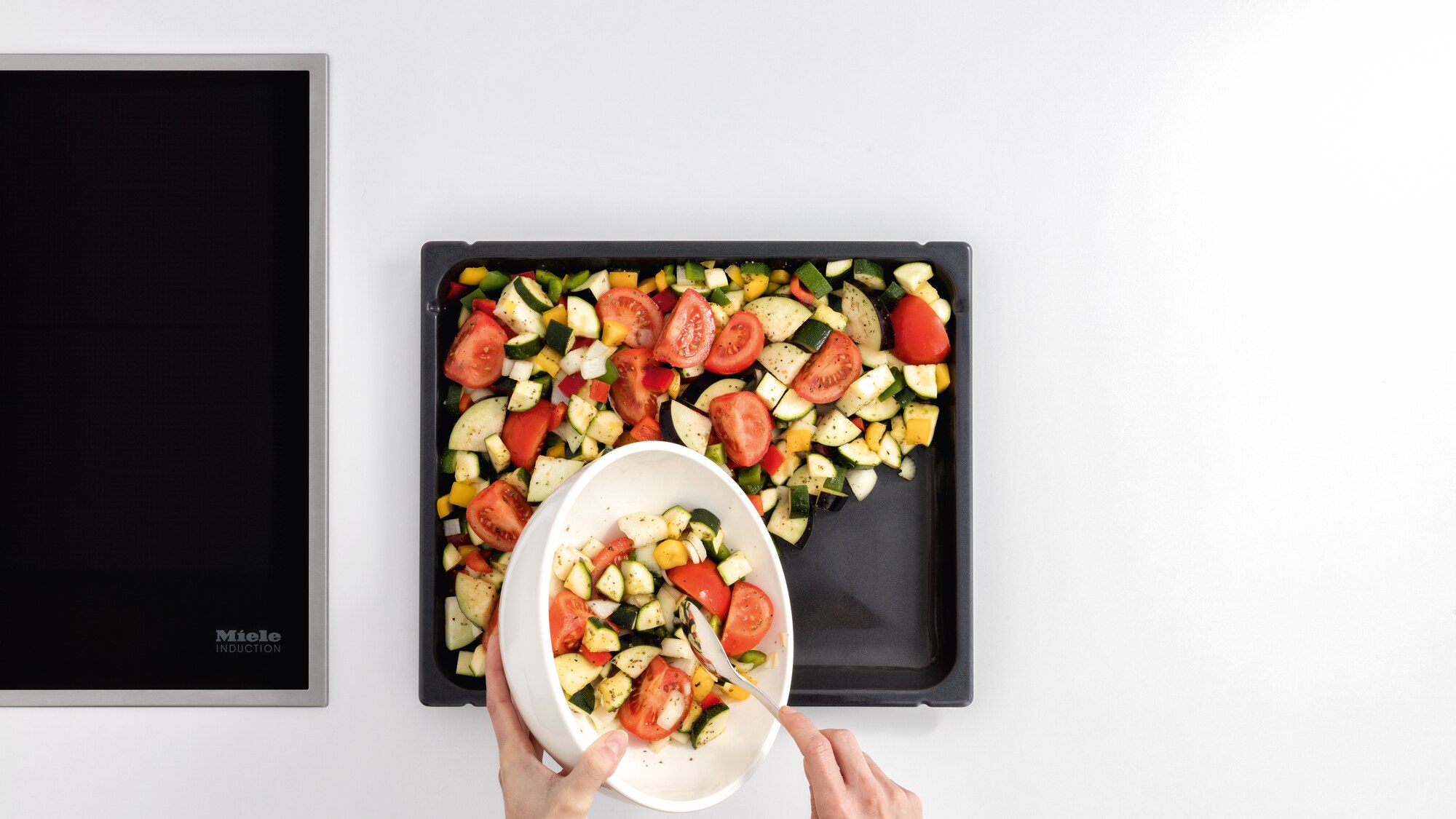 Ingredients
3 Japanese eggplant or one large eggplant
1 red or yellow bell pepper
2 medium tomatoes
2 zucchini or summer squash
1 onion
12-14 garlic cloves, whole, peeled
2-3 tablespoons fresh herbs – thyme or rosemary (or combination of both)
olive oil for drizzling
salt and pepper to taste
splash balsamic vinegar
Serve with angel hair pasta, creamy polenta or toasted semolina
Instructions
Preheat oven to 400 degrees Convection Bake and place a piece of parchment on 1-2 large sheet pans (2 for best cooking results)
Using a vegetable peeler, peel eggplant if you want or remove some of the skin in large strips. If you prefer to leave the skin on, cut into ½ inch thick bite-sized pieces. Slice the bell pepper into ½ inch wide strips. Cut the tomatoes into ¾ inch wedges. Slice the zucchini longways and then slice into ½ inch thick half moons. Slice the onion into ¼ to ½ inch thick half moons.
Spread veggies out on sheet pan(s) in a single layer (this is why two sheet pans are preferred). Add whole garlic cloves (peeled) and herbs.
Drizzle with olive oil and toss, using enough olive oil to coat. Sprinkle with a generous amount of salt and pepper. Toss well.
Roast in the preheated oven for 20 minutes, mix and roast for 20 more minutes, mixing again. Turn heat down to 300 degrees and continue to roast for 10-20 more minutes, or until tender and edges begin to caramelize.
Taste, adjust salt, and drizzle with a splash of balsamic vinegar.
Use immediately or cool and refrigerate (or freeze) until ready to use.