Jeweled Rice Salad is a traditional Middle Eastern dish. With warm spices, vibrant color and a variety of textures it's a standout side dish. With a base of rice and squash, it's also a Gluten-free and vegetarian dish.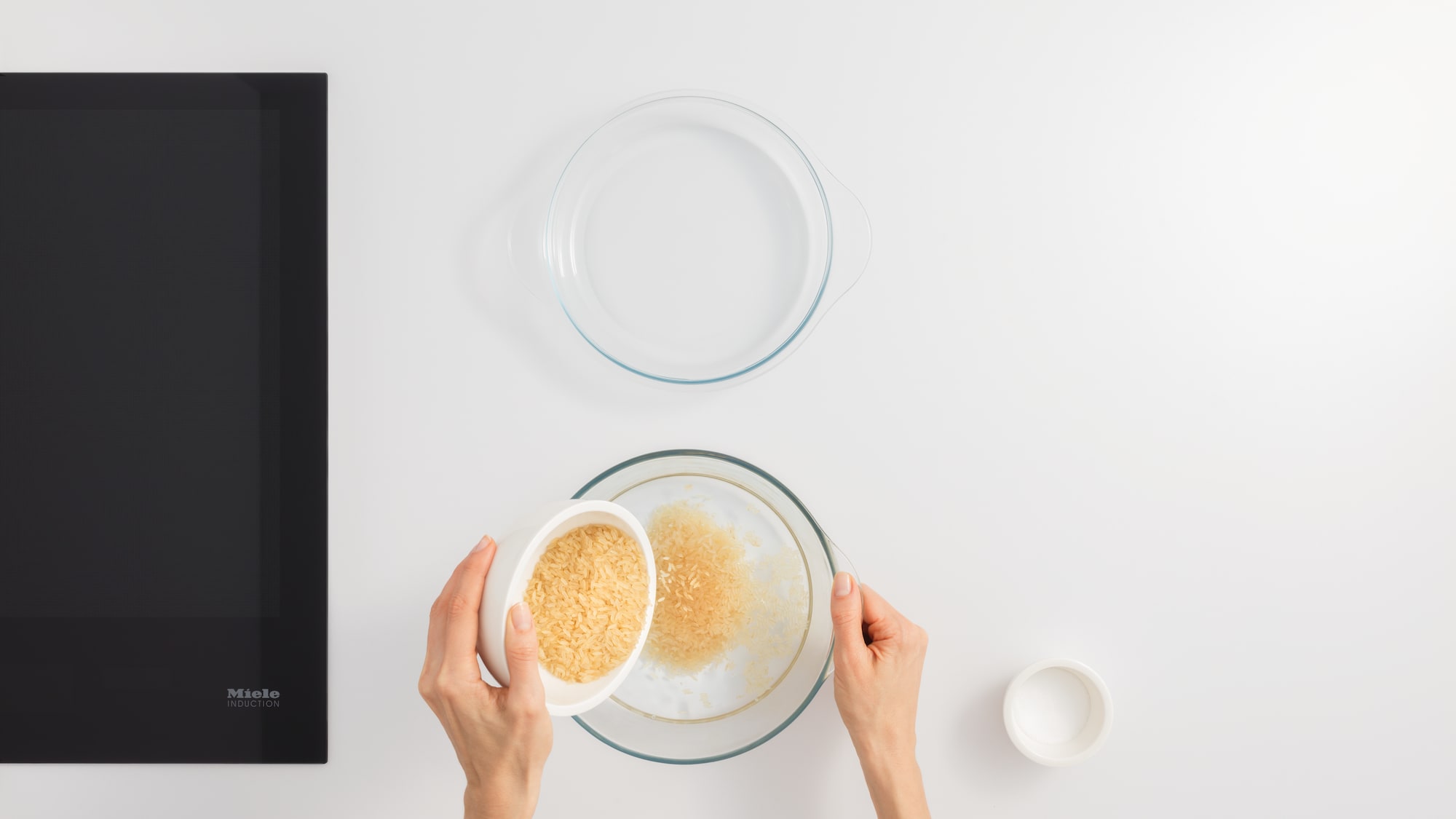 Ingredients
1 ½ cups basmati rice, follow Menu Cooking with Butternut Squash
1 butternut squash, peeled, cut into 1 inch cubes, follow Menu Cooking directions
3 tablespoons olive oil, divided
1/8 teaspoon ground black pepper
1/3 cup blanched slivered almonds
1/3 cup shelled pistachios
½ red onion, finely chopped
½ teaspoon ground cinnamon, ground coriander and turmeric
1/8 teaspoon ground cloves
1 cup your favorite dried fruits (cranberries, golden raisins, finely diced apricots)
Finely grated zest of 1 orange (zest before squeezing juice for dressing)
1 large pomegranate, seeded
1 handful torn mint leaves
Dressing
1/3 cup freshly squeezed orange juice
2 tablespoons white wine vinegar
1 teaspoon honey
¼ teaspoon salt
1/8 teaspoon ground black pepper
1/3 cup olive oil
Directions for rice and butternut squash
In a deep solid steam pan or glass loaf pan, place the rice and 1 ½ - 2 cups water.
In a perforated steam pan, place the butternut squash
Program the oven.

Special Modes / Menu cooking / Vegetables / Pumpkin / Diced / two bars / Add food. Rice / Basmati Rice / OK / Start menu Cooking. Follow the oven prompts.
Directions
In a medium skillet over medium heat, toast the almonds and pistachios until the almonds are golden and the nuts are fragrant, about 4 minutes. Transfer to a plate.
Cook the onions and bloom the spices. Add remaining 1 tablespoon olive oil to the skillet. Over medium heat, cook the onions, stirring occasionally, 4-5 minutes or until softened. Add the ground cinnamon, ground coriander, turmeric and ground cloves. Stir for 30 seconds. Fold in the dried fruits, remove from heat.
Make the dressing. In a small bowl, combine the orange juice, vinegar, honey, salt and pepper. Whisk in the olive oil until emulsified. Taste and add more salt or pepper, as desired.
Add the squash, toasted nuts, onions, spices, dried fruits and orange zest to the bowl of rice. Toss with half the dressing (you will have more than you need). Taste and add more salt, pepper or dressing, as desired.
Garnish with the pomegranate arils and mint leaves. Serve at room temperature.