How to Get Tender and Flavorful Fish,Every Time
Featuring Miele's Combi-Steam Oven
FOOD52 partnered with Miele for a special edition of our Change the Way You Cook series, all about the power of a simple, essential technique: steaming. For delicate proteins like fish, using a steam oven works wonders. And it's never easier than with a Miele Combi-Steam Oven: the full functionality of a steam oven and convection oven, which can be used individually or combined for culinary masterpieces. The brand's MasterChef automatic program takes all the guesswork out of cooking; instead of selecting cooking temperature and cook time, you can opt to select the ingredient and degree of doneness, for perfectly cooked dishes every time.
It wasn't so long ago that I'd never cooked (or, ahem, eaten) fish of any kind. The world of fish is still new to me, which means that I haven't quite found my sea legs when faced with a piece of salmon and an hour to turn it into dinner.
So I've come to rely on steaming fish—a technique that I learned from chef Sara Jenkins, who picked it up from a friend in Hong Kong—for a simple, low-risk, high-reward preparation. It might not sound as sexy as roasting or as daring as searing, but I avoid sputtering oil, sticking skins, and overcooked fillets.

Using a steam oven is not only great for a beginner like me, but it also highlights the delicate flavor of fish while still permitting plenty of wiggle room—from the type of fish you choose to the sauce you top it with—for experiments. (And, as Sara points out, steaming doesn't stink up your kitchen. Ah, sweet relief!)
There are a million fish in the sea (and a million ways to steam each one). But if you follow these simple steps (and some are optional!), you'll have the confidence to go out on your own and play as you please. Check out the overview in the infographic, and then get even more step-by-step details below.
Things are about to get steamy.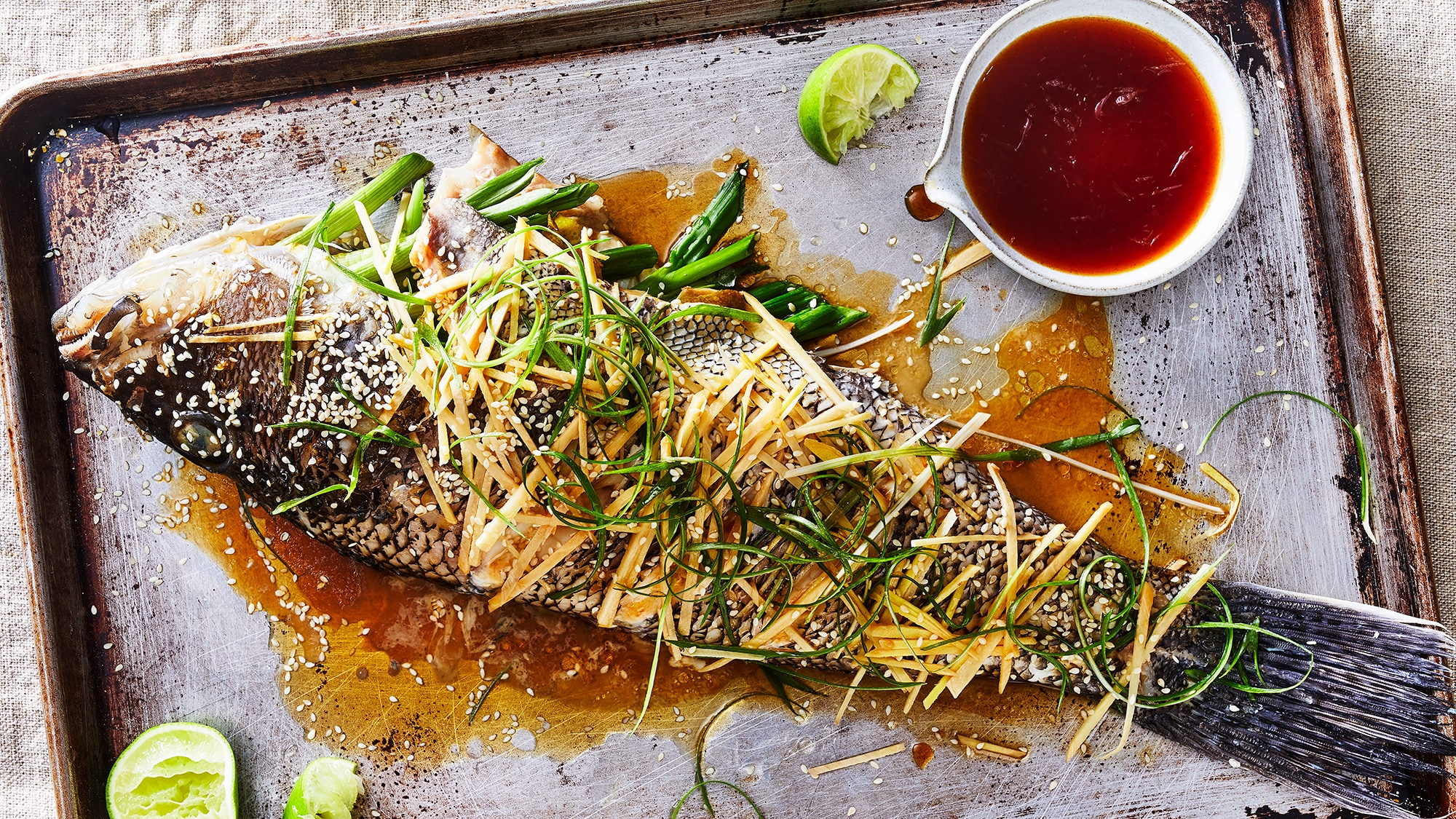 The first decision is also the biggest one: Do you want a whole fish or fish fillets? A whole fish offers a dramatic presentation—and, as Sara points out, it means you'll get to eat the cheeks, the most tender part. A head-to-fins steamed fish, typically seasoned with ginger, scallion, soy, and cilantro, is a key part of the Lunar New Year meal in China and Taiwan, representing family unity and prosperity.
Choose a small fella (aim for 1 1/2 to 2 pounds). Porgy, trout, black bass, Boston mackerel, red snapper, rock fish, flounder, or striped bass are all good contenders. Unless you'd like to try it yourself, ask that the fishmonger to clean and scale it.
If you choose the slightly more beginner- and weeknight-friendly fillets, you'll be able to select a fish that might otherwise be too large to steam whole: cod, halibut, salmon, or sole, for starters.
So long as you steer clear of seafood that's prone to toughening up—like swordfish or tuna—you should be good to go. You can even steam scallops!
Since the actual cooking of the fish will be speedy (8 to 12 minutes, depending on the size and thickness of your whole fish or fillets), take the time for a 30-minute-ish marinade in an assertive, salty mixture. (Of course, if you're in a rush, you can skip this step and get straight to cooking. Just be sure to season your fish with salt first.)
Your marinade might be a combination of any of the following: soy sauce, chili paste, sweet wine or sherry, rice vinegar, a whole load of torn herbs (like Thai basil, dill, cilantro), crushed chile, a touch of honey, sliced or grated ginger and garlic, a little lemon or orange juice. Mix, taste, and adjust. Do be careful to keep the acid levels low and marination time under an hour so that you don't risk "cooking" the fish, ceviche-style.
When marinating a whole fish, rinse it, season it with salt, then make 1/4-inch-deep slits on both sides of its body to allow the marinade to penetrate. You can also bypass the marinade and tuck aromatics into its belly cavity instead (or in addition!): Try sliced onion, citrus circles, rehydrated dried mushrooms, crushed lemongrass, chopped scallions, cilantro stems, ginger, garlic, or chile.
And if you don't have time to marinate but still want to improve the flavor of your fish, try this even quicker tip from ChefSteps: Sprinkle the fish all over with salt and sugar. Let it sit for 10 minutes—you'll see the moisture draining off—then plunge into ice water and proceed as usual.

There isn't one correct way to steam. You can use a steam oven or any stovetop setup—say, a bamboo steaming basket or a steel insert—that puts the fish over a pot of boiling liquid and has a lid to keep the steam from escaping.
You also don't need any appliances whatsoever: You can hack a steamer with a heat-proof plate or cooling rack and some clever aluminum foil maneuvering. No matter which way you steam, you'll want to put the fish on a plate—rather than directly onto the steamer basket or the rack—so that it cooks in its own flavor-filled juices (which you can later harness and hoard).

Smaller fillets will take 4 to 8 minutes to cook through, whereas a larger steak might take 10 to 12 minutes. When your fish is opaque and flakes easily, it's ready. But remember: Even if you slightly overcook your fish during your first go, the steam will ensure that it's still moist and tender.
For multitasking made easy, you can steam vegetables simultaneously. Think about how long your veg (maybe that's mustard greens, bok choy, green beans, snow peas, or asparagus) will take to cook, then stagger the start times as needed. In Mark Bittman's steamed fish and kale recipe, the greens cook for 10 minutes before the fish fillet is placed directly on top. After another 5 to 10 minutes, the fish and the vegetables are both ready to eat. No extra vegetable side dish necessary.

If you're using a traditional, over-the-water steaming technique, you can boost your cooking liquid with all sorts of fragrant ingredients: Toss in roughly chopped ginger, crushed lemongrass, crushed black or Szechuan peppercorns, star anise, or lemon peel (maybe Yuzu, if you're lucky!). These ingredients won't overwhelm the fish with flavor—instead, they'll perfume it subtly. If you don't have them, skip it.
You can even change up the cooking liquid itself: For her Sake-Steamed Mandarin Fish, Food52er meganvt01 forgoes the water and steams the fish over a boiling mixture of sake, chicken broth, and soy sauce. Mushroom broth would also make a good alternative.
If you're steaming in an oven and want a similar aromatic effect, finely slice ginger, garlic, and scallions, then scatter them in the baking dish before laying down the piece of fish.
You've steamed your fish (and maybe some vegetables, too) and now you're ready for the finishing touch.
In many Chinese-influenced recipes, the whole steamed fish is doused with hot oil that's sizzling with scallions, ginger, or garlic and topped with herbs and soy sauce. You could use sesame, canola, or peanut oil, adding a crushed dried chile or some red pepper flakes for heat. A squeeze of citrus juice (or a splash of rice vinegar) would add some zing, and some toasted sesame seeds or fried panko would give you a contrasting crunch.
For fillets, you might want to take a simpler route. Dress each one with good olive oil, flaky salt, and squeeze of lemon juice. If you want something extra, make a simple herb salad—a variety of roughly chopped herbs plus olive oil and lemon juice—and toss in some capers or halved olives. Get fancy and add segmented citrus slices or chopped pickled peppers. Top each fillet with a fistful of cascading salad.
You could also harness those cooking liquids that have collected on the plate or baking dish. Spoon them over the fish as is, or reduce them down into a powerful sauce. To make a more luxurious sauce, mount those reduced juices with a couple of tablespoons of butter.
Ah, you've treated your fish with such care and attention along this journey. You've taken it to the steam room (and avoided the harsh sauna). Now it's time to be kind to yourself: Eat up!
Article by Sarah Jampel
Photo by Julia Gartland