Crispy Chicken Thighs with Garlic & Artichokes Are a Weeknight Win
In partnership with Food52
View the video and step-by-step instructions by Sam from Food52 on how to achieve this delicious dish.
We've teamed up with Food52 to streamline your weeknight dinner routine with smart, delicious recipes the whole family will want to dig into. Here, cookbook author and recipe developer Samantha Seneviratne shares her go-to ingredient for making one-pan chicken thighs—roasted to golden-crisp goodness in the Miele M Touch Convection Oven—a winner, winner.

Back in culinary school, learning how to "turn" (aka clean and trim) an artichoke was considered an essential part of the core curriculum. One day in class, Jacques Pépin—world-renowned chef and one of the deans of my school—was mulling about the kitchen, watching and critiquing everyone's form. I prayed that he wouldn't look my way, but he pulled up right beside me.

With a bowl of acidulated water (just water with a bit of vinegar or lemon juice, which prevents the vegetable from browning after you cut it) in hand, he showed me the technique. Using a sharp paring knife, and a lifetime of practice, he removed all the woody leaves and pesky thorns in seconds—the only thing left was a a beautifully smooth, round, yellow heart. He chucked it into the water and let it bob around while he repeated the process, and then encouraged me to try.

My first attempts were pitiful, lopsided, and wasteful. After a few more unsuccessful tries, he let out a big sigh and moved on without comment.

Years have passed since, and my knife skills have improved considerably. That said, who has the time to turn artichokes these days? I definitely want to eat them—all earthy, sweet, and buttery—but I don't want to deal with the painstaking process of prepping each one by hand. Thankfully, there's a wonderful way to enjoy artichokes all year round without any hassle.

Take a stroll over to your local antipasti bar; many grocery stores and Italian markets are outfitted with one of these beauties. There you'll find bins of milky bocconcini (small mozzarella balls), glistening olives of all shapes and sizes, multicolored roasted peppers, and—my favorite—gorgeous marinated artichokes.
Even if the antipasti bar is closed right now, you can usually find most of the offerings packed up for you and ready to go. But don't worry, if you can't find marinated artichokes, the canned and jarred varieties are easy to come by and great in a pinch.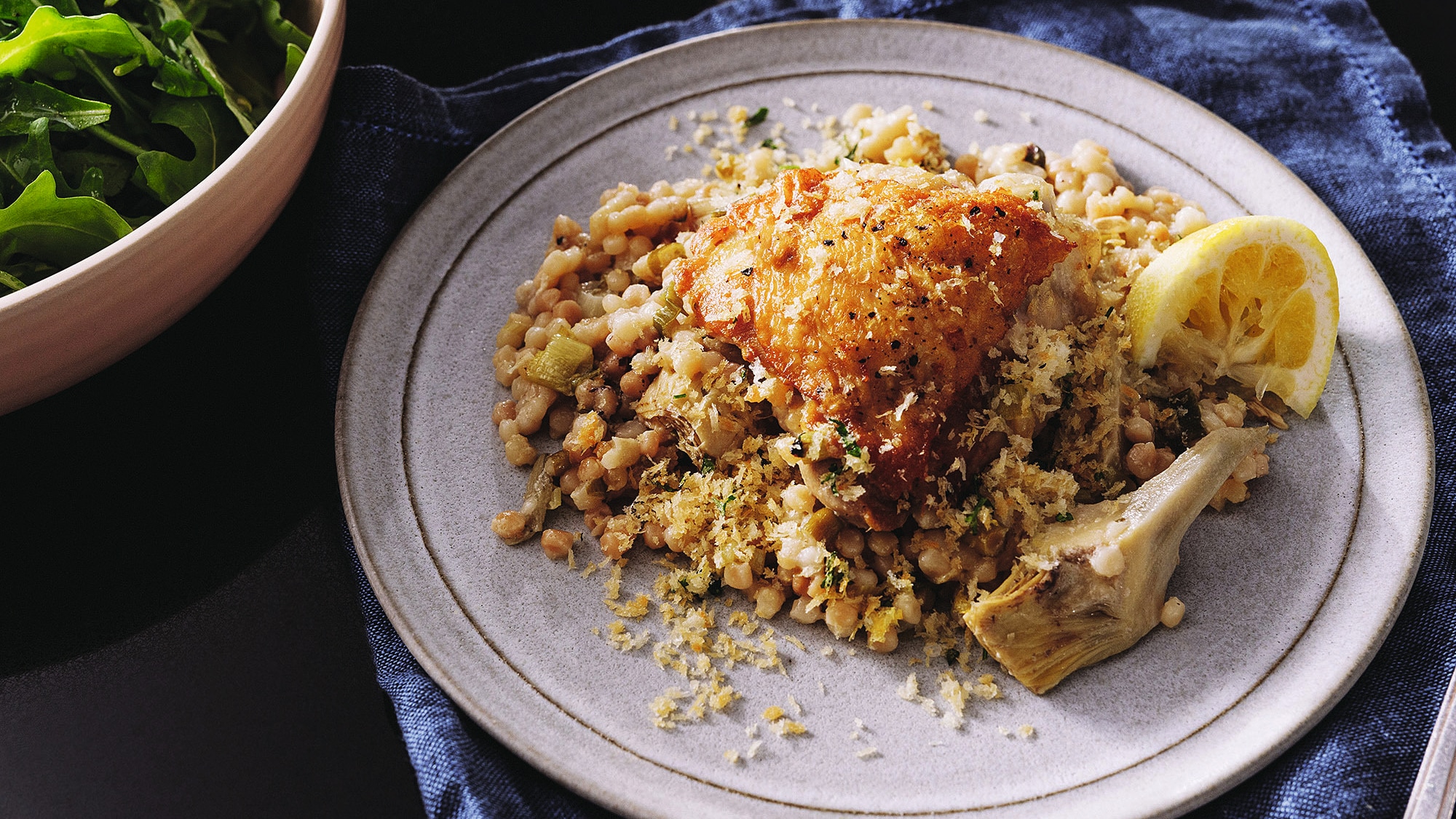 Miele's M Touch Convection Oven makes these weeknight-friendly chicken thighs extra tender, thanks to handy features like Moisture Plus. PHOTO BY TIM MORRISH
My go-to for weeknight dinners when I'm short on time and energy, marinated artichokes pack a ton of flavor—especially in this roasted chicken thighs dish that requires little effort and dirties very few dishes. As a bonus, it includes a main and a side dish in one single pot. In other words, it hits all the right marks.

The addition of toasted pearl couscous, which stays pleasantly chewy even as it soaks up the flavor and moisture from the chicken and marinated artichokes, makes this dish feel nice and hearty. The garlicky panko is just a little bit of lily gilding; I like it for added crunch and the brightness that comes with lemon zest and fresh parsley. It's an extra step to make, but it's no fuss—just toast the panko in the oven while you brown the chicken on the stovetop.

With a little multitasking, this dish can be made in about 45 minutes from start to finish, leaving more time to eat and enjoy with the ones that you're feeding.

I may never turn a fresh artichoke again, but I think that Jacques Pépin would still be proud.
Roasted Chicken Thighs with Artichokes and Pearl Cous Cous
Ingredients
Topping
3 tablespoons olive oil
1 clove garlic, grated
3/4 cup panko breadcrumbs
2 tablespoons chopped parsley
zest of 1 lemon
coarse salt and freshly ground pepper
Chicken
4 chicken bone-in, skin-on chicken thighs
coarse salt and freshly ground pepper
1 tablespoons olive oil
1 bunch scallions (about 8), sliced
1 14 ounce can quartered artichoke hearts, rinsed and drained and patted dry
1 tablespoon Dijon mustard
1 tablespoon lemon juice
1 cup low-sodium chicken broth
1 cup whole milk
Directions
Prepare the topping: Heat the oven to 375°F (Operating Modes - Surround - 375°F). In a medium bowl, stir together the olive oil and the garlic. Add the panko and gently toss to combine. (Take care not to grind the panko down into fine crumbs.) Spread the panko mixture onto a rimmed baking sheet and bake until golden brown, 6 to 8 minutes. Transfer the crumbs to the bowl and toss with the parsley, lemon zest, and season with salt and pepper to taste.
Meanwhile, prepare the chicken: Season the chicken thighs well with salt and pepper. Heat the 1 tablespoon olive oil in a large, high sided skillet over medium-high heat. Cook the chicken, skin-side down until the skin is deep golden brown, about 8 minutes. Transfer to a plate.
(Operating Modes - Moisture Plus - 375°F - Additional Settings - Convection Roast) Add the pearl cous cous and cook, stirring, until it is golden brown in spots. Add the scallions and the artichokes and cook until the scallions are softened, about 2 minutes. Season with salt and pepper. Stir in mustard, lemon juice, chicken broth, and milk. Set the chicken on top, skin side up. Transfer to the oven and bake until the cous cous is tender and the chicken is cooked through, about 25 minutes. (Operating Modes - Moisture Plus - 375°F - Bursts of Steam - 3 Bursts of Steam)
Top the finished dish with the panko topping to serve.
These one-pan chicken thighs with marinated artichokes are a winning dinner any night of the week, especially when you're using the M Touch Convection Oven from Miele. With smart-as-heck features like Moisture Plus, which adds a range of humidity to the cooking process for optimal results, this oven makes a functional-meets-beautiful upgrade to any home cook's favorite space (the kitchen!).