Food Destination: Your Kitchen
Chef Ravi Kapur of Liholiho Yacht Club in San Francisco believes in an intangible measurement of hospitality: the "aloha spirit." It's welcoming, and suggests wanting to share," says Kapur. It's that idea of people gathering around the table—no matter where you're from or what you do—everybody has a seat. Everybody is welcome."
For Kapur, every culture and learned experience is welcome at his table, which is why he describes his restaurant as "heritage-driven," not "Hawaiian." His recipes are a blend of everything he's learned, both from his Chinese and Hawaiian mother and his Indian father, as well as from his childhood in Hawaii and his adulthood in San Francisco. "The beauty about being heritage-driven is that you can be open to the experiences and influences of others," he says. Chef Kapur grew up around a sharing of cultures and tastes in Hawaii. "It wasn't like, 'This is the way to do it.' It was like, 'This is how my family does it.' Heritage is not only your bloodline, but your accumulation of experiences."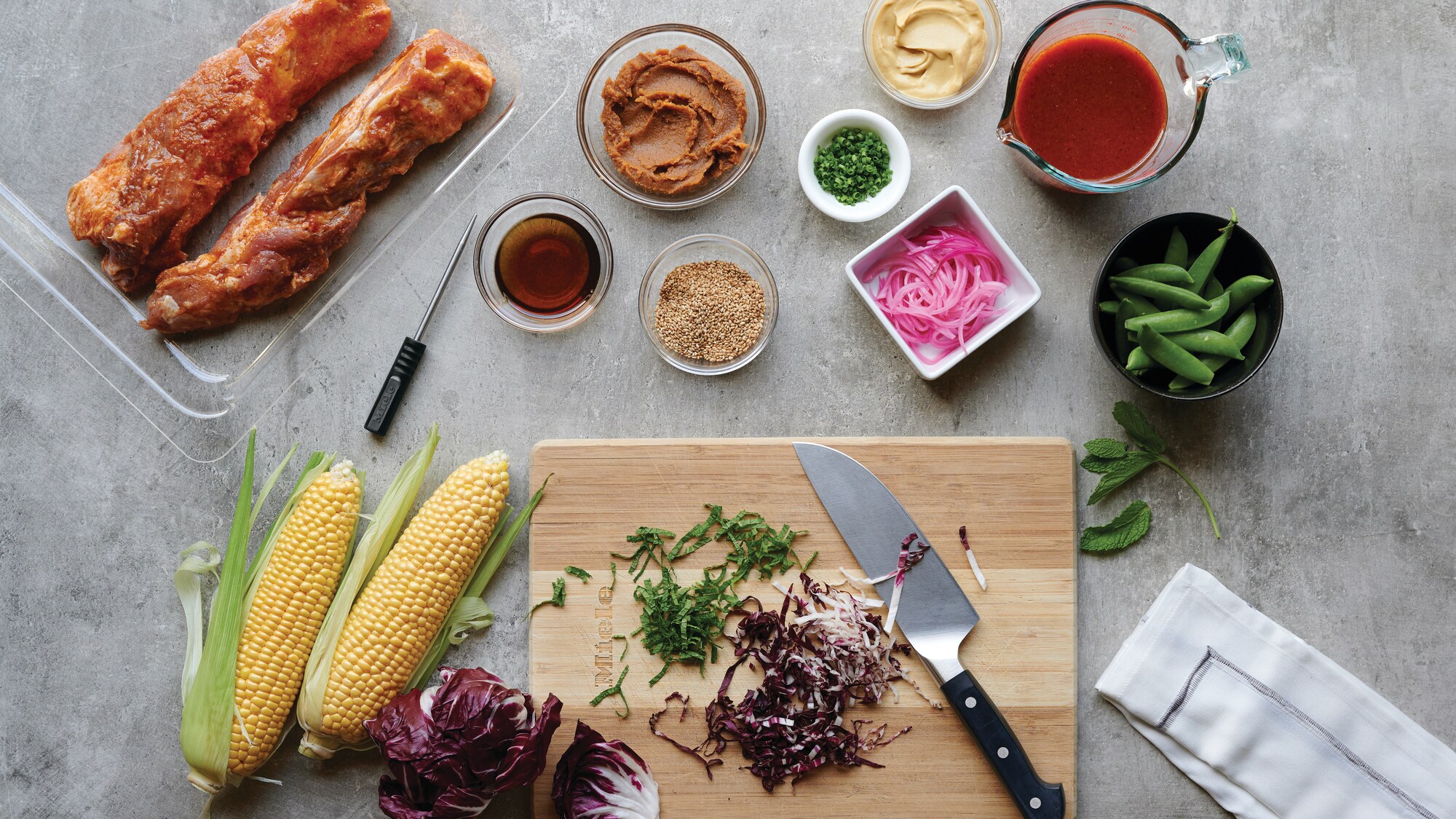 That welcoming together, or "aloha spirit"—and memories of his grandfather grilling in Hawaii—inspired him to create a pork shoulder dish that can be shared with others. It's a simple cut of pork, sustainably raised, that's elevated with a marinade. "Most meats that are grilled or roasted in Hawaii are marinated first, and that brings out a balance of sweetness and salinity," he says. "You're adding flavor and complexity to a simple ingredient."
For this recipe, Kapur typically uses a cake tester to feel the doneness of the meat: It isn't as intrusive as a knife, and over the years he's learned how to feel for the perfect temperature. But now, thanks to Miele's Wireless Precision Probe , Kapur is able to check the exact temperature of the meat and know when it's done without opening the oven. He also encourages home cooks to use Miele's Moisture Plus setting, which injects steam into the oven cavity to ensure a juicy roast.
For Kapur, cooking is all about intention: "If you put care and love into what you're cooking, that's all that matters. It doesn't matter what level you're at, whether you're serving caviar or a piece of toast—intention is the most important ingredient."
Chili Honey Roasted Pork Shoulder with Snap Peas and Corn
Ingredients
Pork Shoulder
1/4 cup red miso
1/4 cup red curry paste, such as panang
1/2 cup water
1/4 cup neutral oil, such as rice bran
1/2 cup honey
2 garlic cloves, grated
1 (3 1/2 -lb.) boneless pork shoulder, cut into 3-inch log
Miso-Buttered Corn
4 medium ears of corn
2 Tbsp. red miso
1/4 cup butter, softened
Snap Peas and Honey Mustard
1 lb. snap peas, trimmed
1 tsp. kosher salt
1 Tbsp. neutral cooking oil, such as rice bran
2 Tbsp. honey
2.Tbsp. Dijon mustard
1 Tbsp. sesame oil
1 Tbsp. fish sauce
1 small bunch of chives, chopped
1/4 cup slived fresh mint leaves
1/3 cup sliced radicchio
1 Tbsp. sesame seeds
1/4 cup thinly sliced red onions, soaked in ice water for 15 minutes, drained and dry
Directions
In large bowl, mix curry paste with miso; gradually whisk in water until smooth. Add oil, honey, and garlic and whisk until smooth. Add pork to marinade; cover and refrigerate 12 to 48 hours.
Two hours before cooking, remove from refrigerator and let pork come to room temperature. Remove pork from marinade and scrape off excess. Place pork into oven-proof roasting pan or casserole dish. Roast at 400 degrees with probe and moisture, fan preferred. Cook to internal temperature of 160 degrees. Remove and let rest for 20 minutes. Slice pork and keep warm.
If you are using your Miele M Touch Oven, insert the roast probe into largest piece of pork shoulder. Select "Moisture Plus Auto Roast." Place roasting pan in the center of the oven. Opt for manual moisture bursts, which release bursts of moisture at minutes 1, 10 and 15 of the roasting time. Select the internal temperature to 160 degrees.
Meanwhile, make the corn. If you are using your Miele Combi-Steam Oven, select steam time for 3 minutes. Let cool; cut corn off the cob into long lengthwise strips. In small bowl, combine butter and miso until smooth. Toss corn with miso butter.
Make the peas. Season peas with salt, and toss with oil. If you are using your Miele Combi-Steam Oven, select "Combi Convection Bake" with 10 percent moisture for 10 minutes and use a non-perforated tray. In medium bowl, mix honey, Dijon mustard, sesame oil, and fish sauce until combined. Toss peas with honey mustard mixture. Garnish with chives, mint, radicchio, sesame seeds, and red onions.