Food Destination: Your Kitchen
Angie Mar, a Food & Wine Best New Chefs Alumni and the chef-owner of New York City's Beatrice Inn, shares her tips for creating a perfect prime rib at home.
New York chef Angie Mar fell in love with Paris when she was seven. It's still her favorite place to visit and has had a significant influence on her food. "There's nothing more Parisian than a celebration of herbs. That's why I chose the rosemary and lavender combination on this prime rib recipe. It very much reminds me of the streets of Paris," she says. While Mar loves all different types of meat, which is clear from one look at her menu at The Beatrice Inn, she's especially fond of prime rib. "A lot of people view it as celebratory, which it can be, but it just reminds me of Sunday dinners growing up. I think it's actually easier to cook than steak."
According to Mar, there are two incredibly important steps to getting a perfect roast at home: tempering and resting meat. "Nothing makes me more disappointed than a steak with a red bullseye in the middle and brown all around it. That's how you know it wasn't tempered first and was cooked too hard," says Mar. "Tempering meat is tremendously important especially with large cuts. Be sure to let it come to room temperature, so it cooks evenly." Once the meat is properly tempered, she uses the Auto Roast operating mode on the Miele M Touch convection oven to get a perfectly even roast before taking the meat out to rest.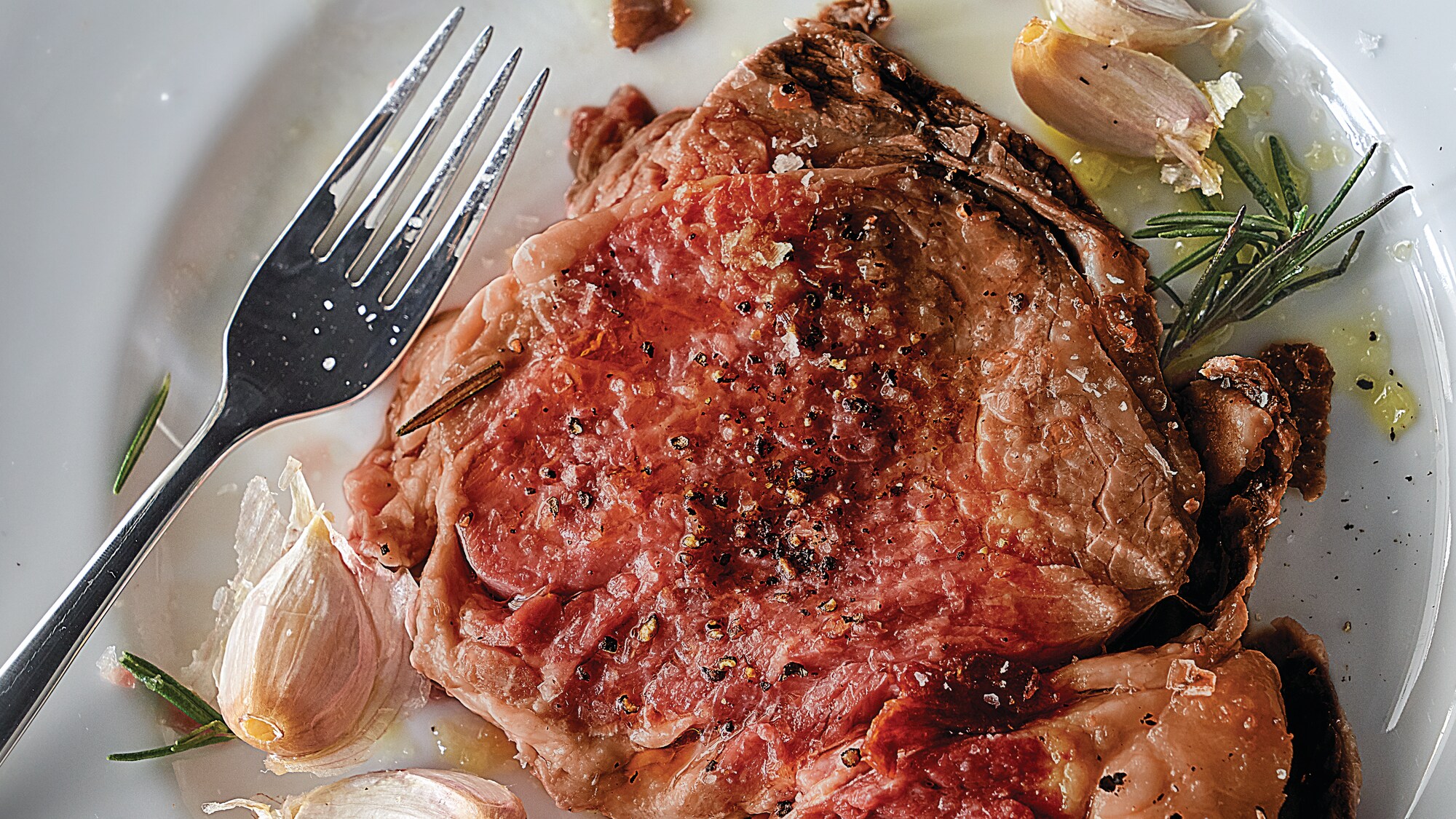 For this prime rib recipe, Mar usually sears the roast at the end because of all of the herbs in this version. "I typically choose a reverse sear so the fat renders slowly onto the herbs and the meat becomes fragrant," she says. But thanks to the AutoRoast setting in the Miele M Touch convection oven, she's able to sear it at the start and still get the same results. "AutoRoast can brown it right in the oven," she adds. She also encourages home cooks to use a meat thermometer, like the Wireless Precision Probeincluded in the M Touch convection oven. It has 4 measuring points, so you're guaranteed a perfect prime rib.
Mar also likes the Moisture plus setting in the Miele's M Touch convection wall oven, to help ensure moist results. "Steam is also a great option for leaner cuts of meat like chateaubriand. Miele's Moisture plus mode helps keep flavor and moisture in," she says.
For more of Mar's tips on meat cookery check out her new cookbook, Butcher + Beast, available October 1st.
Go to Miele to see all your options.
Chef Angie Mar Shares Her Favorite Prime Rib Recipe
Dry-Aged Prime Rib with Anchovy, Rosemary & Lavender
Serves 10
Prime Rib:
1 prime rib rack with 5 bones, dry-aged for 60 days, trimmed, bones Frenched to 1 inch
Salt
1 cup black anchovies, chopped
½ cup chopped fresh rosemary
½ cup chopped fresh lavender
20 cranks black pepper
2 tablespoons olive oil
2 bunches rosemary
2 bunches lavender
Flaky sea salt
Roasted Garlic:
3 heads garlic, scalped
3 tablespoons olive oil
Salt
Black pepper
Salt the rib rack heavily with kosher salt on all sides. In a small mixing bowl, combine the anchovy, chopped rosemary, chopped lavender, black pepper and olive oil, then, using your hands, coat the fat cap of the prime rib with ⅛ inch layer of the anchovy mixture.
Lay the whole bunches of rosemary and lavender on the bottom of a Miele universal tray, placing the Miele roasting rack on top. (The universal tray and rack are perfect for roasting meat in this manner.) Place the ribs on top of the rack, fat side up.
Dress the garlic with olive oil, salt and pepper and wrap in foil and place on rack next to the meat.
Insert Wireless Precision Probe into the thickest part of the meat, avoiding the bone. Place tray in the middle of the Miele M Touch convection oven.
Select "Auto Roast" from Operating Mode menu using 275 °F oven temperature and 115 °F Core temperature. The Auto Roast feature has a searing phase that will ensure a browned result and the Wireless Precision Probe will also ensure perfect temperature control.
Remove the ribs from the oven and rest, uncovered, for 30 minutes.
To serve, slice the meat off the bone completely and cut into ¼ -inch pieces and arrange on a serving platter. Serve the bones on a separate platter for guests to enjoy. Sprinkle with sea salt just before serving.
In partnership with Food + Wine.