3 Wildly Delicious Riffs on Summer's Favorite Sandwich
We're partnering with Food52 to help you Cook Smarter with simple yet delicious recipes where the technique makes all the difference. Here, we're sharing a few different ways to mix up a summertime favorite: the lobster roll!
I may not have grown up in the Northeast, aka the land of the lobster rolls, but thanks to an annual trip to the Florida Keys I got my fill of them at least once every summer. Sweet, tender lobster over crisp lettuce on a butter-toasted hot dog bun—it's the perfect hot-weather bite, especially after a sun-soaked day of fishing or riding bikes along the coast line.
A lot has changed since those family trips to the Southernmost Point, including that I now do in fact live in the Northeast (specifically, New York City). As such, my access to top-notch lobster rolls has widened significantly. I've since learned that there are not only two categories of lobster roll—one hailing from Maine, the other from Connecticut (more on that in a second)—but also a few very righteous, very delicious variations.
Here's everything you need to know about making a lobster roll at home, from why steaming is the best method (plus, how to do it) to three different flavor combinations that you just might prefer over the classics.
But first, let's answer a very important question: What's the difference between Maine and Connecticut lobster rolls?
According to Food Network, "If the meat is cold, it's a Maine lobster roll." The lobster meat on Maine rolls gets tossed with mayo, and sometimes also tarragon, chives, scallions, or celery before getting stuffed into a buttered and toasted split-top bun.
For Connecticut lobster rolls, the lobster meat gets warmed up, dressed simply with butter, and served in a hot dog bun. Most die-hard fans of the Connecticut style will tell you that theirs is a lobster roll, while the Maine version is a lobster salad roll.
How To Steam A Whole Lobster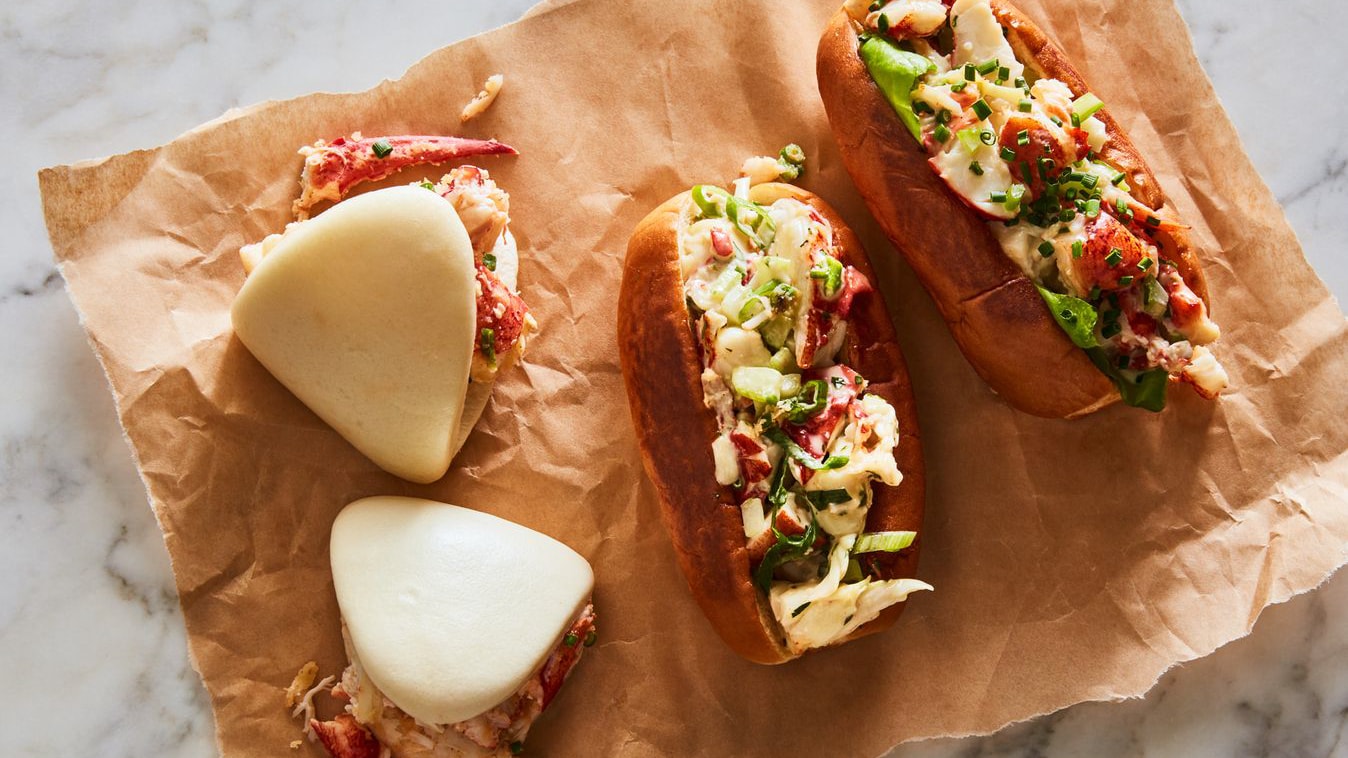 Whether you're going for the Maine or Connecticut style, you'll need to know how to cook a whole lobster if you want to make a batch of lobster rolls at home.
One of the most important steps happens before you step foot in the kitchen. When picking out a lobster, says former Food52 editor Kenzi Wilbur, you're going to have to face a hard truth: live lobsters are best. Because lobsters have a very particular digestive enzymes, she explains, they break down at a much faster rate than other types of seafood. So she suggests to "make friends with a fishmonger, and get them while they're still energetic, alive, fresh."
While research is still divided over whether or not lobsters can feel pain, there are two generally-accepted humane ways to butcher them. One is to freeze them; an hour in the freezer will do the trick. Another option, according to The Spruce Eats, is "to plunge the tip of a sharp knife straight down right behind the lobster's eyes." Others believe in a combination of the two: put the lobster to sleep by freezing it for 30 minutes, then put the lobster on its back and "angle the tip of a chef's knife right below where the claws meet and swiftly cut down through the head."
When it comes to cooking the lobster, steaming is the best method. It's not only gentler (resulting in juicier, more flavorful meat), but also cooks everything more evenly. Luckily, the steaming process is simple:
Take a large stock pot and bring 2 inches of salted water to a rolling boil. (If you have a steaming rack you can place that inside the pot before you start heating the water.)
Once the water's boiling, add the lobsters one at a time and cover the pot. Set your timer.
About halfway through cooking, carefully lift the lid and move the lobsters around a bit to keep the cooking even.

Note:

If you're lucky enough to have a combi-steam oven, you can skip all of this, and it's especially handy if you're cooking just lobster tails. The oven will get the job done for you in a cinch.
For timing, check out this handy lobster-steaming chart, which starts at 10 minutes for a one-pound lobster; you'll know they're done when the meat turns from translucent to white.
Breaking down the lobster doesn't need to be difficult either—or cause you to lose a finger. All you need to do is 1) pull off the claws, 2) crack the claws and pull out the meat, 3) take off the tail, and 4) pull out the meat of the tail using a fork.
3 Ready-For-Summer Lobster Rolls
Now comes the fun part: making lobster rolls! Will you go for the Maine or Connecticut version? Well, as much as I'm a fan of the originals, I couldn't help but fall in love with a few different variations that go beyond the basics.
One of my favorites is Jasper White's world-famous lobster roll, and it just so happens to be certified Genius. Another tasty riff is this lobster roll with a chive-heavy mayonnaise, chopped bits of crispy celery, and a bed of tender Boston lettuce.
The most creative combo—lobster doused in a rich brown butter sauce and served in a doughy steamed bun—gets its inspiration from Eventide Oyster Co. in Maine.
But don't let yourself feel limited when it comes to making your own. Experiment with different herbs, spices, toppings, and you just might create your new favorite. No matter which direction you take, though, it's hard to beat any lobster roll on a hot summer day, especially with a side of chips and your favorite sparkling beverage to go with it.
We've partnered with Food52 to highlight new ways to riff on the classic lobster roll, from a lemony tarragon mayo to a steamed bun. Ready to make getting them on the table even faster and easier? Miele's combi-steam ovens can do it all for you with the touch of a button. And for expertly steamed results every time, don't forget to use their handy perforated tray. Convenient and easy to use, Miele's steam technology and perforated tray team up for fuss-free cooking so simple, you might just ditch your pots and pans.
By: Erin Alexander