3 Hands-Off Ways to Cook Eggs for a Crowd
We're partnering with Food52 to help you Cook Smarter with simple yet delicious recipes where the technique makes all the difference. Here, we're showing you the easiest way to whip up eggs for a big get-together: in your oven!
Anyone who's hosted an epic breakfast or brunch knows that preparing egg dishes for a crowd can be a pain. Eggs Benedict might sound like a good idea when you're menu planning, but when you're still poaching eggs while half your guests are eating and the other half are staring at you with hungry eyes...not so much.
Even simple scrambled eggs can be hard to get right when you've scaled up by a factor of 12 and have three other dishes on the cooktop. Luckily, there's an easy trick you can try to get perfect eggs for your next extra-large guest list: Move them from your cooktop to the oven.
From custardy sheet-pan eggs perfect for stacking on breakfast sandwiches to creamy oven-scrambled eggs just as tasty as the cooktop version, here are three clever ways to cook up eggs for a big crowd: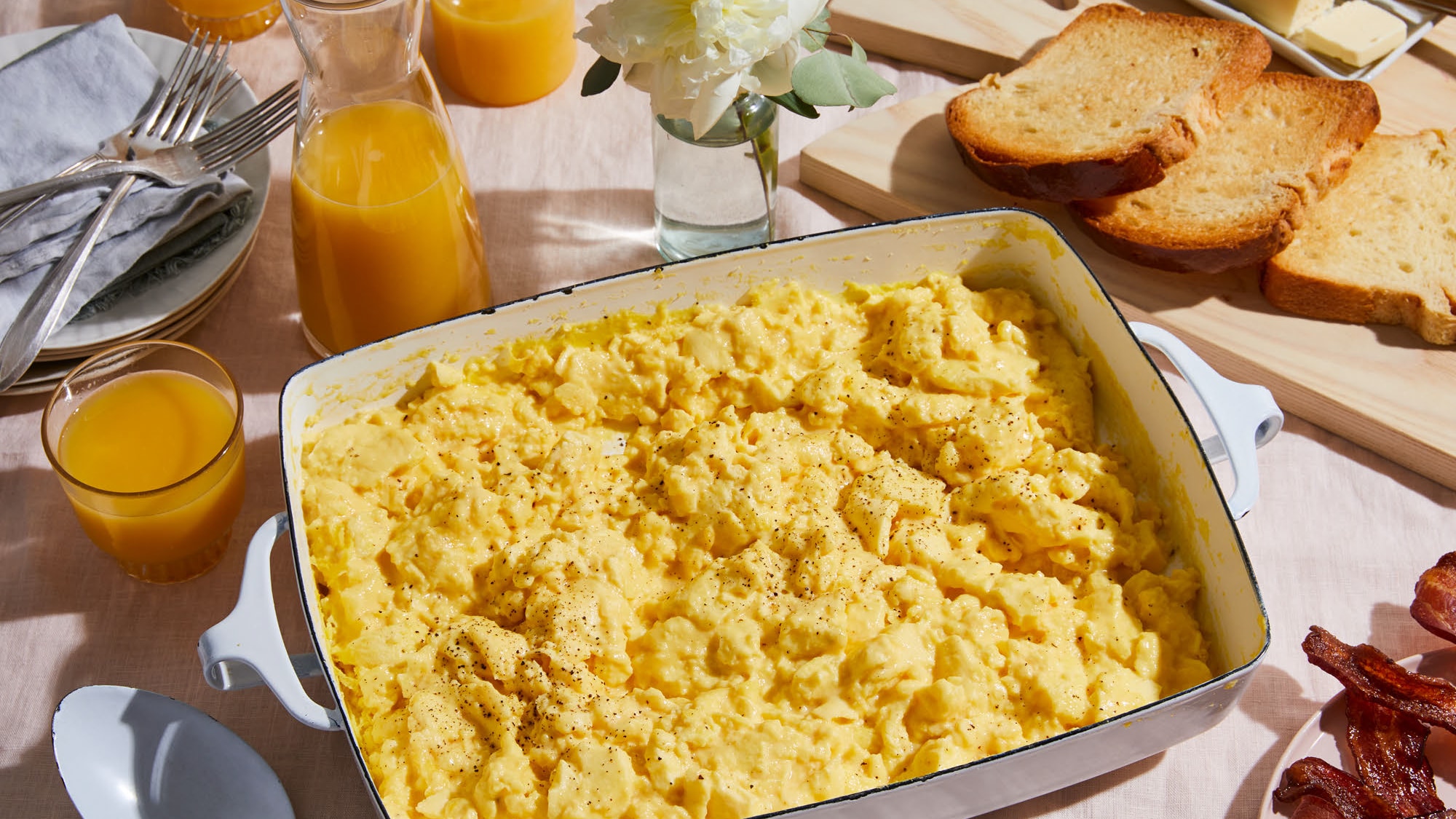 While some people might miss that classic poached shape, you certainly can't beat oven-poached eggs when you're making egg-topped avocado toast or eggs Bennie for a dozen people. (I'll even use this trick when I'm meal-prepping for myself throughout the week; I'll reheat the eggs with a quick zap in the microwave.)
The Method
Preheat the oven to 350°F.
Add 1 tablespoon of water to each cup in a 12-muffin tin. (If you happen to have a combi-steam oven, you can skip this step! The steam will do all of the work for you.)
Crack an egg into each prepared cup, taking care to keep the yolk intact.
Bake for 12 minutes for runny yolks.
This method is helpful if you don't have an extra-large frying pan, or if you'd rather not have to think about the eggs while you're preparing the rest of your brunch—let alone have a messy cooktop when your guests arrive. I like to use it anytime I'm feeding more than six people, especially if I've already got the oven going for breakfast potatoes and bacon anyway.
These oven-baked scrambled eggs come out perfectly fluffy, just like their cooktop counterparts, but are slightly easier to keep warm. (I bake mine in a casserole dish with a cover.) If your eggs release any water as they cool, just pour it off before you serve.
The Method
Whisk up the eggs as your normally would, along with some milk, salt, and pepper.
Pour them into a baking dish with some melted butter and pop in a 350°F oven.
After about 15 minutes, give the eggs a good stir and put them back.
Let them bake in the oven for 10 more minutes, give them another good stir, and serve warm.
3. Oven-Baked Egg Custard
Making breakfast sandwiches or burritos? These oven-baked sheet-pan eggs will be your new best friend. The result is similar to a frittata—in fact, you could even add mix-ins like cheese or chopped vegetables if you wanted to—but much more custardy and simple. Cut them into squares or use a biscuit cutter (or a glass) to make perfect circles for sandwiches, or cut them into rectangles for burritos.
And psst, Epicurious has a super-smart trick for not spilling your sheet pan full of eggs: Place the sheet pan on a centered oven rack with a quarter of the pan sticking out of the oven, then pour the egg mixture into the sheet pan.
The Method
Blend 18 to 20 eggs in the blender with 1/2 cup cream, and salt and pepper to taste.
Pour the mixture into a buttered half-sheet pan (or double up the recipe and use two if you're really going for it).
Bake for 12 to 14 minutes in a 350°F oven.
We've partnered with Food52 to highlight three smart ways to cook up eggs for a crowd. Ready to make getting them on the table even faster and easier? Our combi-steam ovens work perfectly with all of the eggy recipes featured here (and help keeps them from drying out or getting rubbery as they cook!). The best part: They can do it all for you with the touch of a button.
By: Cory Baldwin