Upright vacuum cleaners
Miele's Dynamic U1 Upright Vacuum Cleaner is the specialist for robust and heavily used carpets. Thanks to a roller brush which can be switched off easily, it can also be used on hard floors. Like stick vacuum cleaners, this vacuum cleaner is pushed along in front of you.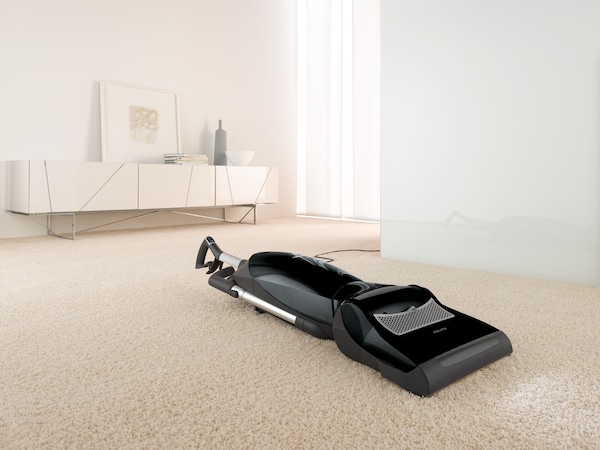 A complete array of accessories
Always at hand
Integrated: Upright vacuum cleaners are equipped with an upholstery nozzle, a crevice nozzle and a dusting brush.
Cleaning performance
For heavily used, robust carpeting
Intensive cleaning: The rotating brush ensures thorough deep cleaning of hard-wearing carpets.
Exclusive to Miele
Automatic height adjustment*
Cleans every fiber
Especially thorough: The electrobrush automatically adjusts to the carpet pile.
Extra powerful on carpets
Extra powerful for large areas of carpet
Proper care: The electrobrush cleans carpets thoroughly and gently and restores the pile.
Sleek design
For inaccessible places
The slender body makes it possible to vacuum under furniture with ease.
Operating radius
For large surfaces
Barely a change of power points: Miele upright vacuum cleaners provide an operating radius of 46 ft.
Exclusive to Miele
SwivelNeck*
Move around obstacles with ease
Extremely nimble: The Dynamic U1's SwivelNeck™ feature makes it particularly agile.
Features depend on model – images are only examples and used for explanation purposes