Product Detail
USD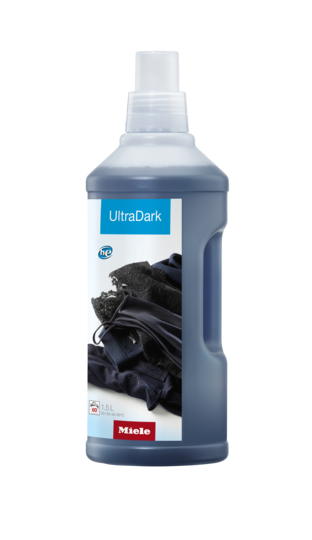 WA UD 1501 L
UltraDark 50.72 fl. oz. (1.5 l) for dark and black textiles
Color-protect formula for gentle cleaning
Anti-pilling effect: protects your garments from discoloration
Retains color intensity and brightness
Simply perfect laundry care with Miele.
Highly effective – for 60 wash cycles
---
Your exclusive advantages
Efficiency and sustainability (1)
Miele detergents – effective and eco-friendly
For the love of our environment
Great for the environment: Miele Detergents are highly concentrated, meaning less packaging per washing cycle.
Gentle laundry care (1)
ColorProtect
Outstanding color protection
Brilliant colors: ColorProtect keeps your favorite clothing looking radiant for longer.
Cleaning performance (3)
Perfect results
Always perfect results
"The formula especially developed for Miele washing machines stands for reliable, perfect washing results."
Spot removal
For brilliant laundry
Excellent spot removal already at low temperatures
Exclusive to Miele
Powerful enzymes
Outstanding cleaning power
Perfect cleaning: seven powerful enzymes in your Miele Detergent deliver the ultimate in clean results.
Subject to technical changes; no liability accepted for the accuracy of the information given.