Product Detail
USD
SYSTEM MAINTENANCE: Due to system maintenance, transactions and bookings will not be possible 09/24-09/25.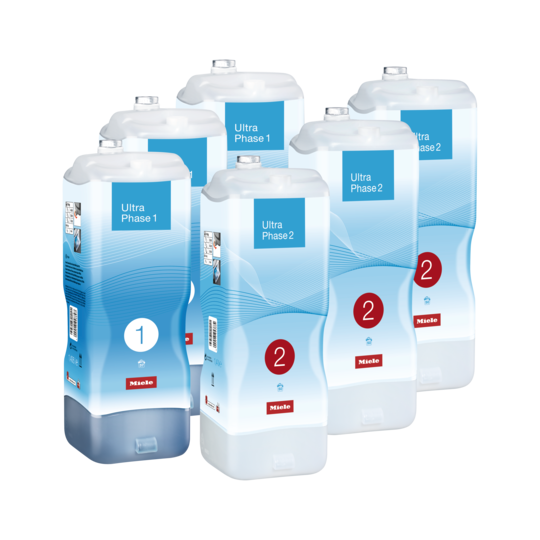 Set 6 UltraPhase rts
Miele UltraPhase 1 and 2 Which includes our gift to you: voucher for $15 off your next online order.
Consisting of 3x UltraPhase 1 and 3x UltraPhase 2 
For bright colors and brilliantly white laundry
Excellent stain removal – even at low temperatures
Extremely effective and eco-friendly – for up to 189 wash loads 
For all Miele W1 Washing Machines with

TwinDos
---
Your exclusive advantages
Efficiency and sustainability (2)
Miele detergents – effective and eco-friendly
For the love of our environment
Great for the environment: Miele Detergents are highly concentrated, meaning less packaging per washing cycle.
Tips for sustainable washing
Tips for sustainable washing
Clean and sustainable: take advantage of these tips to get outstanding yet eco-friendly laundry results.
Gentle laundry care (2)
ColorProtect
Outstanding color protection
Brilliant colors: ColorProtect keeps your favorite clothing looking radiant for longer.
Exclusive to Miele
UltraPhase – ActiveOxygen
A gentle way to fight stains
Powerful formula: Miele UltraPhase contains active oxygen that effectively removes stains and protects laundry.
Cleaning performance (4)
Perfect results
Always perfect results
"The formula especially developed for Miele washing machines stands for reliable, perfect washing results."
Exclusive to Miele
Powerful enzymes
Outstanding cleaning power
Perfect cleaning: seven powerful enzymes in your Miele Detergent deliver the ultimate in clean results.
Exclusive to Miele
UltraPhase – best hygiene
Clean fabrics, clean appliance
Hydrogen peroxide in Miele UltraPhase detergent ensures thorough cleaning for both the laundry and the machine.
UltraPhase – WhiteBooster
Brilliantly white laundry
Clean and radiant: Miele UltraPhase detergent contains optical brighteners for brilliantly white laundry.
Subject to technical changes; no liability accepted for the accuracy of the information given.