Product Detail
USD
PG 8130 i [120V 60HZ 15A]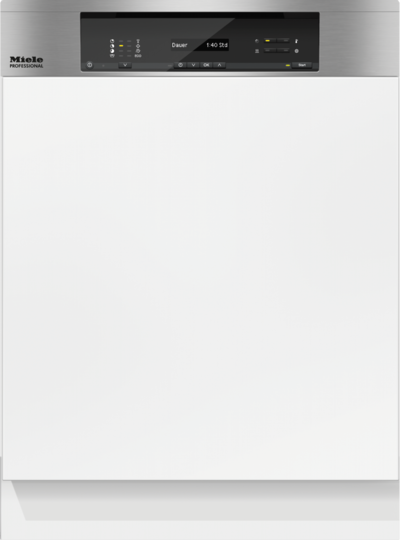 PG 8130 i [120V 60HZ 15A]
Integrated dishwasher ADA compliant, for large loads of dishware in office kitchens and utility areas.
Wash performance: 13  place settings in just 58 min.

*

Requires an electrical connection for AC 120V 60HZ
Intuitive to operate thanks to clear fascia panel design
Everything completely dry – 

AutoOpen assisted drying

The best care for your glasses –

Perfect GlassCare
---
Your exclusive advantages
Short program cycles
Dishwashing made quick
With their short cycle times ProfiLine dishwashers are true sprinters.
Low consumption values
Economical
Economical and efficient: Miele Professional dishwashers stand out with low consumption values.
For businesses
Dishwashing professionals for daily large loads of dishes
These dishwashers are ideally suited for all areas which deal with large amounts of dishware.
Exclusive to Miele
ComfortClose
The best door concept of our time
Convenient: The door can be closed very easily.
Exclusive to Miele
Patented AutoOpen assisted drying*
For dry dishware in next to no time
Completely dry: The dishwasher door opens automatically at the end of the program.
Powerful cleaning performance on two levels
Large wash cabinet 
High capacity: The most diverse items can be arranged safely on two wash levels.
Integrated water softener
Ensures the optimum water hardness level
The built-in softener ensures the optimum hardness level of the water for perfect dishwashing results.
Exclusive to Miele
Perfect GlassCare
A gentle way to a perfect shine
A gentle way to a perfect shine: With Perfect GlassCare, your glasses are thoroughly and gently cleaned.
Simplest user interface
Intuitive & easy to operate: All programs can be selected quickly & started at the touch of a button.
Quality you can rely on
Durability: Miele Professional dishwashers are tested for a long service life.
Features depend on model – images are only examples and used for explanation purposes
Product data sheet
Show all technical details
Follow the link and you will find all the resources you need for planning and installing any of our products
Follow the link and you will find all the resources you need for planning and installing any of our products