Built-in wine storage units
Would you like to integrate the wine storage unit into your kitchen? As a built-in appliance, it will blend perfectly into your kitchen design.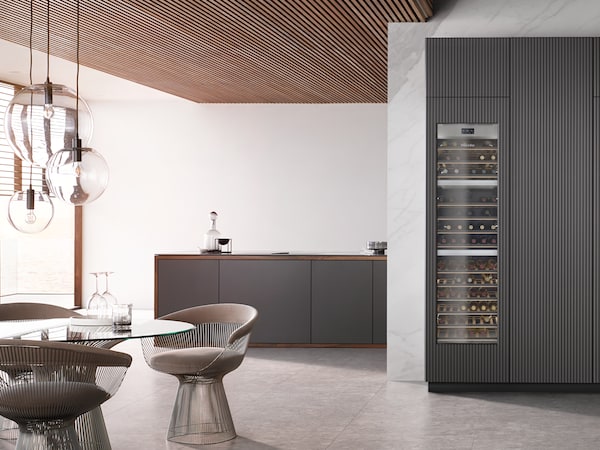 Exclusive to Miele
SommelierSet
Practical connoisseur's set for your wine unit
Everything covered: Cool glasses, prepare wine for decanting and even condition opened bottles to perfection.
Exclusive to Miele
FlexiFrame with NoteBoard
Holds bottles of all sizes securely
Just one movement: Move individual slats so that you can even store large wine bottles in a flexible manner.
Temperature zones
Several temperature zones in one appliance
Individual controls: up to three different wines requiring different temperatures can be stored at the same time.
MasterCool – BrilliantLight
Perfectly lit
Soft and attractive: High-quality LED strips offer perfect illumination and a beautiful lighting.
NoteBoard
Customize each rack
For individual labelling: Every bottle rack features a removable, magnetic strip for labelling bottles.
Exclusive to Miele
MasterCool – SommelierSet
The connoisseur package for your wine storage unit
Thought of everything: Cool glasses, prepare wine for decanting, and even condition open bottles to perfection. 
aMiele@homesup#*#inRef.objidZFN_0000000000000000200018192_00/inRef.objid/sup
Cleverly networked
Make your life smart: thanks to Miele@home
*
you can cleverly network your domestic appliances – for more options.
MasterCool – Push2open
The perfect solution for a handleless design 
This appliance integrates perfectly into handleless kitchens, as the door opens by pressing the front.
Features depend on model – images are only examples and used for explanation purposes