Product Detail
USD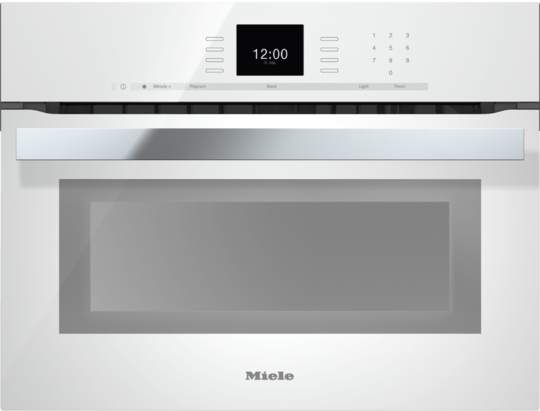 H 6600 BM
24 Inch Speed Oven with combi-modes and Roast probe for precise-temperature cooking.
---
Optional Miele Extended Warranties
Want maximum peace of mind for your new Miele product? The Miele Extended Warranty Service Certificate allows you to extend the warranty period for your Miele product up to a maximum of 5 years.
Discover more
Miele Extended Warranty Service Certificate
Your exclusive advantages
Exclusive to Miele
Stainless steel cabinet with PerfectClean finish
Patented surface finish
Scratch resistant: this special surface finish with its linen-weave pattern is very robust and easy to clean.
Combination modes
For faster preparation
Versatile and time-saving: The combination of operating mode and microwave can save up to 30% preparation time.
Minute Plus button
Microwave QuickStart
Full power at your fingertips: fast selection of microwave function via a separate sensor control.
Exclusive to Miele
MasterChef automatic programs/MasterChef Plus
Cooking and baking entails sure fire success
Choose from over 100 easy-to-use programs. Whether it is bread, cakes or meat – everything is cooked automatically.
Roast probe
Convenient control of the cooking process
No supervision needed: The countdown indicator gives information on when meat/fish has been cooked to perfection.
Exclusive to Miele
Popcorn button
Automatic program for popcorn preparation
At the touch of a button: fast and easy preparation of one packet of popcorn.
Features depend on model – images are only examples and used for explanation purposes
Product data sheet
Show all technical details
Follow the link and you will find all the resources you need for planning and installing any of our products
Whether you are looking to replace an appliance or plan a new kitchen – you will find all the relevant installation drawings for your Miele appliance here. Please note that our products should only be installed and maintained by authorized experts. In the event of queries, please call us for some no-obligation advice!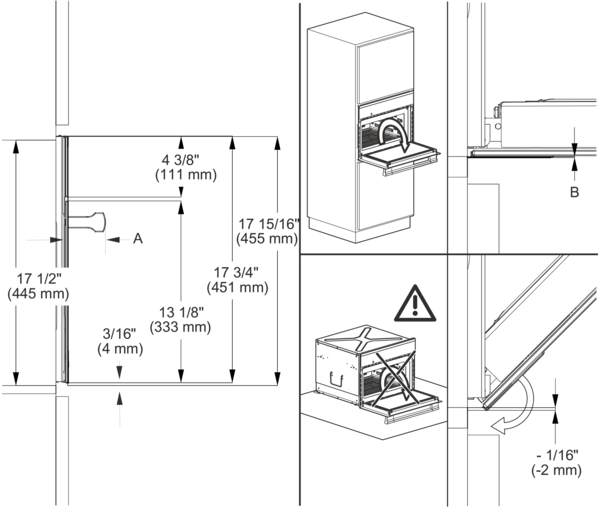 Descriptions
H 6000 BM - 45 cm (Installation drawing) - USA
A =
H61xx: 2 5/16" (59 mm)
H62xx: 1 5/8" (42 mm)
H65xx: 2 3/4" (69 mm)
H66xx: 1 5/8" (42 mm)
H67xx: 2 3/4" (69 mm)
H68xx: 1 5/8" (42 mm)
B =
Speed oven with glass front: 1/16" (2.2 mm)
Speed oven with metal front: 1/16" (1.2 mm)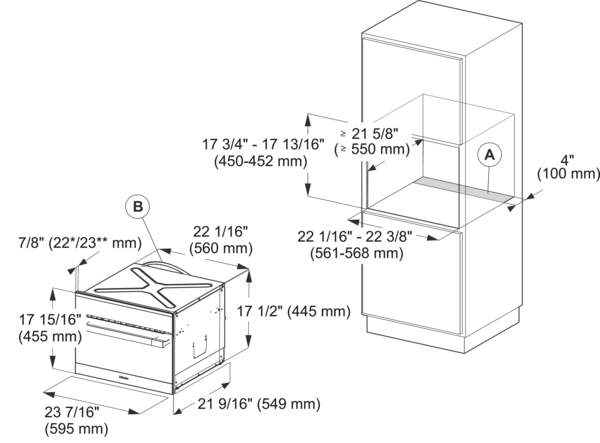 Descriptions
H 6000 BM - 45 cm (Installation drawing) - USA
A = Cut-out (4" x 22" / 100 mm x 560 mm) in the bottom of the cabinet for power cord and Ventilation
B = Power cord with plug
* Oven with glass front
** Oven with metal front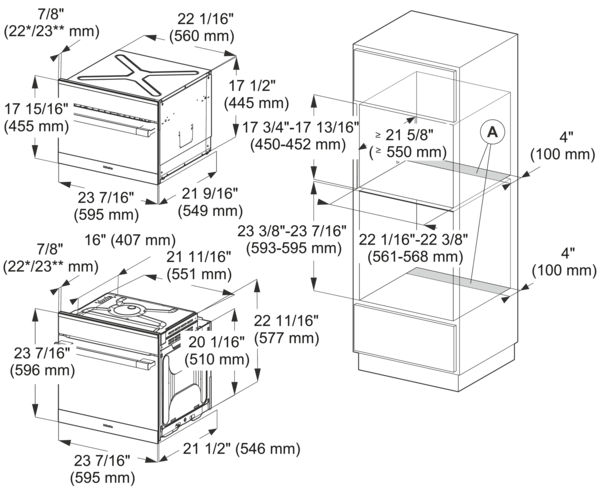 Descriptions
H 6000 BM - 45 cm (Installation drawing) - USA
A = Cut-out (4" x 22" / 100 mm x 560 mm) in the bottom of the cabinet for power cord and Ventilation
B = Power cord with plug
* Oven with glass front
** Oven with metal front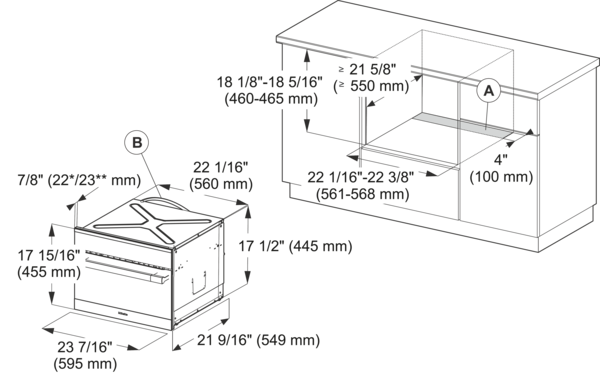 Descriptions
H 6000 BM - 45 cm (Installation drawing) - USA
A = Cut-out (4" x 22" / 100 mm x 560 mm) in the bottom of the cabinet for power cord and Ventilation
B = Power cord with plug
* Oven with glass front
** Oven with metal front