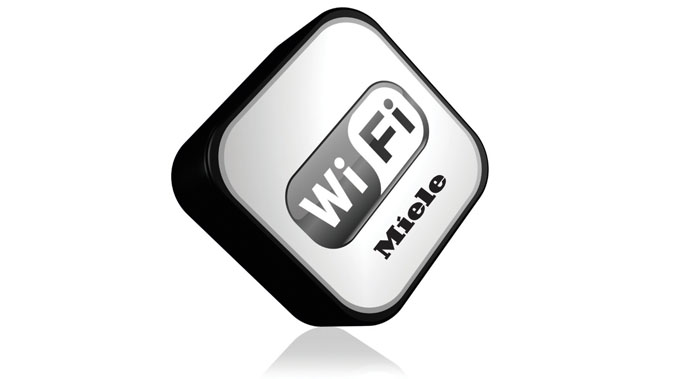 Eligible products

About RemoteVision™
Miele appliances which are compatible with the RemoteVision™ monitoring service (upon purchase and activation of the wireless module) are listed below.

If your product is RemoteVision™ capable, begin the RemoteVision™ process by registering your appliance here.

Range Products:
Ranges:
Range Series: HR1622i, HR1924DF, HR1934DF, HR1935DF GR, HR1935DF GD, HR1954DF, HR1955DF GR, HR1956DF GD
Oven Products:
Convection Oven:
H6800 Series: H6880BP, H6880BP hvbr, H6880BP brws, H6880BP obsw
H6700 Series: H6780BP, H6780BP2

Speed Oven:
H6800 Series: H6800BM, H6800BM hvbr, H6800BM brws, H6800BM obsw
H6700 Series: H6700BM

Combi-Steam Oven :
DGC6800 Series: DGC6800XL, DGC6800XL brws, DGC6800XL obsw, DGC6800XL hvbr, DGC6805XL
DGC6700 Series: DGC6700XL, DGC6705XL
XXL: DGC 6760 XXL, DGC 6765 XXL, DGC 6860 XXL, DGC 6860 XXL brws, DGC 6860 XXL obsw, DGC 6860 XXL hvbr, DGC 6865 XXL, DGC 6865 XXL brws, DGC 6865 XXL obsw, DGC 6865 XXL hvbr

Dishwasher Products:

EcoFlex: G6987 SCVi K2o, G6935 SCi, G6885 SCVi K2o, G6880 SCVi K2o, G6875 SCVi SF, G6875 SCVi, G6835 SCi
Refrigeration Products:

Refrigerators :
K1900 Series: K1903Vi, K1903SF, K1913Vi, K1913SF
K1800 Series: K1803Vi, K1803SF, K1813Vi, K 1813SF

Freezers :
F1900 Series: F1903Vi, F1913Vi, F1903SF, F1913SF
F1800 Series: F1803Vi, F1813Vi, F1803SF, F1813SF
F1400 Series: F1413Vi, F1413SF, F1473Vi, F1473SF

Bottom-Mount Refrigerator-Freezers :
KF1900 Series: KF1903Vi, KF1903SF, KF1913Vi, KF1913SF
KF1800 Series: KF1803Vi, KF1803SF, KF1813Vi, KF1813SF

Wine Storage :
KWT1600 Series: KWT1603Vi, KWT1603SF, KWT1613Vi, KWT1613SF

Coffee Products:

Built-in Coffee Machines :
CVA6800 Series: CVA6800, CVA6805, CVA6805 brws, CVA6805 obsw, CVA6805 hvbr

Laundry Care Products:

Washing Machines :
W3000 Series: W3038

Condenser Dryers :
T8000 Series: T8023C

Wireless modules for refrigeration and select laundry products are sold separately. Visit our Online Store to acquire one for your appliance.

If you have already registered your appliance and wish to activate the RemoteVision™ monitoring service, please contact us.

If you are an existing customer, you may log in and edit your contact information.
Warranty for RemoteVision™
Limited Warranty- RemoteVision™
What is MIELE's REMOTEVISION™ Module?
MIELE's RemoteVision™ (the "RemoteVision™ Module") is a proprietary wireless local area network technology installed in certain MIELE appliances which is designed to allow the transmission of temperature and performance data from the relevant appliance to MIELE's monitoring center, permitting MIELE's service center to alert and assist the registered user of the appliance in the event of certain deviations from ordinary performance levels. The technology uses the customer's existing WLAN network and web browser; no additional software is supplied or required.
What is covered by the Limited Warranty?
5 Year RemoteVision™ Warranty - In the event of a defect or malfunction of a RemoteVision™ module activated and registered during the initial appliance installation and installed by MIELE authorized service centers or repairmen, the registered user shall be entitled to the repair (including all parts and labor) of the malfunctioning RemoteVision™ Module for five (5) years from the date of purchase, or the life of the original appliance, whichever period expires sooner.
1 Year RemoteVision™ Warranty - For RemoteVision™ Modules installed by MIELE authorized service centers and activated after the date of appliance installation, the warranty period shall be one (1) year from the date of purchase of the appliance in which the RemoteVision™ Module has been installed, or the life of such appliance, whichever period expires sooner.
MIELE shall determine whether a RemoteVision™ Module is defective or malfunctioning. MIELE may (rather than repair it) elect to replace or refund the defective RemoteVision™ Module. MIELE shall in no event be liable for more than the cost of the RemoteVision™ Module. This warranty applies only to RemoteVision™ modules purchased from Miele or an authorized Miele dealer and used in an appliance that is located in the United States.

What is not covered by this Warranty?

This warranty does not cover any defect, malfunction, loss or other damage which is the result of any improper or unauthorized activation, installation, alteration, service or repair of the RemoteVision™ Module or any part or accessory; any failure to follow instructions; any undue exposure to the elements; any connection issue of the RemoteVision™ Module with the user's computer or WLAN network; any change to wireless industry standards; any upgrade of the RemoteVision™ Module or any related application or other software; any upgrade of the user's hardware; any lack of network security; the registered user's or any other third party's negligence; any accident (including resulting from flooding, fire, wind, lighting, or otherwise), war, civil disturbance, riot, crime, or any other act beyond MIELE's control; any abuse or misuse by the registered user or any other third party; any power interruption or surge; any improper maintenance of the the RemoteVision™ Module, its parts or accessories. Ordinary wear and tear shall not be considered a defect. Consumable items (such as water filter cartridges) are not covered under this warranty.
Except for the limited warranty provided herein, MIELE disclaims any and all other express or implied warranties with respect to the RemoteVision™ Module. Any warranty of merchantability or fitness for a particular purpose is limited in its duration to the term of the relevant limited warranty provided herein. MIELE shall not be responsible for any damage or loss which is the result of any intentional or reckless act or omission.
No Special, Incidental, Consequential, Punitive Damages
MIELE specifically disclaims any and all liability, whether directly or by way of indemnity, whether directly or indirectly incurred by the registered user or any third party, for any special, incidental, consequential, punitive or exemplary damage or loss, including those resulting from spoilage of any items stored in the refrigerator or freezer, whether they be food, medicine, or otherwise, damage to any appliance or other property, and injury to any person, whether based on breach of contract, negligence, tort, strict or products liability, or any other legal theory.
How do I submit a claim?

All claims relating to any defect or malfunction of a RemoteVision™ Module should promptly be brought to the attention of MIELE's Technical Service by e-mail at Techservice@mieleusa.com or by telephone at 1-800-999-1360.
Miscellaneous

All references to "MIELE" mean "Miele, Inc., Delaware Corporation." All claims shall be governed by the laws of the State of New Jersey and shall be subject exclusively to the jurisdiction of the courts located in Mercer County, New Jersey.
Effective Date: December 1, 2015
Frequently Asked Questions
1. How do I find the IP address of my router?
Some routers include the IP address on the back of the router itself. If it is not displayed on the back of the router, the operating instructions should provide further information. Windows users can also find the IP address of the router by clicking The 'Windows Charm' then Click Run. Type: 'command' and press enter. In the command prompt window, type ipconfig and press enter. The IP address of your router is listed under the "Default Gateway" field. You may have to scroll up a few lines to see it.

2. Which Encryption Scheme is recommended?
WEP is included for Backwards-Compatibility. These days WPA2 should be considered as it is the most secure and reliable scheme.
3. The LED light is hanging in a solid yellow state for over five minutes. What should I do?
Press the reset button on the module to refresh the connection between the device and the router. If this does not solve the problem, unplug the router, wait 10 seconds, and plug it back in. Review your security and password settings, re-entering them if necessary.
4. The MAC address appears in my DHCP Client List / Attached Devices page, however there is no IP address assigned to it. What should I do?
Unplug the router, wait 10 seconds, and plug it back in. You can also try to reset your router to its factory settings in order to re-establish a connection with the module. Also review your security and password settings, re-entering them if necessary.
5. I cannot see the Miele Ad-Hoc Mode network in my "Available Wireless Networks" window. What should I do?
Are you currently connected to any other wireless networks? If so, please disconnect. Refresh the window (shortcut key F5) and the Miele Ad-Hoc Mode network should appear.
When you created the Ad-Hoc network, did you enter the name exactly as shown? The module will not recognize this peer to peer connection if it is entered any way other than Miele Ad-Hoc Mode (eg. miele adhoc mode will not work. The name is case and punctuation-sensitive).
6. How can I view the signal strength of the module?
Access the module settings page
Click the "Signal Strength" link on the menu to the left
The signal strength will be displayed in decibels (dB) in the main frame
7. The signal strength is below 10dB. What can I do to increase the signal strength between the module and the router?
Changing the channel on the router may reduce interference. A neighbor's router may be broadcasting on the same channel as you, so switching the channel is the first step you can take to eliminate bandwidth congestion. The channel setting is located on your wireless router's webpage (you do not have to do anything on the module).
Update the firmware on the router. Go to your router manufacturer's website and download the latest firmware/drivers for your specific router model.
Cordless phones (2.4GHz) may also interfere with the module's connection to the router, since they operate on the same frequency band as the wireless router. Newer cordless phones (5.8GHz) will not interfere with a wireless router's broadcast.
8. What are some common household devices which operate on the 2.4GHz radio spectrum?
Other household items on the 2.4GHz radio spectrum include microwaves, bluetooth devices, wireless games, wireless speakers, wireless mice, and more. If these items are in use, they could cause interference between the signal quality of the module and your wireless router.
9. I've tried everything and the module is still not being recognized by the router. What else can I do?
Reset the router to its factory settings. Refer to the router's instruction manual for more information.
On the router, install any new firmware updates if available.
Ensure the router is set to "mixed" mode (b & g and/or n). The Miele XKM3000 module operates on the 802.11b/g/n networking standard, therefore the router must allow the "b/g/n" setting in order for the module to appear.
10. My router is secured but the module's LED is solid green. How is this possible?
The module did not connect to your router, it has joined your neighbor's unsecured wireless router. In order for you to access your module settings page, you must follow the Ad-Hoc Mode instructions.
11. My router does not use DHCP. How can I manually enter a static IP into the module settings page?
If you are not using a DHCP server to automatically assign IP addresses to newly joined wireless devices, you must access the module settings page by using the Ad-Hoc Mode. Upon accessing the module settings page, click the System Settings link on the menu. Uncheck SSID search and type in your SSID and security credentials.
Under the Network Settings section, uncheck Use DHCP. In the IP address field, you must enter an IP address within the same subnet as your router (eg. router = 192.168.1.1, IP must be 192.168.1.x). Next, fill in the IP address of the router you are connecting to in the Default gateway field, the Subnet Mask, and finally the first DNS Server. All of this information can be found on your router's webpage.
Effective Date: February 2016